Cal MacAninch on new play ChildMinder: 'You don't quite know what's real and what's not'
Earlier this year, a sleep-deprived Cal MacAninch suffered from hallucinations while rowing across the Atlantic for charity. It turned out to be the perfect preparation his role in Iain McClure's supernatural thriller ChildMinder, actor tells Mark Fisher
Somewhere in the middle of the Atlantic, Cal MacAninch started to hallucinate. The Trigger Point actor was in the midst of rowing the 3,000 miles between La Gomera in the Canary Islands and Antigua. It was a gruelling, not to say discombobulating, 39-day endeavour. For six weeks, he and the rest of the five-man team from Portobello's Eastern Amateur Coastal Rowing Club were on a regime of two hours rowing and two hours sleeping.
No wonder MacAninch was seeing things. "We were in sleep deprivation very quickly," he says, four months after completing the Talisker Whisky Atlantic Challenge and raising more than £30,000 for two charities: the Junction, a young people's well-being centre in Leith, and Body & Soul, dedicated to people who have experienced childhood trauma.
"In the night time I saw people on the boat with us," he says. "There was a woman dressed like in the Highland clearances, looking east. And there was a guy dressed in North African garb who was staring at me. We had music for a while until the speakers broke because of the salt, and there were three people bobbing away to the music.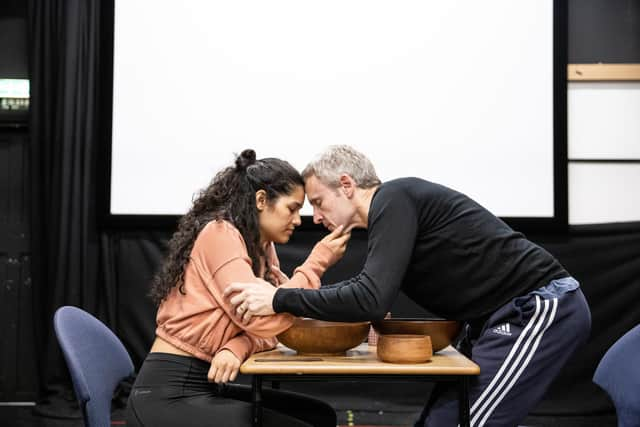 "Half of my brain could see these people clearly and the other half of my brain was going, 'But I know that's the flagpole and I know that's a towel over the rail.' I knew it wasn't real. Then there was an African woman looking west, just staring out, quite proud in outlook. At that point, I thought, 'Am I in The Sixth Sense? Can I see dead people? Think of all the people that have crossed the Atlantic and not made it.' I had to stop myself."
MacAninch is, as you would imagine, looking lithe and fit, especially having recovered from the excruciating pain of rower's rash (friction blisters on the buttocks) and tender skin where the oars bashed his shins relentlessly. The bruises have faded but now as he returns to the stage, he retains the memory of the ghostly hallucination. "It helps me with this play – what is a ghost?" he says.
The experience makes the supernatural aspect of ChildMinder, a new play by Iain McClure, seem all the more real to him. The three-hander is set in Edinburgh's old Royal Infirmary, where the playwright once worked as a junior psychiatrist. MacAninch plays Joseph, a doctor who has made his name in New York and who, having returned to his native Edinburgh, finds his past coming back to haunt him. He is celebrated for his work with children, but his own childhood hides a traumatic secret.
"Anything to do with children, trauma, parenting and a mother figure, I find fascinating," says MacAninch, who has three children with fellow actor Shauna Macdonald. "Joseph has become a celebrity psychiatrist, but there is always something there. I guess everyone's got secrets. He is the top of his profession and he's got this very dark secret – maybe two. It's about what will make you confess it and, once you do confess it, are you released and do you find redemption?"
As the writer, McClure is particularly delighted that ChildMinder's short tour is kicking off at the Traverse in Edinburgh, the city associated with such spooky stories as The Strange Case of Dr Jekyll and Mr Hyde and The Private Memoirs and Confessions of a Justified Sinner. Behind the modern frontages, the Scottish capital is steeped in its past. Not so long ago, the site of the swanky flats of the Quartermile development on the Meadows was home to the city's Royal Infirmary – an observation that triggered the play.
"Edinburgh is a ghost town," says McClure. "What set the play off was, I was walking home down Middle Meadow Walk and I looked up and saw they were doing up the Royal where I used to work. I thought, 'What happened if I bought one of those flats and I was haunted by one of the patients I was seeing?' No offence to Glasgow, but it's an Edinburgh play."
Today McClure works part-time in Shetland with children with autism. His life as a child psychiatrist continues to inform his creative work. "I became a doctor so I could understand people better so I could write better plays," he says. "Over several years, I'd been encountering a lot of wee boys who I was feeling incredibly sorry for. Young boys are very vulnerable in society, probably more than girls, although some people might disagree. Everything's worse for boys in terms of prognosis and, genetically, they're more vulnerable. What's difficult for boys is they don't get a big vote of sympathy. I wanted to write something that would get people to think about that."
The play, which is directed by Kolbrún Björt Sigfúsdóttir ("She's the best director working in Scotland," says McClure) appealed to MacAninch because of the demands it sets him. Any actor who rows the Atlantic clearly relishes a challenge.
"This play is brilliantly written," he says. "It's incredibly intriguing because you don't quite know what's real and what's not. And there's no hiding place for the audience. I've been looking for a role for quite a while that was going to challenge me and inspire me – and this is it. I said to Shauna, my wife, 'I think I might have to do this one,' and she said, 'Yes, this is why we're actors – these are the roles that make us want to be actors.'"
ChildMinder is at the Traverse Theatre, Edinburgh, from 8-10 June and on tour until 29 June.