No one can speak for me better than I can speak for myself." When theatre maker Annie George wrote this in an open letter to the CEO of Creative Scotland, her intentions were clear; to highlight the inadequacy of public statements made by organisations that signify little action. The events of the past few months may have brought the industry closer together as they collectively attempt to adapt and survive, but in many ways, the past few months have also underlined the ways in which the system is not built to serve everyone in it.
"It seems to me like they're trying to save the big fish first," George explains, when asked about her thoughts on the creative industry's response to Covid-19. "They're not taking care of the minnows and I just think it's the wrong approach. What's happening is that their focus remains on maintaining structures and hierarchies."
George has been making work in Scotland for almost 30 years and still remains one of only a few people of colour in the Scottish theatre scene. When the pandemic hit and the industry was forced to come to a standstill, it cemented her desire to reassess her place within it as well as her overall freelance practice. But it also reaffirmed her opinion on the structural inequalities that exist in the arts, only further emphasised by the way institutions and organisations began responding publicly to the Black Lives Matter movement, with lofty promises of a commitment to equality and diversity.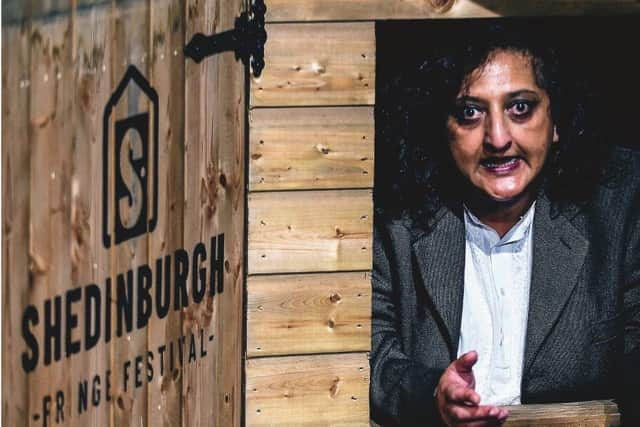 "The truth is, I have no real power so I can't make change," she says about the industry's lack of action, which she has witnessed first-hand in her 30 years in theatre. "I think Black Lives Matter has really kind of blown things apart a little bit so there is a possibility of doing some shouting. But it requires other people to let go of their power, and this is the sticking point.
"What I do have is the gift of overview. I can see what's happened before and can see the patterns because cycles repeat. Which is why I wrote that letter."
Multiple studies, including by the Intensive Care National Audit and Research Centre and the Office for National Statistics, have confirmed that Covid-19 has had a disproportionate impact on the mortality rates of people from ethnic minorities. But further studies, for example by the Fawcett Society, have suggested that Black, Asian and minority ethnic women in the UK "have been highlighted as particularly vulnerable to the economic and social impacts of the crisis." Through her disappointment in the industry's continued lack of visible change and her dissatisfaction with the overall response from leaders to both the pandemic and the urgency of BLM, George's letter accentuates that a real, positive and organisational shift is needed to prevent the possibility of such impact in theatre, and now is as good a time as any to make it.
"In order to move forward," George says, "we have to decolonise and de-institutionalise. We're the lifeblood of the theatres, not the buildings and not the people who run the buildings. But ultimately, they're the ones that make the choices and we have to ask, who gave them the keys to that door? We have to question it at every stage."
The pandemic has certainly forced the industry to question its framework, including who the decision-makers and gatekeepers are, especially as it becomes increasingly clear that young people of colour may not see a future for themselves in theatre.
"They don't understand the work we do and they don't take the opportunity to get to know us," George says of the gatekeepers in question and general attitudes to diverse voices once they've entered and progressed through the industry. Instead, young artists of colour are able to fulfil their creative needs elsewhere, in other platforms or media, where they are nurtured and given more agency.
She believes that the key is not to try to think of a return to theatre as we knew it, but to consider how we define theatre post-pandemic and who has access to it. "The onus should be on how we live with [the virus], how we do our work and not trying to go back to some model that evolved from the 50s and 60s that excluded us anyway."
One consequence of the temporary closure of theatres has been the increase in virtual events and live streaming, which has led to greater accessibility. "I think it's good for everybody and I think it's also connected us better with people we wouldn't usually be getting in the door to speak to. In a way, it's forced the higher echelons to come and take note and speak to us."
So with this in mind and with real conversations currently taking place around inclusion in theatre, what can be done to reset the status quo? "I think there is work being done," George says, "but for me, I really think independence is the key as well as redefining what we call theatre." As she notes in her letter, "the sector is good at reviewing, reporting, advisory-panelling, but I'm not convinced that we all are equally as good at hearing or doing." For George, this is partly down to a lack of clear statistics that could give an insight into who really makes up the industry and what measures need to be taken for any further development.
"It's really sloppy and we don't know where we are unless we have the figures. We can't make plans and we can't strategise without them. I'm not a numbers person, but I know that we need that kind of information. But it's confrontational and you have to wonder whether that's one of the reasons why we don't have the figures. It puts in their face how they're not stepping up."
A new generation of creatives of colour are organising on their own, many now going online where they can control channels or moving into more welcoming spaces. George believes we should continue to interrogate how independent theatre-makers can sustain a career, what post-pandemic theatre is, and with the right figures and these young creatives in mind, ask who benefits from the various calls to action.
"When I see all the call-outs to save this building and give money to the National Theatre, I just think no!" George says. "I like your work and I'm glad you're there. But it's the people that need the help, not the buildings or the institutions."
This interview is part of a series commissioned by the Federation of Scottish Theatre to highlight the impact of the coronavirus pandemic on theatre and dance in Scotland and the connections performance makers are continuing to make with audiences. The views expressed in them are those of the interviewees. To find out more about what is happening in the sector and to lend support please follow #Love TheatreScotland and #LoveDance Scotland
A message from the Editor:
Thank you for reading this story on our website. While I have your attention, I also have an important request to make of you.
The dramatic events of 2020 are having a major impact on many of our advertisers - and consequently the revenue we receive. We are now more reliant than ever on you taking out a digital subscription to support our journalism.
Joy Yates, Editorial Director