Andy McGregor on Britpop drama Battery Park: 'the actors could go out and play gigs'
In order to create a convincing drama about a Greenock band on the cusp of success, Andy McGregor knew his cast would have to sound like the real thing. Interview by Mark Fisher
Plays about rock bands have a tricky path to navigate. By necessity, they are performed by actors, but to be convincing, those actors have to look and sound like musicians. More than that, the songs must be authentic – either as good or as bad as the narrative needs them to be. If the band have a hit single, it needs to sound like a hit.
Writer, composer and director Andy McGregor knows how important this is. His new play is about a fictional indie band from Greenock called Battery Park who almost make it in the Britpop days of tuneful guitar anthems. It is 1992 and they are preparing to support Oasis at Glasgow's Barrowland Ballroom. Thirty years later, a student writing a dissertation on Britpop tracks down lead singer Tommy McIntosh in order to figure out what became of a band once tipped as the next big thing.
If any of McGregor's ideas about missed opportunities, the passage of time and the chance of starting afresh were going to hit home, he had to make the band seem credible. That is why, having given the role of the young Tommy to Stuart Edgar, a former musician, he took the four band members into a recording studio for a week.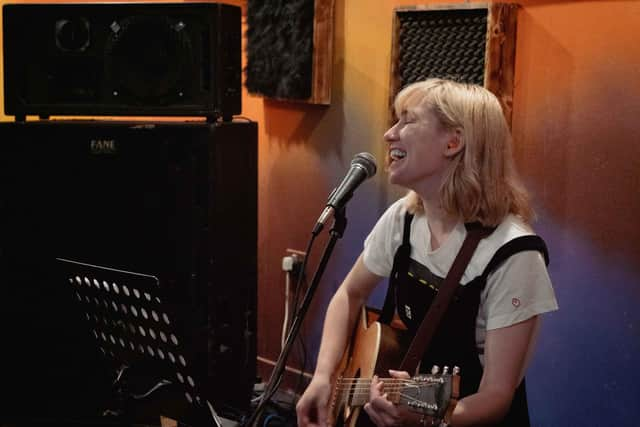 And it wasn't just any recording studio. It was a proper rock'n'roll dive. The website explained sessions would last from 10am until as long as the band could last. The staff looked like they had pulled more than the occasional all-nighter. It was brilliantly grungy.
"It meant that when we were playing, it was loud, like a band," says McGregor, whose plays such as Spuds and Crocodile Rock always have a big musical component. "We put a trailer out, which is them in the studio, and people who are into music felt it looked like a real band. They've been joking-not-joking that they could go out and play gigs. Battery Park could have been as big as Oasis and it has to feel like that."
In the Great Britpop War of the 1990s, McGregor was on the side of Oasis. In his teens, he was enchanted by the band's raw energy. Arch rivals Blur were too cerebral by comparison. He would develop an enthusiasm for them later.
"When I was younger, I had no interest in Blur," he says. "Now, I would probably listen to Blur more than Oasis, but then, I loved the cockiness and the rock'n'roll of it. Nothing beats Noel Gallagher's tunes. It was such an exciting time. With the Gallagher brothers, it felt like anybody could make it. There was something about the collective experience: lining up in the morning outside John Menzies to buy Be Here Now with all your pals – that has an extra edge to it."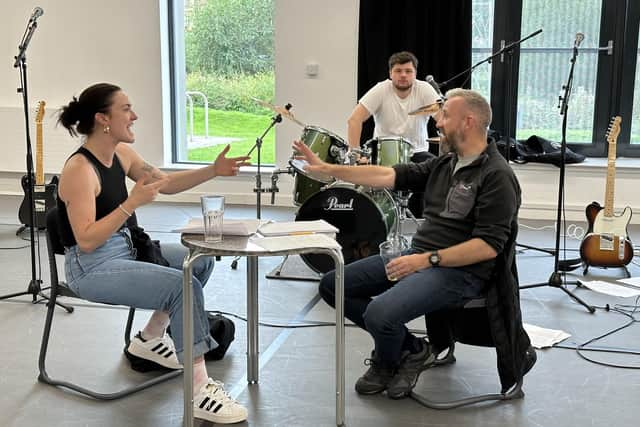 In Battery Park, produced by his own Sleeping Warrior company, McGregor is writing from experience. Growing up in Largs, he and his friends were the outsiders who had to go to great lengths even to visit a record shop. As a theatre enthusiast, he remembers his Saturday-morning bus journeys to take drama classes at the Greenock Arts Guild, where he would later help set up the Greenock Youth Theatre (now the Beacon Youth Theatre).
In 2011, he was shocked and delighted to see Douglas Maxwell's contribution to Smalltown, a three-author play, because it so precisely reflected his experience: "A girl was saying if you live somewhere like Troon, which is so similar to Largs, and you wanted to get into music, you had to get the train to get the record. If you wanted to see a film, you had to save up your money just to get there. If you want to be involved with the arts, it's not the same as being in the city where you can walk down the road and it's there. You have to make that extra step. Watching that play, I saw myself on stage."
He adds: "A band of working-class lads from Glasgow is different from a band from Greenock. There's that extra element of isolation and wide-eyedness. King Tut's is not a place you walk past every morning on your way to work."
He and his school friends were also in a band. Formed in 1997, when McGregor was 17, Blind Pew lasted ten years and had enough interest to sign to a label, A-List Records, and record an album. In time-honoured fashion, it was over before it began.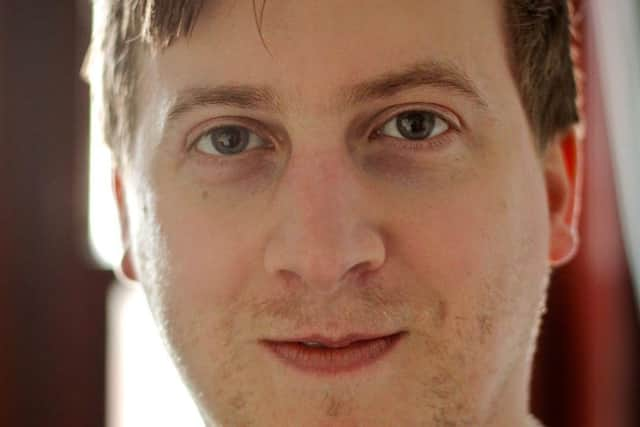 Despite the similarities, McGregor does not think of Battery Park as autobiographical. Or at least, he didn't until he heard Stuart Edgar speaking the lines he had written for the younger Tommy. "Obviously, I know what it's like being in a band and I know the things that can happen," he says. "But it's been weird because I've noticed I've written myself and I wasn't conscious of that at the time."
The key difference is in temperament. Where McGregor keeps himself almost obsessively busy, all these years later, the fictional Tommy has regressed from optimistic smalltown boy to jaded middle-aged man, convinced the world has nothing left to offer.
"Tommy represents where Britain is," he says. "When he is young, he's open eyed, positive, outward looking, wanting to go out there and share what he can do. When we meet him now, he blames other people for his shortcomings, doesn't want to get involved in anything and is very insular. It was interesting for me to think how different Britain is now. But young Tommy is still in there somewhere."
Battery Park, Beacon Arts Centre, Greenock, 22–23 September and touring until 29 October.