Andy Arnold on leaving Glasgow's Tron Theatre after 16 years as artistic director
In more than a decade-and-a-half at the helm of Glasgow's Tron Theatre, Andy Arnold has championed emerging talent, embraced international work and directed some 40 productions himself, but – he tells Joyce McMillan – the time is right to move on
When the pandemic hit in 2020, Andy Arnold of the Tron Theatre decided to use this strange gap in the normal rhythm of theatre life to look to the future. He was aware of the growing number of young actors graduating from college drama courses around the country, into a theatre scene which – given soaring costs and standstill funding – was offering ever fewer professional opportunities to perform; so he issued a call-out to young actors in the west of Scotland, whom he had never auditioned before, to send in self-tapes, and received an astonishing 400 responses.
One of the stand-out tapes was from a young actor called Eilidh Loan, who delivered a particularly powerful monologue; and when Arnold discovered that she had written it herself, the idea was born for her smash-hit play Moorcroft, about her father's involvement with a small six-a-side football team in 1990s Glasgow. Directed by Loan herself, and first seen at the Tron in 2022, Moorcroft is now about to receive the exceptional accolade – for a show originally produced by another theatre – of being toured around the country under the banner of the National Theatre of Scotland.
And the story of Loan and Moorcroft is only one of hundreds that have marked out the astonishing career of Andy Arnold, one of Scottish theatre's great encouragers and developers of emerging talent, since he first became director of Edinburgh's long-gone Theatre Workshop in 1980. In the last 15 months alone, he has presided over the success of Moorcroft, directed John Byrne's new 1960s musical Underwood Lane, and also staged and directed a Scottish premiere production of David Ireland's superb Belfast play Cyprus Avenue – starring David Hayman – so successful that it will now be re-staged next year at Glasgow's 1,400-seat Pavilion Theatre.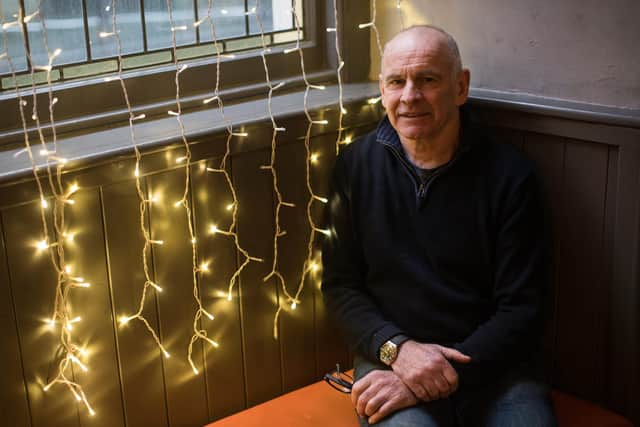 All of which makes it difficult to believe that when Gary McNair's new Dickens adaptation Nae Expectations opens at the Tron next month, it will mark Arnold's final production as artistic director, after 16 years in the job. Since 2008, Arnold has directed 40 Tron productions, in programmes that – uniquely in Scotland – seek to mix new Scottish work with thrilling contemporary plays from elsewhere, not yet seen here; his productions have ranged from exciting international projects in China, Italy and elsewhere, to a production of Samuel Beckett's Happy Days staring Karen Dunbar as Win, up to her neck in an ever-deepening pile of sand.
And now, Arnold is delighted to be working with Karen Dunbar again, alongside Gerry Mulgrew and others, on McNair's version of Great Expectations, which Arnold describes "as one of those projects that just feels right – right time, right people, right material. It's easy to forget just how surreally funny Dickens was, despite the serious themes of his novels – and with Karen playing Miss Havisham, we won't miss out on that."
Arnold is leaving the Tron, in other words, at a time when the theatre is buzzing with activity, and benefiting hugely from the wealth of creative relationships he has built up during 40 years in and around Scottish theatre. Born in Southend, Arnold first arrived in Scotland in the 1970s as a student at Dundee University; and after his time at Edinburgh Theatre Workshop, he returned briefly to London to run the Bloomsbury Theatre.
In 1990, though, Glasgow City of Culture boss Bob Palmer lured him back to the city to open up a derelict space under Central Station, for a project called Glasgow's Glasgow. Arnold fell in love with the space, and The Arches was born; the remarkable Glasgow venue that for 25 years, until its sudden closure over licensing issues in 2015, thrillingly combined the roles of music and club venue, restaurant, bar and arts centre. During his 18 years at the Arches, Arnold directed more than 60 plays, and – alongside his wife, the actor and director Muireann Kelly – developed the powerful relationship with Irish writing that has helped shaped his career.
"In the end, I was glad to move on from the Arches to the Tron," says Arnold, "because the organisation had become so dominated by the commercial aspects of its club operation that it was becoming more difficult to get physical and mental space to keep making theatre. But in a way, I would still like to re-create the Arches Theatre Company I worked with there; I just loved that."
The Tron, too, has had its administrative and financial difficulties in recent years; not least when in January this year, Glasgow City Council announced an inexplicable decision to withdraw all its city funding. "It is incredible," says Arnold, "when you think of Glasgow 1990 and all it meant, that Glasgow is now a city which has no culture budget. All its cultural funding is now lumped in with the community budget, which means that if you want funding, you have to keep quiet about the fact that you're doing theatre, and emphasise other aspects of your work."
If he has had enough of such funding battles, though, Arnold is far from downhearted, as he and Kelly establish a new base in Galway – although he will keep a flat in Glasgow – and begin to pursue freelance careers across Scotland and Ireland. "There are certainly fewer full professional productions being made in Scotland than there were 40 years ago," says Arnold, "and that means declining opportunities for theatre workers, including actors and directors.
"What is great, though, is the amount of brilliant new writing that is around now. When I started out, there were just a few big names that dominated the Scottish playwriting scene; now there are dozens of great writers that I really want to work with. So yes, it will be a strange feeling, freelancing again after so many years running theatres. But it's time; and I'm looking forward to it."