For decades, in the mid 20th century, the name of Lennox Castle – in the foothills of the Campsies, north of Glasgow – was spoken with fear, across central Scotland. Built in high Victorian Gothic style, the castle and its vast grounds were bought by Glasgow Corporation in 1927, and opened in 1936 as what became – at least officially – Scotland's largest hospital for adults with learning difficulties.
In truth, though, the place was never really a hospital. Part asylum, part Magdalene laundry, and later part prison, it became more of a holding place for people with whom society could not cope, whether because of mental illness, learning difficulties, or unconventional or "immoral" behaviour.
Lennox Castle finally closed in 2002, amid widespread accusations of brutality towards patients; yet when the playwright Linda McLean was taken to visit a troubled uncle there in the 1970s, she remembers odd alternations of horror and light-heartedness, staff that could be kind and caring as well as cruel, and a place that could look beautiful and magical, as well as forbidding.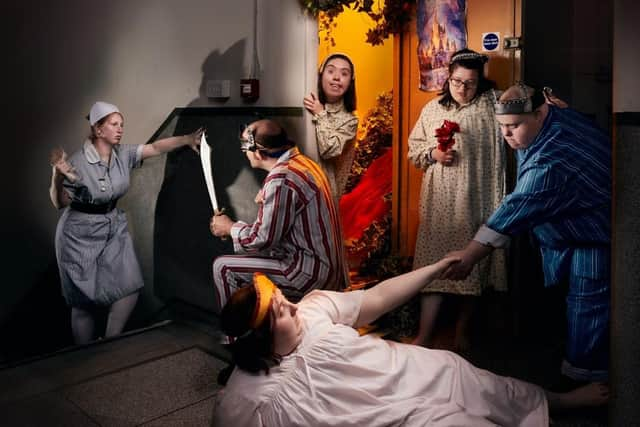 "The memory stayed with me," says McLean, "and I always wanted to write about Lennox Castle. But I wanted the people who lived their lives there to be able to tell the story in their own terms, somehow; and when I first worked with the Lung Ha company, on a show called Thingummy Bob in 2014, I knew I had found my cast – actors with the same spirit as many of the people I met at Lennox Castle."
The result is McLean's play Castle Lennox, set to appear at the Lyceum Theatre in Edinburgh next week, in a much-delayed co-production with Lung Ha Theatre – directed by Lung Ha's Maria Oller – that was actually in rehearsal when the pandemic hit in 2020. Founded in Edinburgh almost 40 years ago, Lung Ha is now one of the world's leading companies working with adults with learning disabilities; and whether working on a Chekhov play, or on a show that deals directly with themes of disability and exclusion – notably their 2010 epic Huxley's Lab – the remarkable Lung Ha ensemble brings an exceptional emotional focus and sense of purpose to their storytelling.
"The story of Lennox Castle is a really important part of the history of people with disabilities in Scotland," says Lung Ha actor Emma McCaffrey, who has autism, and plays McLean's central character, Annis. "If I had been living in Scotland 50 or 60 years ago, I could have been one of the people sent there – maybe one of the more able ones, who was allowed to be in charge of a tea trolley, or work in the laundry. Ideas about eugenics were very widespread when Lennox Castle opened; and many people believed that people who were "defective" – disabled, or out of control, or just a bit unusual – should be kept away from society, and certainly not allowed to have sex, or to have children.
"And some of those attitudes still exist today – as I know, from my work for the Edinburgh charity Get2Gether, which brings disabled people together for sociability and friendship. So this is a story that needs to be told; I think it's important for people to know what happened, and how people survived."
Linda McLean therefore approached the writing of Castle Lennox through months of intense collaborative work with the Lung Ha company, both on the content of the story, and on its style.
"I had always thought that the play would have a magical and romantic aspect," says McLean. "I wanted it to have fairytale elements, to capture that conflict of good and bad, cruel and magical. The Lung Ha actors completely got that; but when I asked them what kind of theatre they liked, they also said "musicals", loud and clear – something I hadn't thought of at all.
"Yet in fact it made huge sense. So what we have now is a musical, with songs and score by Michael John McCarthy, and musical direction by David Paul Jones, that uses music constantly to capture shifting moods, and to conjure up the atmosphere of the Saturday night discos that used to happen at Lennox Castle."
"Yes, this was never going to be a doom and gloom show," says Fletcher Mathers, one of the non-Lung Ha actors in the show, who says she is playing "all the horrible characters – horrible nurse, horrible laundress, wicked stepmother. Lung Ha actors work really hard, but they also have this terrific sense of fun and playfulness; so here we are with more than 20 people on stage, including musicians, doing a show that faces up to all the dark aspects of the Lennox Castle's history, but has plenty of hope and love and story in there too."
McLean agrees. ""Working with Lung Ha is a huge privilege," she says. "It satisfies a deep hunger for social justice in me, in that you're putting on stage the voices of people who are too often unheard, even today. It's also a rare experience of working with actors who say exactly what they think, and leave you nowhere to hide.
"And above all, it gives me a rare kind of creative freedom, which I think comes from writing for a group of actors that you know well. If theatre is a collaborative art form – and it is – then that's the essence of it. So this is a rare kind of show, in these cash-starved times – a big piece, made for a wonderful ensemble cast, with just a few performances. And I hope people will enjoy it and treasure it; because it may be a long time before we see its like again."
Castle Lennox is at the Lyceum Theatre, Edinburgh, from 30 March until 1 April