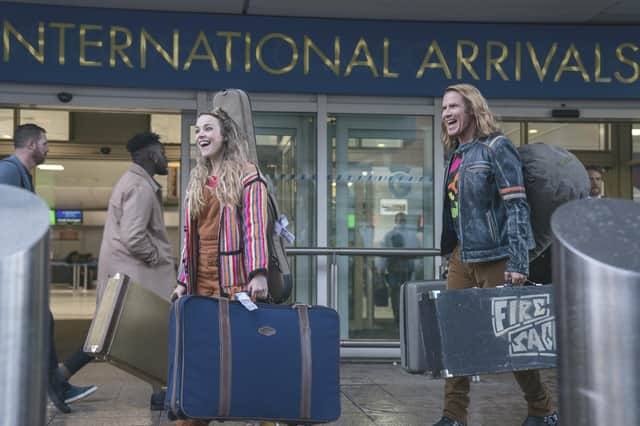 The Story of Fire Saga - Rachel McAdams as Sigrit Ericksdottir, Will Ferrell as Lars Erickssong.
Netflix's The Story of Fire Saga is him and Rachel McAdams as brother-and-(maybe)-sister duo Lars and Sigrid from a one-herring town in Iceland. They're Eurovision nuts, boring fishermen with ditties like "Ya-Ya Ding-Dong" ("My love for you is growing wide and strong") and everyone seems to hate them - but when all the other contenders are blown to smithereens they're required to sing for their country.
Fire Saga are so country-bumpkinish that, arriving in Edinburgh for the Eurovision semi-final, the New Town hotel minibar is beyond their wildest imaginings. So is Calton Hall which our duo climb by Segway, already a transport curio having ceased production this week.
The Russian contestant is beyond Sigrid's wildest imaginings. When he forhorns, "Let's get together I'm a lion-lover!" and the baby-oiled male dancers gyrate, she swoons. More camp than a row of tents on the upstairs floor of the flagship store of Black's of Greenock, he's played by Dan Stevens. Yes, the one from Downton Abbey, and a more contrasting role it would be hard to imagine.
Lars, despite stuffing cotton wool down the front of his snow-white bodysuit for extra emphasis, feels impotent. He takes himself off to Princes Street Gardens to gaze into a fountain and reflect on the embarrassment he's caused his homeland and a life wasted in pursuit of Eurovision glory.
Then he's interrupted by American tourists. As Dominic Raab might wonder, they inquire if the statue in the middle is from Game of Thrones. Lars thunders: "Europe is not your party town! Go home and build your wall!" Good old Will, saving our honour, and I reckon Edinburgh is the star performer here. Which means we get to host Eurovision next, right?
The Luminaries (BBC1) is attracting criticism for being too dark. Not in theme but a lack of lumiere. In its dingy bars and even dingier brothels, some are complaining they don't know what's going on. Well, your critic doesn't agree. We've all been stuck indoors for too long and your screens must be manky. Just wipe them!
Lockdown influences - invades - every thought. When this drama, based on Eleanor Catton's Booker Prize-winning novel, begins with the caption "New Zealand" I immediately think: "Aha, good Covid record. Smart, nimble PM. Everything shut down early." But the story is a world away from the here and now. It's 1866, the middle of a Gold Rush, and Bono's daughter has just stepped off a boat in search of a new life.
Eve Hewson is Anna Wetherell who's illiterate and quickly at the mercy of the villainess of the piece, a mystic madame played by a hammy Eva Green. Anna is wise to her boss's hokum and conniving and so's the latter's husband who sighs: "God, she talks a lot of shite." Hewson, by the way, has admitted her famous dad probably helped her clamber over other talents at acting school. But she has no need to apologise for she's a star here and I'm intrigued by a drama I didn't think was my thing.
You could have the same grumbles about dimness in Perry Mason (Sky Atlantic), a prequel to the 1960s legal-eagle long-runner. Ah, but this is deliberately film-noirish and set in Depression-era Los Angeles which was at least boom-time for milliners, with the witness descriptions of the murder suspect in the opener prompting this sarcasm: "A man in a hat? That sure narrows it down … "
I was too young for the original starring Raymond Burr but remember how it became part of the vernacular when anyone who fancied themselves as a top problem-solver would be challenged: "Who do you think you are - Perry flippin' Mason?" In this Mason is not yet a criminal defence lawyer but a private detective - "A fancy phrase for a busybody," explains Matthew Rhys in the title role.
Rhys was in The Americans, one of the greatest shows that no one watched where he furiously swapped bad wigs and big specs as a Russian spy deep in the heart of the US of A. Here, in 1931, fedora to the fore, he skulks around snapping compromising photos of family entertainers with names like Fatty Arbuckle. He hopes they'll bring a windfall but only get him singed with a hot gun barrel.
Mason's life is a mess; his tie is a mess. But he knows the local morgue attendant and so can buy a clean one from a stiff. Then the murder drops in his lap - it's a shocker. Who would kill a baby? A man in a hat, apparently. This could be a long, grim stretch and I don't know if I have the willpower, much as I like Rhys.