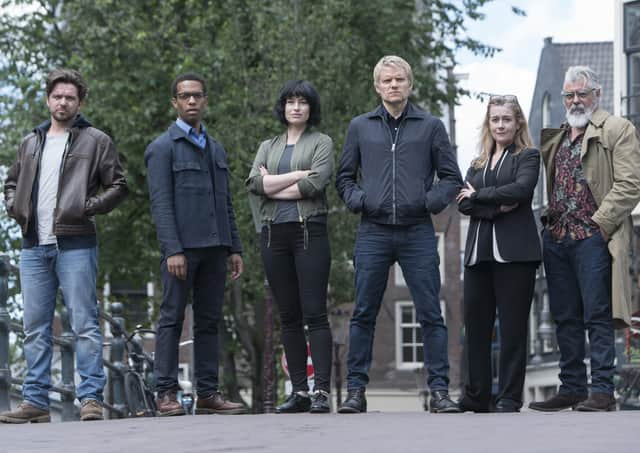 Pictured: (L-R) Luke Allen-Gale as Brad De Vries, Elliot Barnes Worrell as Job Cloovers, Maimie Mccoy as Lucienne Hassell, Marc Warren as Piet Van der Valk, Emma Fielding as Julia Dahlman and Darrell D'silva as Hendrik Davie.
Eye Level by the Simon Park Orchestra was the theme of the original Van der Valk and as some of you ardent pop-pickers might remember, it knocked Wizzard's Angel Fingers off No 1 in September 1973 to become the first music from a TV show to top the UK charts.
I'm humming it to myself as I write this but in the reboot with Marc Warren replacing the late Barry Foster all it gets is a ten-note reprise played on the piano in the middle of some generic musical mush. You might have switched off at that point and I almost did.
Even after half an hour the show was looking like generic detective mush, only with added canals. I didn't understand why ITV had revived VDV because, despite the waterways, it didn't feel very Amsterdam. Unless the Head of Drama had simply got bored with the same South London lock-ups and the usual rolling Yorkshire hills and ordered his locations team to find somewhere new.
Or somewhere old. The original Van der Valk is fondly remembered, for the choon as much as anything, and although I didn't watch every week – it was on ITV, you see, and we were a BBC house – Bazza was a maverick before mavericks were invented, in cop series at least.
Warren has not been a favourite of mine thus far. Has he ever smiled, even once? It seems that he has a scowl and, for variation, a snarl. That's the full gamut. Even when the mother of one of the kidnap victims in this first-of-three told him she'd been sent one of her son's fingers through the post he couldn't quite channel a sympathetic face.
Just as unappealing was the dialogue he'd been given: "No man's an island … Nothing is as it seems … It's not rocket science … You shouldn't judge a book by its cover."
The wardrobe department had kitted him out in skinny jeans and jacket. It was too much to expect one of Bazza's trusty polo-necks or a 
trench-coat in glorious sludge brown but was this VDV's attire simply too trendy? Undoubtedly, when I remember the last time I helped the CID with their inquiries.
Our man lives on a boat - of course he does, a very mavericky boat - but doesn't really convince as someone who loves art. And his team - because he must have one, though Bazza didn't - has been assembled along familiar lines: the geek, the slob, and the woman who may be secretly in love with him.
But then I started to get into this tale of vicious politics in the run-up to an election. Suddenly the routine wasn't quite so dreary, the bland a bit more interesting. I could blame the girl in the coffee-shop for this, for Warren's eponymous hero fell under her spell, too. Had I been munching on the kind of flavoursome muffins sold in such establishments?
No, my telly snack-of-choice was a box of Matchmakers in tribute to Bazza and the 1970s. I was still thinking straight because "You shouldn't judge a book by its cover" was still a terrible line.
Should you judge a revival by what it was like first-time-round? That's unavoidable. This one did improve, and whether that was down to wistful pining for a great city none of us are going to be visiting any time soon didn't seem important. But certainly Amsterdam - the canals, the bicycles, the galleries, the freedoms - had played a blinder.