Prince Harry and Meghan Markle have spoken out about their desire to leave royal life behind, but this has resulted in them being stripped of many privileges.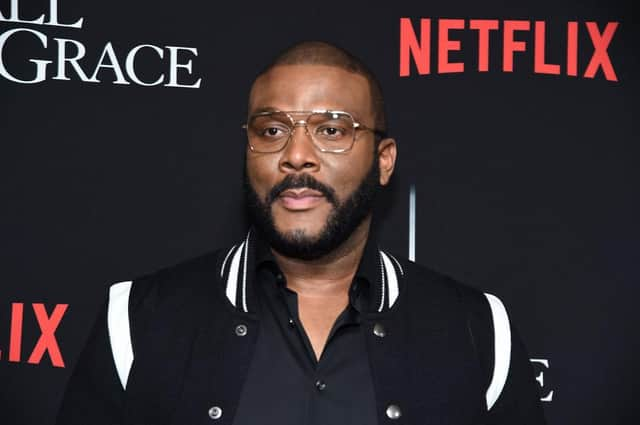 So, who is Perry and what is his link to the Duke and Duchess? This is what you need to know.
Tyler Perry - born Emmitt Perry Jnr.- is an American actor, screenwriter and film producer who is thought to be one of the most influential men in Hollywood.
He was raised in New Orleans and has shared that he was abused as a child.
The media entrepreneur, who didn't graduate from high school, has also revealed how he was inspired to become a writer after watching an episode of the Oprah Winfrey show, featuring an author.
Perry is well-known for his role as Mabel "Madea" Earlene Simmons, a tough, elderly African-American character he created in 1999, based on his mother and his aunt.
Perry has had numerous stage and film appearances as Madea, including Madea's Witness Protection (2012) and Madea's Big Happy Family (2011).
The billionaire works in partnership with Oprah Winfrey, on her television network, OWN and is the director behind many of the scripted series on the channel, from hour-long soap opera/drama series The Haves and the Have Nots to the sitcom Love Thy Neighbor.
He also owns his own television studios in Atlanta, Tyler Perry Studios. The studios feature replicas of The White House, hotels, mansions, US-style diners and a trailer park.
The Walking Dead TV series and Marvel's The Black Panther are among several productions to be filmed on the site.
He is a father of one son, who he shares with his ex-wife Gelila Bekele. The couple married in 2009 but divorced in 2020.
Did Harry and Meghan stay at his house?
Perry has shot to the attention of viewers of the Oprah interview with Harry and Meghan, after the couple told how Perry allowed them to live in his home and use his security when they first moved from the UK.
He has not been publicly tied to the royal couple before now, but it appears he stepped up to help them when they faced being locked down in Canada because of coronavirus restrictions, without any security from the Royal family.
Harry told Oprah how Perry invited them to live at one of his homes in LA.
He is thought to have flown Harry and his family to California by private plane, before putting them up in his LA mansion.
Thought to be worth around $18 million, the Tuscan-style villa sits on 22 acres in Beverly Hills, and has eight bedrooms and 12 bathrooms.
Perry also owns vacation homes in Wyoming and the Bahamas, according to The Los Angeles Times.
What did Prince Harry say about Perry's generosity?
During the tell-all interview with Oprah which aired on US network CBS on 7 March, Harry revealed how Perry has come to their rescue.
The prince said: "While we were in Canada, in someone else's house, I then got told, short notice, that security was going to be removed," he added that the media shared where he and Meghan were living at the time.
Harry continued: "So suddenly it dawned on me: 'Hang on, the borders could be closed, we're going to have our security removed, who knows how long lockdown is going to be, the world knows where we are, it's not safe, it's not secure, we probably need to get out of here."
Meghan added: "We didn't have a plan and we needed a house and he offered security as well, so it gave us breathing room to try to figure out what we were going to do."
A source previously told People that the couple then stayed at Perry's LA home before moving to a residency in Santa Barbara. The source said Harry "has endless gratitude to him for helping them during a complicated time".
What is Perry's link to Harry and Meghan?
It is not known exactly how Harry and Meghan are linked to Perry, but they are all mutual friends with Oprah.
Meghan was also an actress in the States before marrying Harry and assuming her role as Duchess of Sussex - so she could have met the director through her roles or other mutual friends.
In 2020, the film producer said at the time that he "felt" Meghan's comments about not being asked whether she was coping with motherhood after the birth of Archie.
He said "People toss it out. 'How are you doing?' But not many people really mean it, or pay attention to the answer."
Perry has not commented on the revelations by the royal couple.
Where can I watch Oprah's interview with Meghan and Harry?
The interview will air for UK viewers on Monday 8 March at 9pm on ITV.