TV reviews: Survivors (BBC1), Banged Up (Channel 4), Time (BBC1)
What did we do before we went on "journeys"? And what did we watch on TV before reality shows?
Maybe Women in Love, the Ken Russell film of the DH Lawrence novel, chiefly remembered for Oliver Reed and Alan Bates wrestling. Despite the scene being hewn from great literature, these two were like naked cartoon cavemen grunting and grappling in front of a roaring fire – Fred Flintstone versus Barney Rubble in a fight over the last dino steak.
Well, the same slight homoerotic tingle, soon overridden by the same schoolboy sniggering, comes during Survivor (BBC1) at the moment when a brawny fisherlad from Mull writhes on the sands of a tropical island with a personal trainer whose muscles seem to have been inflated with a bicycle pump. (By the way, what did we do before there were personal trainers?).
Survivor is first-gen reality, an American series from 20 years ago. Revived now, however, it's like a castaway emerging from deep in the undergrowth, wondering what it might have missed in the interim. Smarter shows in the genre is the answer. Survivor has been left behind but, in the Dominican Republic, perseveres with the creaking format of randoms in convoluted beach games bitching and backstabbing their way to the hoped-for cash prize.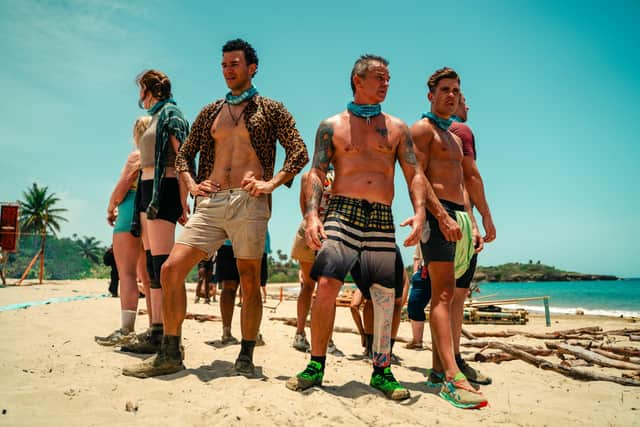 Wait, besides those journeys that everyone bangs on about all the time, there's something else that's new – the use, overuse and incorrect use of the word literally. As in: "I'm literally cutting my hands open! … he's literally got abs on his back! … I'm literally going to die if I don't have a hairbrush!" But I'm not sure I'd call this an innovation for Survivor, something to ensure I survive to the end.
Obviously I'm rooting for the Scots, although our three-person representation suffers an early blow when Richard from Dalkeith is voted off the island. No more journeying for this pensions manager – and with absolute confidence I can say "literally". Doug, who wins the wrestling, is a flood risk consultant and I half wonder if he might be summoned back to the storm-battered UK, but of course this isn't live TV. Glaswegian Rachel, another personal trainer, is viewed as a whinger by the contestant with only one leg: "Stop moaning about everything. You applied for Survivor. You didn't book a 35-day ticket to Ibiza." If I were her I'd be hiding this guy's artificial limb, or popping a Hispaniolan Giant Tarantula inside (one of the 17 deadliest species lurking in the DR – I've checked).
Survivor, with or without Hispaniolan Giant Tarantulas, seems very tame indeed next to Channel 4's Banged Up where, among others, some folk off the telly (Ricky from EastEnders, a Goggleboxer), a sitting Conservative MP and a disgraced former Tory politician (the tractor porn one) sample porridge.
I know they're not really in jail. That the wardens are retired, the fellow inmates are reformed and HMP Shrewsbury was decommissioned in 2013. Still, however much has to be simulated, the show can convey some tension, even what viewer warnings would categorise as "occasional mild threat".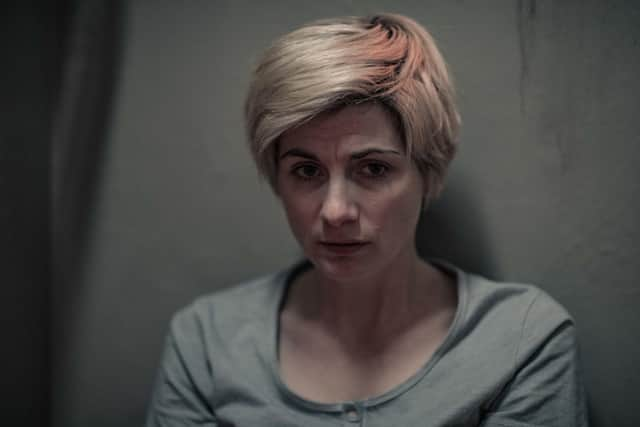 There are moments when we don't really know which way things will go. Whether, in prison parlance, it's all going to kick off. One such is when Johnny Mercer, usually seen attempting to defend the government on Question Time, is reluctant to accept an ex-con's explanation for how lacking a father's guidance led him into a life of crime.
He and Kevin Lane have sat down to dinner from tins. "Would you like me to drain your mackerel?" Mercer asks. But the colour drains from the MP's face as his cellmate recounts the progression from stealing Porsches to kidnapping then contract killing. One of his victims was assaulted with an iron bar, driven over, gassed and chucked into a canal before being rescued by a dog walker. "I'm a nice person," Lane insists, "and I terribly regret the things I did." They cost him his freedom for a total of 23 years.
The product of a "posh school" and a former choirboy, Mercer may be terribly regretting coming on Banged Up. But he starts roughening his accent to match Lane. Suddenly he's saying "f**k" a lot and vaping vigorously. Lane asks if he'd like a cigarette and then produces a bunch of them from his backside. "You dirty f****r," says Mercer. The attendant smell sends him reeling. "I'd rather you got violent than did that again." Lane fishes out a lighter. Mercer urgently needs fresh air and so starts smashing the windows. "Anyway," says Lane, "shall we play backgammon?"
There's black humour here, and ribald stuff, most of it regarding bottoms. Sid Owen from Easties possibly thought he knew what make-believe jug would be like, having had a father who was an armed robber and two brothers who also did time. But amid shouts of "anyone who touches his bum before me, they're dead", he's the first to try and escape after reading his Father's Day cards.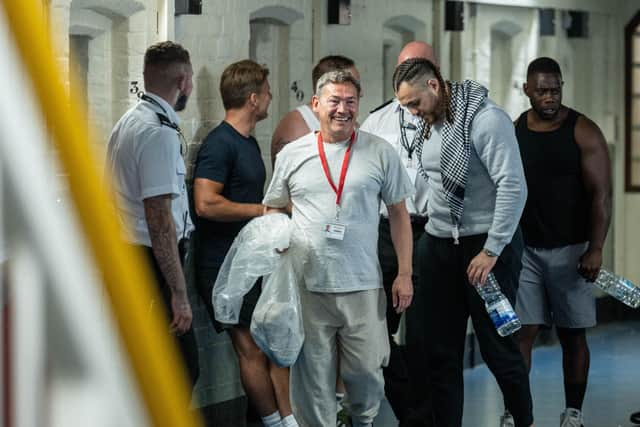 Mercer, if he didn't know already, must realise that prison brutalises, perhaps even when it's not quite real, because some of the explosions of rage don't look like they've been staged. Quote of the show, and maybe the entire TV year, comes from former guard George Shipton: "The dildo of consequences rarely comes lubed in this place."
It's back behind bars for Time (BBC1). And back to Jimmy McGovern, writer of fearless, impassioned, searingly human dramas, the best in the business. The original Time was 2021's best, life in a men's prison with Sean Bean and Stephen Graham. The sequel is what happens in a women's jail.
Like before, it can be searingly inhuman. This and Banged Up arrive at an opportune moment, with overcrowding a live issue. And McGovern also pinpoints understaffing, and either the cock-up or callousness or a bit of both, which results in the three children of Jodie Whittaker's Orla being taken into care without her being informed.
While the first Time was about Bean's middle-class teacher, the follow-up concerns three inmates, all hearing the dead thud of the lock on the same day. As with Bean's character you wonder – should single mother Orla even be in jail? She was sentenced to six months for "fiddling the leccy", but while inside loses her home and her job as well as the kids.
Bella Ramsey's Kelsey is a heroin addict who discovers she's pregnant. After a harsh beating from another prisoner, her scan is a heart-in-mouth moment. Completing a hat-trick of stunning performances, Tamara Lawrance's Abi is serving life for murder and doesn't want the rest of the jail to know the identity of her victim. But this gets out and the consequences are devastating.
There are random acts of kindness. From Siobhan Finneran reprising her role as chaplain, which you'd expect, but also from guards who do their best in dire circumstances. The random acts of violence, though, will shock you.
Comments
 0 comments
Want to join the conversation? Please or to comment on this article.