TV reviews: Fleishman Is in Trouble (Disney+), You & Me (ITVX), Desperate Measures (Channel 5)
There's a cutting quip in Woody Allen's Stardust Memories.
It's kind of self-harm because Allen wrote the line and it's directed at the film-maker he plays. Yes, says the girl, she likes his movies - "the early, funny ones".
Fleishman Is in Trouble (Disney+) reminds me of early, funny Woody.
For the pigeon chest of Jesse Eisenberg who's the eponymous hero of this sparkling new comedy. For the Manhattan streets he jitters around. For the male friends who don't seem much like friends at all (one is described as "a portfolio manager at a distressed debt fund who doesn't not have photos of himself with a dead giraffe and a live Trump son").
For just those hugely evocative little scenes ordering food in diners which make you want to visit New York again really soon. And for the women and the trouble they cause him.
Toby Fleishman is a 41-year-old hepatologist – "you have to love the liver – show me a more life-affirming organ!" – a father-of-two and a divorcee plunged into the brave new world of app-based dating.
This wasn't around during Allen's purple patch and you wonder what kind of fun he would have had with it. But not for long because Taffy Brodesser-Anker, adapting her own novel, is well in control here.
It's always a relief, and a joy, when a book you loved transfers well to the screen. Both open thus: "Toby Fleishman awoke one morning inside the city he'd lived in all his adult life and which was suddenly somehow crawling with women who wanted him."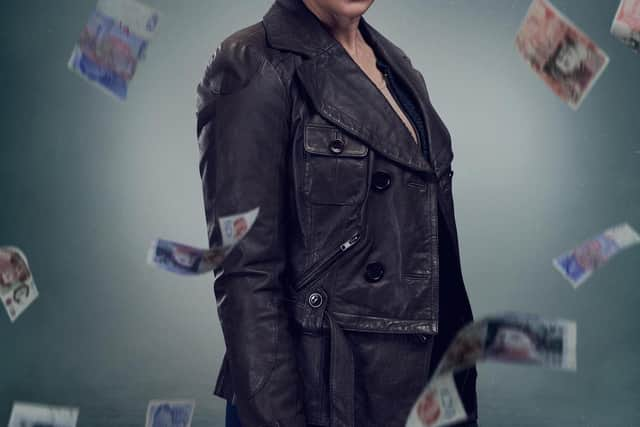 The narration is by Libby (Lizzy Caplan), one of two old college buddies who pick Toby off the floor.
"I'm getting out of a marriage to a woman who wouldn't let me pee standing up," is but one Woody-worthy line.
The unhappy union, according to a therapist, contained "three of the four horsemen of the marital apocalypse: contempt, defensiveness, shutting down – and I forget the other one," sighs Toby. Libby suggests: "Her being a total f*****g bitch?"
So who is the ex? Rachel, a theatre agent, played by Claire Danes, who I loved in Homeland, but am obliged to hate here.
In flashback we see Rachel castigate Toby for not earning enough to afford a swankier apartment. And then she dumps the kids on him at 4am when he's due in the hospital because a space has just become available at the trendiest yoga retreat.
Oh well. So how's Toby's love life? Might he see that zoologist again?
"She wanted me to choke her. I said I couldn't do it because I'd taken an oath." Woody would like that one, too.
The show has a lot to say that's witty and wise about marriage, money and midlife angst. The book, by the way, had Toby pondering his dating profile and an appropriate choice for favourite movie: "He wanted to put down Annie Hall, but wasn't sure that was still OK."
The last time we saw Harry Lawtey was in the bonk-busting banking saga Industry where he fell victim to a predatory older woman, woke up in a gutter and was arrested for having drugs at a wedding.
In You & Me (ITVX), he's switched to the far more noble profession of journalism.
He's Ben in a drama from actor-turned-screenwriter Jamie Davis requiring more emotional depth. In no time – really, two days – he's welcoming twins into the world, only to be left looking after them by himself. I won't tell you how this happens, but it's a shocking moment.
Ben had met Jess at a bus stop. Chatted her up there and soon they were inseparable. You & Me unfolds cleverly with overlaps, a story about love and grief and trying to come to terms with the latter so the former might happen again.
Ben's isn't the only tragedy. There's also what happens to Emma and you're not getting that from me either. Emma is played by Jessica Barden, who was fantastic in The End of the F*****g World, the teen-version Bonnie and Clyde, and is no less fantastic here.
Emma is an aspiring actress and the slow dance of her courtship with Ben is funny, sad and sweet. By the way, Ben wears a gold chain just like Paul Mescal in Normal People.
You remember – the chain that caused a sensation, acquiring its own Twitter account. Later, Ben must have an encounter with a man called Josh who's also sporting a chain. It's a chain-off, but how they resolve matters is hilarious.
By the end of You & Me, any similarities with the soppy work of Richard Curtis are long forgotten. The closing scene should have you remembering the finale of The Graduate, though without the wedding church doors being jammed shut with a cross. A homage missed.
Can you be menacing in a polo-neck jumper? I ask because the villain in Desperate Measures wears one and I'm not sure he cuts it. Maybe he, too, should have gone with a chain.
This is another of these racy, pulpy thrillers which have become Channel 5's speciality, though maybe not one of the best.
Amanda Abbington is a single mother, newly redundant, who must find £25,000 after her son is unwittingly caught up in a botched drugs deal. She tries flogging a ring only the pawnshop is raided, with one of the robbers being an old flame recognised from the tattoo on his neck. He definitely should have opted for a chain.
Comments
 0 comments
Want to join the conversation? Please or to comment on this article.