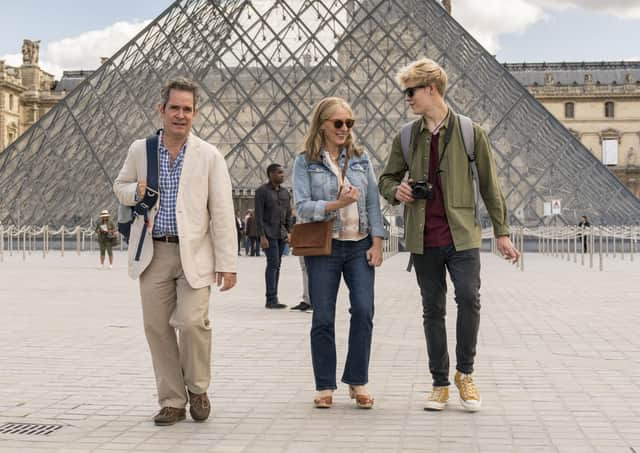 Tom Hollander has an impressively high forehead suggesting lots of extra storage for facts, feelings, memories – and boy does he need it in Us.
Feelings first. There's confusion, hurt, anger and the rest in the opening minutes of this grown-up BBC1 drama when his character Douglas is told by wife Connie (Saskia Reeves) that their marriage is over.
"You're great," she insists, "but I just don't want to spend my whole life with you."
Douglas Petersen (TOM HOLLANDER), Connie (SASKIA REEVES), Albie (TOM TAYLOR) in Us
Hang on, he says, it's not like we don't talk. "About the boiler, holidays, insurance," she sighs, before dismissing the prescribed pastime for coupledom: "Boxsets … every time I hear the word my heart rate sinks."
A warning: watching David Nicholls' bestseller transferred to the goggle-box alongside your partner may prompt anxious questions like: "Am I ready for 20 more years of him his picking his toenails/her glued to a smartphone/snoring/dishwasher supremacy/DIY avoidance/overcooked mince?"
Thankfully there are some grimly hilarious moments to come, such as when Douglas seeks temporary political asylum with a visit to the tip, blubbing in his car at the cardboard station with the opera turned up speaker-bustingly loud.
Even funnier and almost Fawltyesque is when he runs after Connie the frustrated artist as she drives off, sprinting some distance along suburban avenues after her, eventually catching up to announce they should go on their "Grand Tour" with son Albie after all, then realising he's come all this way in just his socks.
Facts? As a scientist he knows plenty. He's a very precise fellow and the trip has been organised with military precision (holiday reading: Anthony Beevor's The Second World War). In Paris, heading out, he asks Connie: "Tie too much?" She says not but you know she thinks it is, back in the city of her string of French boyfriends and a wild life before meeting the by-the-book boffin.
Memories? You may wonder how this pair got together in the first place but the quarter-century flashbacks tell of a fine romance, opposites attracting, with sparkling lines from Connie: "I am literally inviting you up to see my etchings!"
But how's this going to end? Don't tell me; I haven't read the book. I'm fearful for Douglas who's trying to loosen up but keeps coming out with pompous pronouncements like: "The buffet system is one of trust." Sentimental fool that I am, I hope his marriage survives. Yours too.
What is it with accountants and chocolate-and-orange flavoured Battenberg? Both Peter, from Edinburgh, and Hermine choose this combo when the four-panel cake begins the 11th series of The Great British Bake Off (Channel 4), the first TV programme to be filmed in lockdown conditions with the contestants forming a social bubble and Matt Lucas replacing Sandi Toksvig.
Lucas settles in nicely, impersonating Boris Johnson ("Stay Alert. Protect Cake. Save Loaves."), balancing a rolling pin on his head, warbling Roger Whittaker and confessing to an eating age of nine with a love for "Confirmed Batchelors Super Noodles".
Loriea is an NHS radiographer, Sura a hospital pharmacist and Linda shapes her Battenberg like an ambulance, in tribute to her paramedic cousin who's just died. The shadow of the pandemic hangs over Bake
Off and you can't help wondering how it's impacted on the livelihoods of the contestants when occupations are revealed.
Laura, you fear, might be busier than usual as a Samaritans volunteer and what about Lottie - where's her next gig coming from as a panto producer? But this Viking metal-loving yoga nut is determined to have a good time on the show, as are all the hopefuls, lifting spirits as the sponges rise.
There is drama during the upside-down cake challenge when Sura accidentally knocks Dave's entry to the floor. Does it land the right way up? You'll have to watch. Sura is distraught and this is the kind of incident which would have been exploited by a nastier show but not Bake Off.
During the next task - fashioning a bust of an idol - Lucas can't resist suggesting to Sura she make it up to Dave with a tribute cake in his likeness. Subjects chosen include David Bowie and Freddie Mercury, both of which look they've taken a tumble and are saved only by their trademark lightning flash and yellow jacket. Peter races for the line with his quirkily clever Sir Chris Hoy.
Danny Dyer on Harold Pinter (Sky Arts) sounds like something from Alan Partridge's desperate list of programme ideas (Youth Hostelling with Chris Eubank, Monkey Tennis) but is fascinating about this giant of the stage.
"What are his plays about?" asks Dyer, taken under Pinter's wing as a young actor. "They're set in shabby rented rooms, plates in the sink, a shilling for the leccy and Big Brother looking through the keyhole." Sounds like he knows.