Top Rugby Films: Five must-watch films featuring rugby - and how to watch including Invictus
If you can't wait for the next round of matches in the Rugby World Cup there are plenty of rucks and mauls available in these films.
The Rugby World Cup kicked off last week and is set to provide a feast of sporting entertainment between now and the final on Saturday, October 28.
Despite being a game that's played all over the world, rugby hasn't often been portrayed on the big screen, with Hollywood filmmakers preferring the likes of American football and baseball when it comes to big budget blockbusters.
There are still a few that are worthy of your attention though. Here are five to 'try'.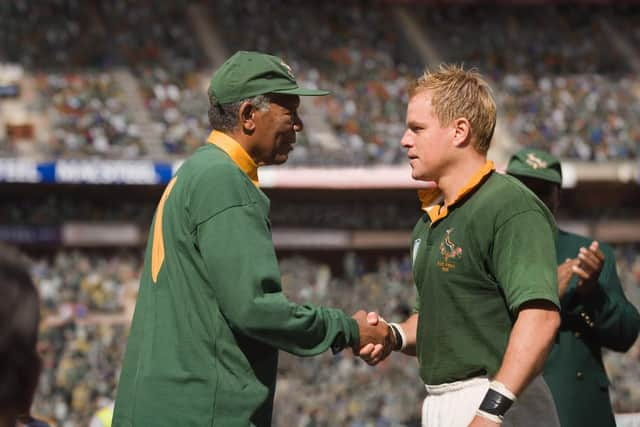 Invictus (Apple TV)
Featuring Oscar-nominated performances from Matt Damon as Springboks captain François Pienaar and Morgan Freeman as Nelson Mandela, this film tells the story of the 1995 Rugby World Cup in South Africa. Directed by Clint Eastwood, it examines the role the competition played in uniting a nation shortly after the end of apartheid. The sporting scenes in particular are superbly shot.
Mercenary (Netflix)
Selected for the 2016 Cannes Film Festival, where it won the Europa Cinemas Label Award, Mercenary follows a young man's journey from the South Pacific islands of New Caledonia to play rugby in France. The decision to cast real life rugby players in the main roles pays off, making for a gritty and affecting cinematic experience.
Sye (Sun NXT)
The unlikely combination of rugby and Bollywood proves surprisingly entertaining in this Indian film with a predictably ludicrous plot and epic dance sequences. It sees two groups of rugby playing students team up to stop a local mafia gangster from taking over their Hyderabad college by organising a winner-take-all match.
Murderball (Amazon Prime)
This Oscar-nominated documentary follows a group of physically disabled athletes trying to win a place at the 2004 Paralympic Games wheelchair rugby tournament. Centred on the fierce rivalry between the USA and Canadian teams, it gives a remarkable insight into the world of the full contact sport.
Pacific Warriors (Plex)
Narrated by Scottish actor Brian Cox, Pacific Warriors is another documentary offering a fascinating look at the international sport. This time it's the cash-strapped Pacific Island teams of Tonga, Samoa and Fiji that are in the spotlight – and the harsh realities faced by small teams in the professional era.
Comments
 0 comments
Want to join the conversation? Please or to comment on this article.