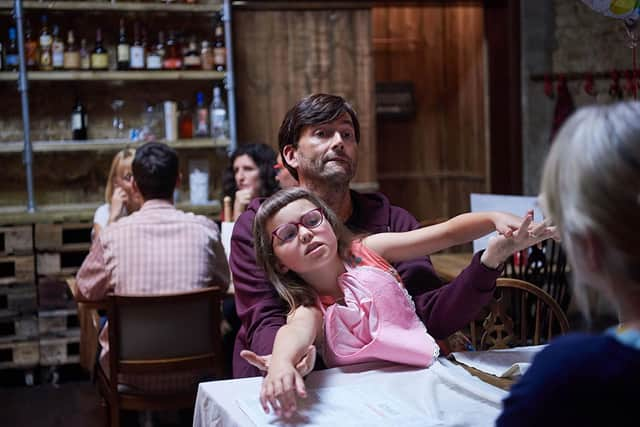 David Tennant is returning to TV screens with the second season of the award winning BBC comedy There She Goes.
The first season of There She Goes aired in 2018 - a five part series which was created and written by Sarah Crawford and Shaun Pye, with the second season returning two years later in 2020.
What is There She Goes about?
There She Goes is a British comedy drama that portrays the real life experiences of writers and creators Sarah Crawford and Shaun Pye on raising a daughter with an extremely rare chromosomal disorder.
The show follows Rosie Yates, a young girl with a severe learning disability, her parents, Emily and Simon and older brother Ben.
Star David Tennant, who plays father Simon, had praised the show for its "painfully honest" portrayal of parent-child relationships.
He said that the series resonates with all parents, regardless of weather their child is disabled.
"My experience of reading that first script was just how painfully honest it was, you always felt like you had to look away from the script sometimes," Tennant said.
He added: "[The show is] obviously about parenting a very unique child, but it's also just about parenting, and about how hit and miss that is, and how any one of us as a parent never feels that we're ever getting it right. And that it's actually quite rare to see the honesty of that written down.
"I think parenting is often sentimentalised, and sort of cleaned up for consumption, and in my own experience of being a parent, it's hit and miss, and full of triumphs and disasters."
The show has claimed a variety of awards for its cast and crew, with Jessica Hyne picking up a BAFTA TV Award for Best Female Comedy Performance and Simon Hynd being awarded a Royal Television Society Scotland Award for Television Director of the Year, both in 2019.
Playing the central character of Rosie is 11-year-old Miley Locke, who Tennant described as "an incredible find".
Miley herself does not have any learning disabilities, and the choice to cast a non-disabled actor was controversial - however, the demands of the role were found to be too great for a young actor with a disability.
Tennant said: "Anyone who appreciates the kind of challenges that a child like Rosie would have doesn't doubt that it would not really have been possible."
Miley has previously been on television, playing Sara in The Royals and Izzy in Not Going Out.
David Tennant (Dr Who, Good Omens) takes on the role of Rosie's dad, Simon, and Jessica Hynes (Years and Years, Spaced) plays her mother, Emily.
Edan Hayhurt (Genius) was cast in the role of Rosie's older brother, Ben.
The BBC dropped a trailer for the second season of There She Goes in June, which shows the Yates family pulling together when times get tough.
In one scene, Rosie can be seen playing in a pile of feathers she has ripped out of couch cushions, squealing with joy, and her older brother Ben egging her on, saying: "Yes Rosie, clever girl! Is it snowing?"
Season two kicks off with Rosie displaying some newfound communication skills, sparking hopes that her ability to talk might improve, with the first episode of series two even titled "Speech and Language".
At the end of the trailer, Emily (Hynes), says: "I think she knows lots of words. She just says them differently."
Where and when can I watch season two?
There She Goes returns to TV screens for its second season on Thursday 9 July on BBC Two.
The show will air at 9:30pm and lasts half an hour.
The BBC website says that episodes of season two will be available on iPlayer after the episode has aired, so if you miss it on the TV, you can catch up online.
Where can I watch season one?
Unfortunately season one of the programme is unavailable on iPlayer, but for those interested in catching up on the parenting comedy, you can catch it on Britbox.
Britbox is a streaming service created by the BBC and ITV, which lets you watch loads of content from the BBC, ITV, Channel 5 and Channel 4.
Programmes like Love Island, Peep Show, Liar, Broadchurch, Friday Night Dinner and Doctor Foster are all available to stream.
You can sign up for a 30 day free trial. After the trial is finished, it will cost £5.99 per month to keep watching.