The Crown Series 6 Review: Elizabeth Debicki, Princess Diana's ghost, great subtlety and comical clunkiness
The first episodes of the final season of Netflix's royal series The Crown have been released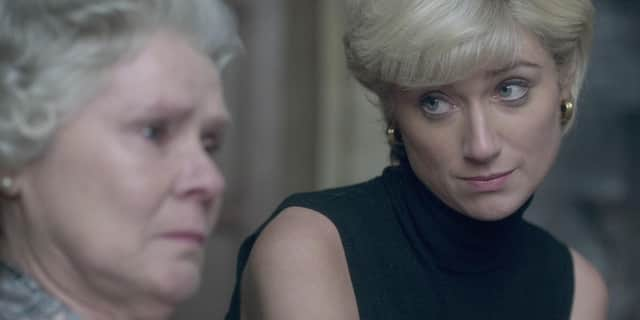 On Tuesday, his 75th birthday, the King was rung up by Prince Harry. This made front-page news because they hadn't spoken in six months so you guess there might have been the odd awkward silence.
Well, if they were to talk again now, with Netflix's The Crown having reached peak contentiousness, there would be no shortage of things to talk about, such as: Diana, Charles' first wife and Harry's mother, reappearing immediately after her death as a ghost.
The very fact I'm speculating on the content of a private conversation shows how much the Royals-subjects relationship has changed. Deference went out with golden carriages (okay, they're still used, but you know what I mean). My monarchist mother would have been intensely interested in what was said between His Majesty and the fifth-in-line but would not have wondered out loud.
This is what The Crown does: it wonders out loud for a global TV audience. Draped in production values costing £225,000 per minute, it imagines and invents. It gets itself into terrible trouble for this, but showrunner Peter Morgan will not have his head chopped off. And by being so brazen in the name of drama it has surely played its part in making us think differently about the House of Windsor.
These four episodes are the beginning of the end. Six more will follow next month and that will be it, all over. From Buck House to the country residences and all the way to Montecito, the Royals will surely breathe a huge sigh of relief and - here I go, more speculation - may well feel like throwing a party. First, though, they've got to get through a reconstruction of Diana's final days.
The sequence begins and ends with the Paris tunnel. The crash is not shown but the speed and the noise are horrific. The flashback covers a period of eight weeks beginning with Mohamed Al Fayed not so much match-making between Dodi and Diana as dragging his son the length of his yacht and throwing him at her.
Meanwhile Charles is getting into a flap while organising Camilla's 50th birthday bash. "It better not go a**e over t**s," she remarks, but he needs the event to have the presence - and for their romance to have the blessing - of "Mummy". As he waits for an audience a rat scuttles across the hallway. Then the Queen tells him: "How can one give approval when one doesn't approve?"
Dodi thinks his father turning into a wedding planner is "the craziest idea I've ever heard". Al Fayed is deadly serious, roaring: "This is your chance to finally make me proud of you!" He cranks up his efforts, phoning constantly for progress reports, and asking a maid: "Are they sleeping together yet?" If this is untrue and Al Fayed was still alive he might well sue. Actually, even if it's accurate he'd probably do it, for the mischief and the publicity.
Elizabeth Debicki is mesmerising as Diana and her performance, full of empathy, will surely win awards. Josh O'Connor was so good as the younger Charles that Dominic West is only now asserting himself in the role. The future king is asserting himself in the popularity contest with his ex-wife, telling aides: "I don't want partial, qualified victory - this is war!"
There are two dominant colours: shimmering turquoise for the waters of St Tropez and fusty brown for the wood-panelled walls of Balmoral. And there's a clever contrast between the jobbing photographers at locations a world away from each other.
When a sunbathing Diana coquettishly extends a leg to beckon Dodi, a louche paparazzo gets his money shot. Meanwhile Duncan Muir (Forbes Masson) must snap middle-aged men in plaid flaunting too much hurdie while waiting for Sunday and his favourite picture: the Queen at Crathie Kirk.
Diana wears a Duran Duran t-shirt but she's no bimbo. She knows bad poetry when she sees it, such as on Dodi's engraved gift rhyming "potion" and "ocean". When he proposes, the old man threatening to spontaneously combust while awaiting confirmation, she says "no" seven times.
She'd already assured William and Harry she wouldn't be marrying the Egyptian playboy, her sons having thought him "weird" and made fun of his moccasins. In the ongoing publicity battle they bristle at the latest staged photo, alongside Charles on the hills, with Wills complaining to their father: "All our friends will tease us, especially if you wear your kilt and carry a shepherd's crook … Little Pa Peep." But, just one more sleep and they'll see Mummy again …
The tragic news from Paris is relayed with simple, subtle power as, one by one and at a quickening rate, the lights are turned on at the Royals' Highland home. We see the family being told, and we see Charles at the hospital, but no words are heard. Not even The Crown goes there.
But then, on his flight home, Diana re-appears spectrally. "You were always the most beloved of us," Charles tells the apparition. It says: "You know I loved you - so much, so deeply and so painfully, too. It will be easier for everyone with me gone."
"No it won't," he says. Then the ghost, smiling, replies: "Ah, but you've had that thought already!" Peter Morgan will insist the scene is merely and justifiably artistic licence but it's clunky.
What did the Queen make of the world's most famous dysfunctional family turned into a TV show? We'll never know now but maybe the last words should go to Duncan Muir, talking about her when she was alive: "Her Majesty unites a divided country through admiration for her. I think we will miss her terribly when she's gone."
Comments
 0 comments
Want to join the conversation? Please or to comment on this article.