Text For You: Outlander's Sam Heughan to star in new romantic drama - release date and plot explained
The film will be based on a German romantic drama which was previously released in 2016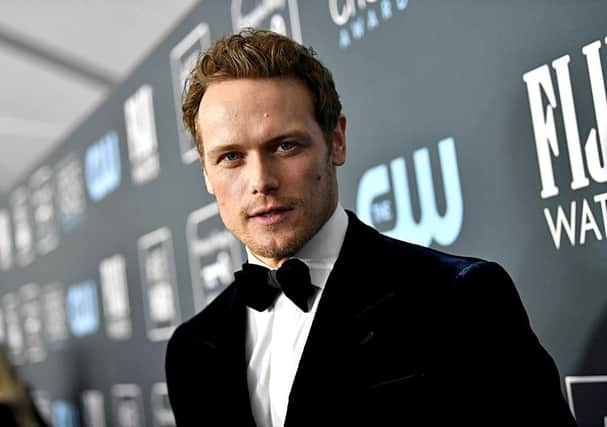 Sam Heughan has made a name for himself as one of the most popular actors to come out of Scotland, alongside the likes of James McAvoy, Ewan McGregor and David Tennant.
Heughan's latest project is an upcoming film with the working title Text For You, alongside the likes of Celine Dion and Priyanka Chopra. Here's everything we know about it so far.
Text For You is a romantic drama, based on the 2016 German film, SMS Fur Dich. In turn, the original movie was based on the popular novel of the same name by Sophie Cramer.
The story follows a woman whose fiance tragically dies. In order to cope with her grief, she sends romantic text messages to his old mobile phone number.
Her fiance's number has been reassigned to a new mobile phone, who happens to belong to a man also suffering from a similar heartbreak. At first, the man thinks the texts are spam, but is eventually inspired to try and figure out who it is that is sending them.
The two meet and fall in love. However, they can't seem to leave the past behind.
Sam Heughan has been cast in one of the lead roles of the new romantic drama.
Best known for his portrayal of Jamie Fraser in time travelling romantic drama, Outlander, Heughan also recently starred in action comic book film Bloodshot, opposite Vin Diesel, as well as in the upcoming thriller, SAS: Red Notice, alongside Ruby Rose. He is set to play a young Paul Newman in the Roald Dahl biopic, An Unquiet Life.
Starring opposite Heughan in Text For You is Priyanka Chopra, who viewers will recognise from her appearances in films and TV shows like Quantico, Isn't It Romantic, and Baywatch.
Celine Dion has also been announced as part of the all star cast. Dion is known around the world for her musical talents, with her famous songs including My Heart Will Go On, The Power of Love, and It's All Coming Back to Me Now.
The film will be written and directed by Jim Strouse, who has both written and directed a number of previous works, like The Incredible Jessica James, People Places Things, and Grace Is Gone.
On 28 October, Heughan announced his involvement in the project, posting a picture of himself, Dion and Chopra on Instagram, and writing, "So excited to be joining this incredible cast! Text For You" movie written and directed by the brilliant Jim Strouse!"
When will it be released?
The film appears to still be quite a way off from completion, so a release date has yet to be announced.
The film and TV industry is struggling to complete projects due to the ongoing Covid-19 pandemic, with many big name Hollywood blockbusters getting their release dates pushed back.
The pandemic has seen the sixth season of Outlander be delayed indefinitely as the cast and crew get to grips with filming during a pandemic. The start of production on season six is yet to be announced.