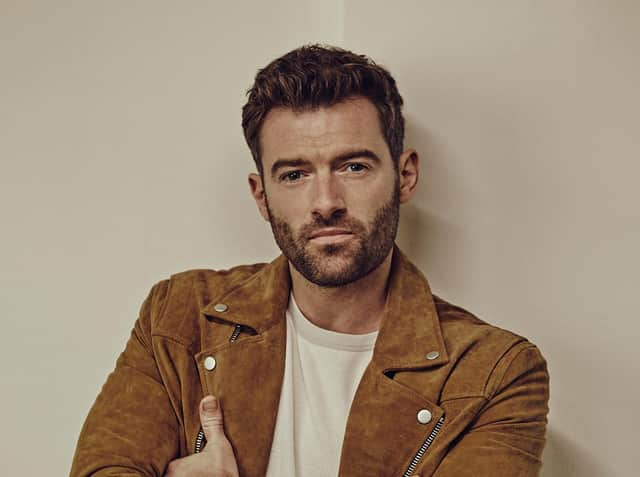 Stuart Martin grew up in Ayr and went to Langside College and the RSAMD, now the Conservatoire. He starred in Babylon, Jamestown, Medici: Masters of Florence and now Miss Scarlet and the Duke. Picture: Robert Harper
Like the rest of us, actor Stuart Martin is on lockdown at home, life put on hold as the virus changes our world beyond recognition. Like so many, his livelihood has been hit as the cameras stop rolling, but he's busy counting his blessings as he looks out of his bedroom window onto the empty streets around his East London family home.
"Hopefully we'll all be all right. And within the situation the great thing is what people do: think about what we really need, about actual necessities.
"I think we will come out of it, changed for the better," says the 34-year-old from Ayr.
Martin on the set of Miss Scarlet and the Duke
Martin is best known for Babylon, the Channel 4 cop comedy-drama series, Jamestown, the New World adventure from the makers of Downton and Medici: Masters of Florence, the Netflix hit about the Medicis who bankrolled the Italian Renaissance.
Now he's giving us a lockdown lift with another boxset to binge, Miss Scarlet and the Duke. A tongue-in-cheek historical crime drama about Britain's first female detective in Victorian London, it goes out on the Alibi network. He's also just finished working on Dampyr, a horror film set during the Bosnian War of the 1990s so was already at home before the lockdown hit anyway, with wife Lisa McGrillis, (who plays the amiable airhead Kelly in Mum) and son.
Like a lot of freelancers, for Martin most of the work stopped almost overnight.
"A lot of things I was waiting for suddenly went off the table because everything shut down. A film set is in some senses a mass gathering, 100 people all in close proximity. But I'm lucky, I've got a bit of work over the next wee while, voice overs and stuff.
Stuart Martin, Sophie Rundle and Max Beesley in Jamestown, 2017
"But it's a worrying and upsetting time for everyone and for those on zero hours contracts and the service industry, it's really hard," says Martin who has steady TV and film work now, but didn't always.
"As actors, that's often what you're doing, where your main money comes from; bar work, nannying, taxi drivers and all that stuff. Those people are living week to week."
But Martin is definitely enjoying the time with his family, locked down in a lively, happy house. Lisa, three-year-old Josh and Albert the cat, can all be heard at various times in the background – Lisa from downstairs when he shouts down to enquire about his age.
Martin plays policeman William Wellington aka the Duke, opposite Kate Phillips, as Eliza Scarlet
"Thought I was 35," he says. "I've just gained a year."
And Josh wondering when his daddy is coming to play with him, followed by Albert, who bursts into the room and meows a lot, building his part of actor's cat. "He rules the roost," says Martin. "Any time I say to Lisa 'let's go to LA, take Joshy, or come to Italy', she says 'What about Albert? What about Albert?'." Albert meows in approval.
Martin sounds happy with his lot, despite the worry of coronavirus, not least on account of his parents in Ayr and Lisa's in Carlisle, but apart from that he's savouring the lack of deadlines.
"Usually you're going 'right, up in the morning, got to do this!, and you're distracted. Now you really spend that time with each other.
The Victorian detective series is a slick and pacy mix of period drama, crime and contemporary soundtrack. Picture: Bernard Walsh
"And the community stuff that's coming out of it is lovely. There could definitely be a re-set for us all after this.
"It's a horrific situation, but later we can look back, for example at what happened to pollution levels. Those will be very real statistics that can't be denied by politicians and big business who say global warming doesn't exist. At the moment people aren't driving around in cars, taking all those flights. And I'm a terrible one for it, because I work six months of the year in Europe and fly home every weekend because I need to see my family. You're clocking up a ridiculous amount of hours and it becomes very normal. But on jobs in the future I'm going to look at how to half that and offset my carbon footprint. We're going to be held accountable. I'm not looking forward to explaining to Josh why we all had petrol cars."
On a lighter note, coronavirus has given us plenty of time to catch up on our telly, and we're a nation that loves a mystery, which brings us to Miss Scarlet and the Duke.
Martin plays policeman William Wellington 'aka' the Duke, opposite Kate Phillips (Peaky Blinders), as Eliza Scarlet, a woman determined to be a private eye despite the disapproval of society and the Duke.
Slick and pacy, the detective drama kicks off with a punchy fist fight involving Eliza and goes on to nail that mix of period drama, crime and cool contemporary soundtrack that's been such a hit with the likes of Peaky Blinders.
"It's got a bit of wit about it," says Martin. "I remember reading it and going, 'ah, very cool'. Every scene ends with a little sort of punch line, it's really snappy," he says.
Martin's wife Lisa McGrillis as Kelly with Lesley Manville in Mum. Picture: BBC/Mark Johnson
William Wellington is very much a man of his time in an era when women didn't get to vote, despite many who were fighting for just that. Women like Eliza.
"They're like two magnets, pulled together and pushed apart. He drives her mental, she drives him mental and that keeps it interesting."
"She challenges him on his ideas and as the series goes on, changes him. He doesn't become a liberal man or modern man, but his opinion is completely changed by her amazing abilities as a detective against all the odds.
"Actually all the characters have barriers. There's Moses, a Jamaican in London, Rupert who's gay when it wasn't accepted, and even the Duke is a Glaswegian, not from the upper class ex-army boys world of The Met. Everyone's got their glass ceiling."
So apart from Miss Scarlet and the Duke, which box sets are being binged in the Martin McGrillis household right now?
"Succession, season two," he says, which stars Medici co-star Brian Cox. "He's amazing in it, and a great bloke. Succession is brilliant, by Jesse Armstrong, who also wrote Babylon with Sam Bain.
"And films, there're so many good films out now. Great indies, Wild Rose, stuff like that. I think they're going to still release cinema stuff, and stream them for us to buy.
"Oh, and Love is Blind," he laughs, embarrassed but unrepentant. "Yeah, it's awful, but it's great. It's total, switch your head off sort of telly, brain fodder, and we just keep watching and watching it."
With a three-year-old in the house there's only so long you can spend watching screens and Martin has been busy entertaining his son with expeditions to the loft, "hours exploring all the little spaces" and knocking together wooden planks in the garden to give Josh something to clamber on.
"I was so worried as a kid about the consequences of falling over and scraping my knees," says Martin, "and I still have this, what's going to happen thing? But you're all right. I'm not saying it's a good thing to leave him up a tree…" he jokes, "but they've got to learn."
It's hard to believe Martin worries about falling over and skinning his knees as he's often cast in men of action roles, and is, as wife Lisa put is so succinctly on Twitter, "a pure sexy hunk" who looks completely at home shooting bows and arrows in Jamestown or astride a horses in Medici: Masters of Florence.
But the way Martin tells it, a lot of the skill is in holding on tight and hoping for the best.
"They tried to get me to learn how to horse ride bareback on Jamestown and that was... interesting. I did a little bit, a very slow walk, but they wanted a canter. I was like 'I dunno, what do I hold onto if I feel I'm going to fall off? Can I grab the hair?', and the trainer said 'No! Just jump off!' 'Just jump off it?' Right,'" he laughs.
The holding on tight practice paid off when Martin went to Italy to make Medici, a dynasty whose members were accomplished horsemen as well as accountants, capable of crunching opponents as efficiently as numbers.
"There was a week of prep – rehearsals, costume fitting and an hour a day of horse riding training. They said you're just going to be climbing on and off the horse and walking round in a circle so that's all we did all week. Then you get on set and the director goes, 'great climb on and ride off. So you climb on and off and he says, 'yes, but faster. Faster!' I'd never really ridden before, and it's galloping up to steps and jumping off. Then it's 'there's a jump here'. A what? 'In five steps you will need to jump,' and you're wondering how, maybe give the horse a little kick, when they literally just slap it on the arse as you're riding up. So you're just holding on!
"But all that stuff's fantastic really. What other job do you get to learn all these things, like shooting a bow and arrow, riding horses? It's a lot of fun."
His latest film, Dampyr, an Italian comic book adaptation also starring Wade Briggs and Frida Gustavsson, is also action-packed.
"I play Kurjak, a sort of anti-hero, a Serbian badass in the Bosnian War. You start off thinking 'oh, I don't wanna be a bastard', then it's really freeing to go with it and try and get away from yourself."
Martin was sold on the role of Kurjak after seeing a documentary short made by first-time feature director Riccardo Chemello about free running.
"He's one of those people who are just exciting to meet and the script was so filmic and epic, I thought I've got to do this. Although I did wonder if it was logistically possible, 12 weeks in Romania and flying home at the weekend."
Dampyr follows the story covered in the first two comic books in the Dampyr series produced by Sergio Bonelli Editore. Harlan Draka is a Dampyr, half-human and half-vampire, unaware of this at first, then forced to claim his power to battle with the Master of The Night. A horror film, it's rooted in the real horror of the Bosnian War, with a supernatural twist.
"For me it's a war film set in Bosnia in the 1990s and very quickly in the first 10-15 minutes they realise there's another enemy which is vampires, and you're in a vampire film, so I loved that. The focus is on the three characters at the heart of it.
"I'm a commander of my team of men who are faced with a new, unknown enemy, and who teams up with a half human/half vampire and a vampire, to go and 'save the world!'. The beauty of it is it starts very gritty and real. Whatever your story or genre, it needs to be based in reality and how people act, and then there's a bit of escapism with big visual stuff and effects."
With filming complete the team are now working on all of the CGI and special effects and post-production from home, as Italy endures its own coronavirus lockdown, with the film's release due at the end of this year or start of next.
Growing up in Ayr, Martin wasn't a child who went to drama classes or studied it at school and it wasn't until he was 17 or 18 that he thought he'd like to be an actor. He'd always been fascinated by the idea but didn't know how to go about it.
"I think it was fear. I didn't know anyone that was an actor, didn't go to drama classes. I think I thought 'it just finds you, you're just spotted in Tesco's when you're walking about with your mum'.
"So I kept on changing what job I wanted to do about 150 times… fighter pilot, plumber, the army, doctor… obviously none of those things I could have done, and my mate said 'why don't you just be an actor? You always come back to that – just be an actor.'"
Turned down by the RSAMD the first time he applied, he studied acting at Langside College, then was accepted second time round.
"Just as well because the first time I didn't know what I was doing. They taught me how to be an actor and we did a volume of plays we were guided through by teachers and directors. So you can try stuff out, and be wrong and take risks which is invaluable experience and training you don't get when you're working. It's got to be right."
Another lockdown telly suggestion emanating from the Martin/McGrillis household is to watch the perfectly-crafted trilogy of series that is Mum, with McGrillis alongside Peter Mullan and Lesley Manville.
"Mum was just brilliant, perfect, written in three series from the start to the finish. They were all great in it, and Lisa is such a fantastic, versatile actor who went back to work on a TV show three months after Joshy was born. We were up in Durham and while she was filming I had him. She would express milk through the night and be up at half five and express again, then go into work and express in her trailer and send the milk back with an amazing driver.
"She works so much – she was doing a play until now. Because it's so changeable, isn't it? You're juggling all the time, and with a three-year-old, you're always aware you need to keep it going so you're working more, making hay while the sun shines.
As work becomes less important, it also becomes more important. You know you could just stop working, and that's just the reality."
At least while the work's on hold for many, there's some great telly to binge.
Miss Scarlet and the Duke airs on Tuesday nights on Alibi at 9pm
A message from the Editor:
Thank you for reading this story on our website. While I have your attention, I also have an important request to make of you.
With the coronavirus lockdown having a major impact on many of our advertisers - and consequently the revenue we receive - we are more reliant than ever on you taking out a digital subscription.
Subscribe to scotsman.com and enjoy unlimited access to Scottish news and information online and on our app. With a digital subscription, you can read more than 5 articles, see fewer ads, enjoy faster load times, and get access to exclusive newsletters and content. Visit https://www.scotsman.com/subscriptions now to sign up.
Our journalism costs money and we rely on advertising, print and digital revenues to help to support them. By supporting us, we are able to support you in providing trusted, fact-checked content for this website.