Sir Sean Connery at 90: New study reveals his most popular film
Its tagline claimed that "everything he touches turns to excitement". Now the classic James Bond flick Goldfinger has been named Scotland's favourite movie, starring national treasure Sir Sean Connery.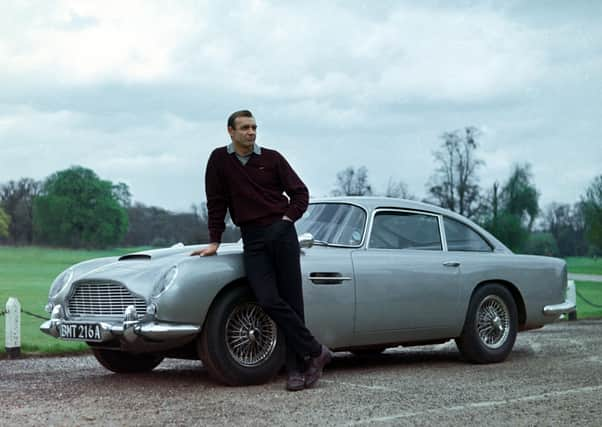 The 1964 film, which also starred Honor Blackman as Bond girl Pussy Galore, came out on top in a study to mark the Edinburgh-born actor's 90th birthday tomorrow.
Robin Hood: Prince of Thieves in which Sir Sean appears in an uncredited cameo role, was second ahead of eighties action adventure Indiana Jones and the Last Crusade.
The original Bond movie Dr No (1962) and the 1986 fantasy Highlander make up the top five from a glittering career spanning more than 50 years.
Data provider SEMrush analysed Google search trends for all of Connery's movies to discover which ones still attract the most interest.
They found that 56 years after its release in cinemas, Scots still search for Goldfinger an average 1147 times per month. The film is also revealed as the world's favourite Connery film, Googled 143,417 times per month around the globe.
Much-oved movies Dragonheart, Time Bandits and The Rock also feature high up the list, while 1974 science fantasy Zardoz is one place ahead of the 1975 classic The Man Who Would be King, also starring Michael Caine.
The research also revealed Scots remain fascinated by Connery himself, Googling the actor 10,298 times per month. Other popular searches include Connery's age (394 times per month); his whereabouts (83 times); and his health (68 times per month).
Olga Andrienko, SEMrush head of global marketing, said: "Sir Sean Connery is about to celebrate his ninetieth birthday and our data shows that this Scottish icon remains very much a global superstar."
Connery was born in Fountainbridge, Edinburgh, on 25 August 1930, and famously worked as a milkman before becoming an actor after landing a small part in the musical South Pacific in 1953.
Knighted in 2000, he has been named "The Greatest Living Scot" and "Scotland's Greatest Living National Treasure" as well as "Sexiest Man of the Century", when he was 69 years old.
Connery has said that playing 007 changed his life "enormously". In a recent poll for the Radio Times, he was named the best Bond, ahead of rivals including Daniel Craig and Roger Moore.
Goldfinger, the third film in the Bond series, featured one of the most famous lines in cinema, "A Martini. Shaken, not stirred". It is also credited with introducing gadgets to the secret agent's world as well as his iconic Aston Martin DB5.
Connery is also famed for his Scottish accent in films, whether playing a Russian submarine commander in The Hunt for Red October; an immortal Egyptian swordsman in Highlander or a 
tough Irish-American police officer in The Untouchables – the role for which he won the Best Supporting Actor Oscar in 1988.
Hollywood producer George Lucas, who worked with Connery in Indiana Jones and the Last Crusade, said: "I think he'll be remembered as one of the great actors of our time."
Connery has not appeared on the big screen since The League of Extraordinary Gentlemen in 2003.
Comments
 0 comments
Want to join the conversation? Please or to comment on this article.