Scariest thing on TV right now? Colonial cocktail parties
In Jude Law's new drama The Third Day there are Wicker Man-type weirdos, malevolent village idiots, faceless running children, bunny rabbit sacrifices and a hotel where you can check out any time you like but of course you can never leave. On balance, though, I think Singapore in 1941 looks scarier.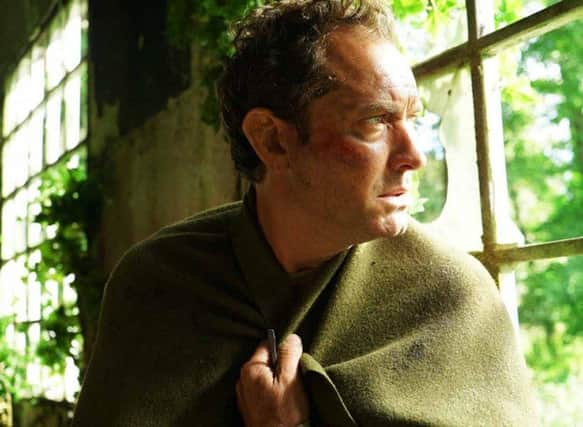 This is the setting for The Singapore Grip, just before the invasion by Japan. A terrifying prospect, although British colonial life is alarming in its own way.
There are young women rather too old to still be calling their parents "Mummy" and "Daddy". There are daddies who pimp out these young women to boost rubber firm profits. There's cocktail hour, which is any hour, basically. The accents are cut-glass and the local cabaret turns chew broken glass.
"So you gort eh-weh?" a Chinese woman is asked after extricating herself from a tight spot. Having just been complimented on her English she must be confused by the rarefied tones of these chinless wonders. Also scary are David Morrissey's blazers. And his two-tone shoes. Oh and his moustache. Terrifying.
ITV's big new period Sunday nighter is supposed to be "light-hearted" but I'm struggling to find any comedy, at least some that's intentional. Morrissey seems to be channeling the ghost of Ian Carmichael but this kind of frivolousness isn't really his thing. His brilliant state-of-nation drama Holding On seems a long time ago now, as does State of Play and his impersonation of Gordon Brown. I want to shout "Stay heavy, Dave!" but then he did do Basic Instinct 2.
Morrissey and Charles Dance's characters are business partners who've got rich through ruthless exploitation of the local population. While the former's mouser becomes highly aroused at the merest mention of "Empire", the latter has mellowed in old age and acquired benevolence, but unfortunately he keels over at his birthday party.
The drama has been criticised for silly, soapy stereotyping and it's easy to see why. The Singapore Grip of the title? You'll have to look up its meaning, as my wife and I did. "Thought so," she said. Me with my sheltered upbringing, I had no idea.
Back to The Third Day (Sky Atlantic). This wants to be scary, so is it? Well, if you've never seen The League of Gentlemen and remember the "local shop for local people", then you might think Paddy Considine and Emily Watson are quite creepy as the hoteliers on the tiny island of Osea, down Essex way, but I think we're supposed to laugh at her Olympic-level swearing and casual abuse of her husband.
Nothing is what it seems (of course it isn't). Is Law's character Sam good or bad? Yes, he's grieving over a drowned child, possibly on the anniversary of the tragedy as a T-shirt is floated down a river. But moments earlier he was screaming into a phone about a missing £40,000, which we learn was to have been a bribe for a planning official.
You may want to pause here and consider how, despite his stellar status, Law is oddly unconvincing at a couple of the grade-one basics of acting - pretending to cry and pretending to have a conversation when there is obviously no one on the other end of the line. But we should hurry to Osea where Sam is delivering back a suicidal young girl, and what's already been a highly eventful afternoon for our man is about to get properly strange.
Hurry for sure because the location is only reachable via a causeway which quickly disappears underwater. This is a real-life pop-star hideaway - recording and rehab - performing an impersonation of its own as a pagan nutjob retreat. And despite Law putting everything into those scenes where it's all about the eyes - Anxious Face, Alarmed Face, Not Funny Now, Where's My Teddy? Face - he's ultimately out-acted by the islet, especially when it's shot from a drone and the tiny pimple seems certain to be swallowed up by the tide. If this doesn't happen in future episodes and the festival goes ahead, then I predict unspeakable horrors, worse even than Morris dancing.
Nurse Ratched was scary in One Flew Over the Cuckoo's Nest, the evil dispenser of Jack Nicholson's horse pills, electro-shock and dire musak whose name would then be summoned by all those who sought to over-dramatise even the shortest of hospital stays for ingrown toenails and suchlike. For Ratched, Netflix have rewound to 1947 where Sarah Paulson plays the title role as Joan Crawford might have done, all noirish cunning and blood-red lipstick. She inveigles her way into a California loony-bin just as it's about to receive a new patient, one the papers screamingly headline the "nutso priest slayer". Fear of hospitals is known as nosocomephobia. Expect this Ratched to ratchet up the anxiety levels.