SAS: Red Notice: release date, plot and who stars in the cast alongside Outlander's Sam Heughan
SAS: Red Notice is based on the 2003 novel of the same name by Andy McNab, the pen name of former British Army infantry soldier Steven Billy Mitchell
Outlander star Sam Heughan has treated fans to an exclusive sneak peek of his upcoming film SAS: Red Notice on his Instagram account.
In the post, the actor introduced his followers to his character, SAS operator Tom Buckingham.
This is everything you need to know about the upcoming action film, including who stars alongside Heughan and what it's about.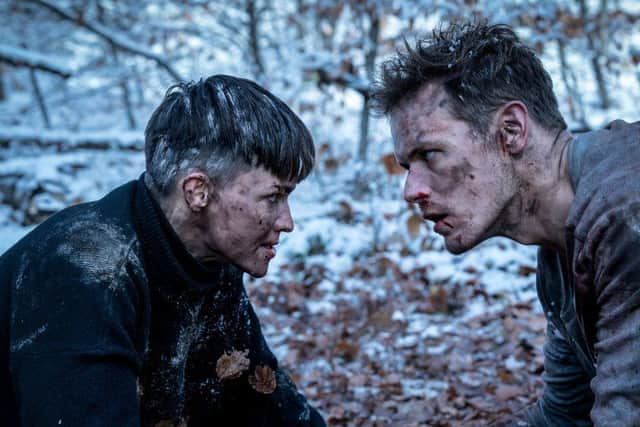 What is SAS: Red Notice about?
SAS: Red Notice is based on the best selling novel of the same name from Andy McNab, which was first published in 2013.
"Deep beneath the English Channel, a small army of well-trained war criminals, led by Laszlo Antonov, have seized control of the Eurostar, taking four hundred hostages at gunpoint," Altitude, the film production company behind the upcoming adaptation, explains.
"Their plan: to blow up the Channel Tunnel and declare economic war on a government that has its own fair share of secrets to keep."
One man stands in their way - SAS operator, Tom Buckingham, who is hiding somewhere on the train. Alone and injured, Buckingham is the only chance the passengers have to get out alive, and he's not going down without a fight.
Altitude says, "The film will employ SAS veteran Andy McNab and his vast combat experience and unique perspective on high-stake crisis resolution to deliver the most intense and authentic SAS action thriller ever seen."
Who stars in SAS: Red Notice?
As well as Outlander, Sam Heughan has also starred in a number of other TV programmes and films, including Bloodshot, The Spy Who Dumped Me, Doctors, and River City.
Heughan treated fans to a sneak peak of his SAS: Red Notice character on Instagram on Saturday 24 October, writing, "So excited to share this character pic of 'Tom Buckingham'! The movie is an action/thriller and I'm so proud, it's really exciting."
The Instagram showed Heughan as his SAS: Red Notice character sitting in a chair, holding a gun.
Also starring in the adaptation of the novel from McNab alongside Heughan is:
- Hannah John-Kamen (The Stranger, Ant-Man and the Wasp)
- Ruby Rose (Batwoman, Orange is the New Black)
- Tom Hopper (The Umbrella Academy, Game of Thrones)
- Andy Serkis (The Letter for the King, Black Panther)
- Ray Panthaki (Gangs of London, Marcella)
- Tom Wilkinson (Belgravia, Watership Down)
- Owain Yeoman (Emergence, Turn: Washington's Spies)
- Jing Lusi (Gangs of London, The Feed)
The film is directed by Magnus Martens, whose previous directing work includes episodes of Fear the Walking Dead, Good Behaviour, 12 Monkeys, and Banshee.
The screenplay was written by Laurence Malkin and Chad Thumann, who also co-wrote Five Fingers and Soul Assassin together.
When will the film be released?
The film does not yet have a release date, nor is there even a trailer out for fans to watch.
In early 2019, Variety reported that the film would be released by Sky Cinema in 2020, with a theatrical run and available to rent on the TV platform.
However, this was prior to the Covid-19 pandemic, which has caused the release dates of many big budget Hollywood blockbusters to be pushed back.