The Indian actress has had a string of successful movies in recent years, breaking onto the US film scene in 2015 and featuring alongside various Hollywood actors.
So who is she and where else can you see her on the big screen? This is what you need to know.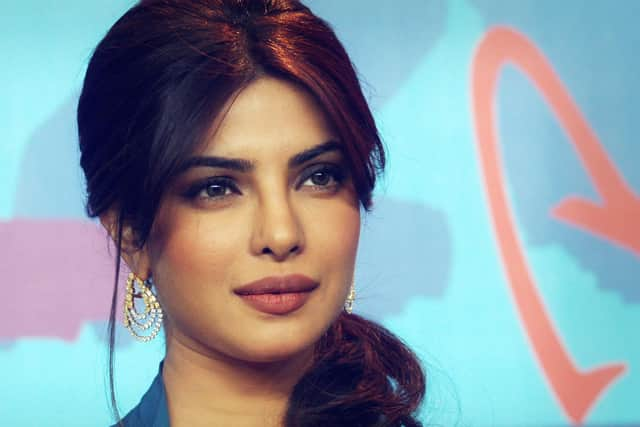 Where is Priyanka Chopra from?
The award winning actress was born in Jamshedpur, Bihar in July 1982 to parents who were both Indian Army physicians.
Due to her parents' jobs she lived in over eight different regions of India, along with her younger brother.
At the age of 13 she moved to the US to live with her aunt in Massachusetts, before the family then moved to New York. In the states, Priyanka studied western classical music and choir singing.
Now a style icon, Chopra has joked about some of the criticism she received while at school in America.
In 2011, she said: "I was a gawky kid, had low self-esteem, came from a modest middle-class background, had white marks on my legs. But I was damn hard working. Today, my legs sell 12 brands."
She returned to India aged 16, where she completed school and went on to compete in local and national beauty contests.
In 2000, an 18-year-old Priyanka was entered in the Femina Miss India contest by her mother and finished second, winning the Femina Miss India World title.
Following this, Chopra won the Miss World pageant, being crowned Miss World 2000 and Miss World Continental Queen of Beauty-Asia & Oceania at the Millennium Dome in London.
This gave her the recognition which led to her acting career.
What films has she been in?
Chopra has featured in upwards of 50 movies, from Bollywood to Hollywood.
Her Bollywood screen debut came in 2003, in The Hero: Love Story of a Spy - a film about an Indian army veteran fighting to end terrorism.
From here, she featured in a number of successful and acclaimed movies, from action movie, Blackmail, to romantic thriller, Yakeem.
However, it was not until 2015 that she broke onto the American acting scene, when she was signed by US network ABC to headline thriller series, Quantico.
She was the first Indian female to star as a leading role in an American network drama series.
After her time as the face of the well-received series, she was cast as Ka in the 2016 Disney remake of The Jungle Book, and as Victoria alongside Zac Efron in Baywatch (2017).
Recently, she starred in rom-com Isn't it Romantic, with Rebel Wilson and Liam Hemsworth, and she is set to feature in two highly anticipated 2021 blockbusters - The Matrix 4 and Text For You with Outlander's Sam Heughan.
What role does she play in Text For You?
Priyanka was photographed kissing Sam Heughan in a London street on 16 December 2020. The pair were filming a romantic scene in which snow was falling and they were leaning into one another.
The film is a remake of German romantic drama, SMS Fur Dich, which is based on a novel of the same name written by Sofie Cramer.
It tells the story of a woman who continues to send text messages to her deceased partner, but sparks a connection with the man the number is reassigned to (Sam Heughan's character), who finds himself in a similar situation.
The pair strike up an unlikely romance and decide to give love another go.
Also featuring in the 2021 film are Celine Dion, Russell Tovey, and Omid Djalili, and Priyanka's real-life husband Nick Jonas will make a surprise appearance.
Celine Dion also writes and performs the music for the movie.
Priyanka tied the knot with actor and singer Nick Jonas, 28, in 2018 after a whirlwind romance – the couple reportedly first met in 2017 at the Met Gala.
They got married at Umaid Bhawan Palace, Jodhpur in traditional Hindu and Christian ceremonies.
Best known for being in American pop rock band The Jonas Brothers with his siblings Joe and Kevin, Nick is also known for acting roles on Disney's Hannah Montana, alongside Miley Cyrus, and Camp Rock with Demi Lovato.
His band were the youngest group in history to feature on the front cover of Rolling Stone magazine in 2008 when Nick was just 16.
Chopra and Jonas now live in an apartment in the same block as Chopra's mother and brother, with whom she is particularly close. They do not have any children.
What awards has Priyanka won?
For her role in ABC's Quantico, she won two People's Choice Awards, one for "Favourite Actress In A New TV Series" and "Favourite Dramatic TV Actress" .
She has also won several awards in her Bollywood roles - including National Film Award for Best Actress for Fashion (2008) and Best Female Debut for Andaaz (2003).
Chopra ranked as the highest earning Indian female celebrity in 2016 and 2017, thought to have earned $11 million and $9.5 million, respectively.
The model has also featured top of the list on UK magazine, Eastern Eye's "World's Sexiest Asian Women", a record five times - in 2006, 2012, 2014, 2015 and 2017.
She also came 1st in the Maxim India's Hot 100 list in 2011, 2013, 2016 and 2018.