Oli Fyne stars in Stella, a refugee tale set in the 1930s that touches on Scotland's dark past
Filmed in Dumfries and Galloway by a Scottish crew, the film is already winning international awards
Was there ever a time when a refugee story had more relevance? Tales of people displaced by war or catastrophe, families fractured and lives turned upside down are part of our world which is why a period drama set in the beauty of Scotland's Dumfries and Galloway in the 1930s has such an impact today.
It's also one of the reasons Edinburgh actor Oli Fyne was drawn to the lead role in Stella, an award-winning Scottish film, which follows the story of a young German Jewish refugee. Written and directed by Wigtown-based author Jessica Fox (whose grandparents were Holocaust survivors), the film from Innerwell Media, a female-led production company headed by Fox and Tricia Brown, also stars Gary Lewis (Colum MacKenzie in Outlander), Louis Hall, Susan Vidler, Richard Hansell and Rufus Wright. It has just won Best First Time Filmmaker at Montreal Independent Film Festival and an International Best Drama award at the Melech Tel-Aviv International Film Festival in November.
Arriving in Galloway in 1937, young Oxford student Stella has lost touch with her family in Germany and landed a job as a tutor for the aristocratic Rig family. When it emerges they have fascist sympathies and leader of the British fascists Oswald Mosley is a visitor at their grand home, she keeps her origins hidden. Only with Will, a young trespasser camping on their land, does she open up, but how long can secrets be kept?
"It's the story of an individual who has lost connection with home, and there is just so much displacement going on in our modern world," says Fyne. "There's the instability you have to live with, of being thrown from one place to another and not really having a real sense of home and then the sense of home becoming the people in your life. Also there's something positive in the way you don't have to be from a place to find home there, you don't have to have grown up somewhere to have family."
Beautifully filmed, with many of the team including the writer/director, producers, musicians, cinematographer, costume designer and cast members based in the region, Stella was filmed in the A-listed Galloway House and its surrounds at Sorbie, Dumfries and Galloway.
The role of Stella appealed to Fyne because while being a period film, it subverts conventions often employed in dramas set in the past.
"So often you see period women in archetypal roles but the way that Stella was written, she breaks every archetype of what you would expect a young woman to be like at that time. When I read the scene where she punches Oswald Mosley in the face I couldn't contain myself," she says.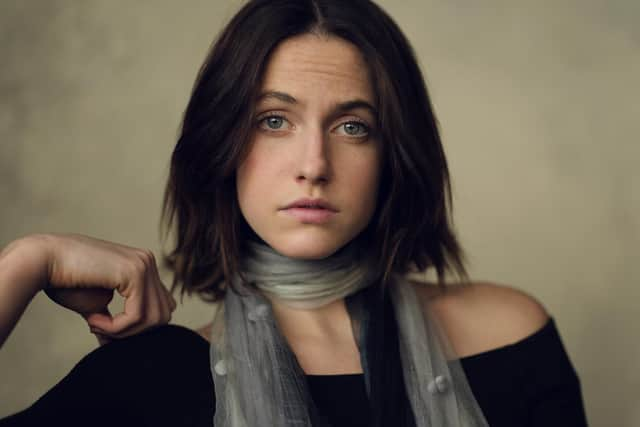 "It is rare to have a complex and interesting female protagonist in a period context. We're seeing more incredible, flawed and complex female characters in film and TV but still in period dramas there is this idea that people back then weren't like we are now. We view this very strict and different world to ours and therefore the people couldn't be the same as we are now or feel the same, and I find that so strange. These people are just the same as us. It's just a different time but it's the same struggles, feelings, love and pain."
Fyne also felt a more personal connection with the character of Stella, at 22 only two years younger than the actor herself.
"The fear of coming of age in a world that feels constantly unstable, I really resonate with as a young person growing up in a world that feels, you know - I won't even go into what's been going on in the world for the past five years - but it's that kind of constant fear that lives in you.
"Also her struggles with her mental health I resonate deeply with, but I think Stella in that period wouldn't have articulated them like that. Her way of dealing with her emotions is complicated and not very healthy but how else could you deal with being in that situation, not being able to contact parents and living in a constant state of fear of being discovered by Lord and Lady Rig? Every moment is walking on eggshells, every moment so cautious, I think the only way she could deal with it is to just to close off from the pain.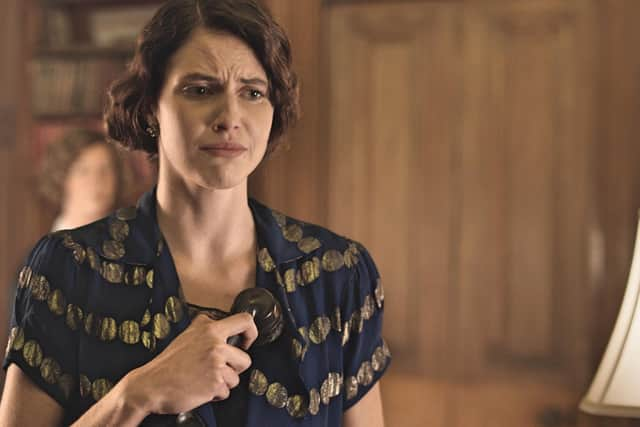 "She's very… I think I'm like this as well... she finds it difficult to let people get close to her. She's resilient but the way she becomes resilient is by closing off to people and being quite defensive. Will is the only person that gets through. She's closed off to how she feels and when it does come up it explodes. It's all bubbling, and she's pushing it away, and that resonated with me."
To get into Stella's headspace Fyne roamed Galloway House and built 'Stella's room' in one that wasn't being used in filming, filling it with the character's suitcase, books, photos of her parents and letters.
"Louis, who played Will, and I started sending each other anonymous notes in character - and I had those kinds of things in there. Stella has so little with her, just what she can carry, so every single thing is so important to her. Every item is weighted in metaphorical gold. I had this little bag of lavender - I like using smells for characters - that her mother had given her and she has this big coat that was her mother's, with jewels sewn in the lining."
Fyne took it one step further by carrying jewellery left to her by her own grandmother in the coat pockets.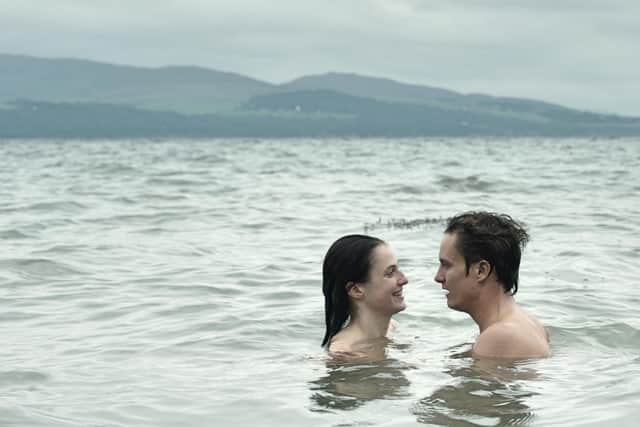 "I felt the preciousness of the jewels and also the connection to family because they were a connection to my own family," she says, laughing about how she did keep a careful eye on the coat during filming, much like her character when it features in a plot twist."
Raised in Edinburgh's Stockbridge by her energy industry father and artist mother, Fyne loved acting from a young age and laughs when she remembers playing an elephant in the school nativity.
"I'm so sure that's not a part, but it was a real star moment. I had a big sock on my arm for my trunk," she says. From the nativity it was a short step to The Royal Lyceum's Youth Theatre while she was still at primary school.
"I think I stepped on The Lyceum stage for the first time when I was nine and I was like 'I love this! This is where I want to be.' When you're that age, just looking up onto the gallery, it's just incredible."
The National Youth Theatre followed when she was 15 and at Bristol University where she studied theatre and film and did "countless" dramatic productions, including directing Elise, a play shortlisted for The Scotsman Mental Health Award at Edinburgh Fringe in 2017.
"That was a real turning point and my first project which I think I treated with complete professionalism that I now take into my career and life."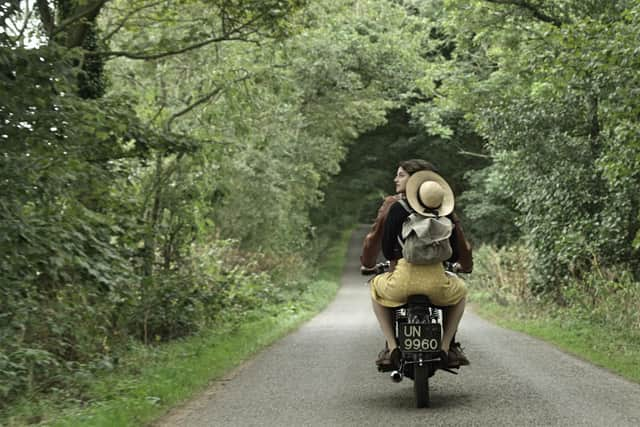 A professional attitude also required a name change because she shared her birth name of Grant with another actor so she became Oli Fyne.
"I grew up between Edinburgh and Loch Fyne I would say, and it was the place where my soul lived," and when her degree took her on a scholarship year abroad, it was in LA that she fell in love with film.
"My whole childhood I'd been super exposed to theatre but I had never made a film and I was sort of thrown in when I got a vocal scholarship at Occidental College. Everyone there was a film buff and I quickly got caught up in acting in shorts, so having that footage and that experience came in when I auditioned for Stella."
At the same time she auditioned for drama schools and landed a place at Oxford School of Drama to study for her masters and will graduate around the time Stella goes on general release along with another film she made called Losing It. Made by Herd, the production company she set up with Asha Osborne-Grinter and which has the tagline 'A herd of hers whose voices should be heard', Losing It is their first project.
"It's a slightly dystopian but also funny idea about this girl who has an app on her phone where it matches up with other virgins and she's waiting for him. Everyone is on Hinge now, it's just a very normal part of young people's worlds, and this takes it a step further. It's kind of a Black Mirror-eque world in which you're just a step too far, but in a world that still feels very close to reality and that's what makes it so uncomfortable and haunting, but it has comedy and lightness too."
So far Losing It has won three awards from the National Youth Theatre, Pigdon Film Festival and Pinewood's Lift Off Film Maker Festival.
"It's nice having two films running on the film festival circuit at the moment," she says, her experience compounded by a stint as producer's assistant on the new Adam Deacon London-based action comedy movie Sumotherhood starring Jennifer Saunders, Peter Serafinowicz, London Hughes and Ed Sheeran, and as assistant director on The Pink Pill, a BBC short and "revenge story of modern woman scorned".
With summer plans including shows in London and working with the Popcorn Writing Awards at the Edinburgh Fringe, Fyne is contemplating what's next.
"Because I'm so interested in film and writing and directing I end up merging my worlds and what I would want to be in and what I'm interested in making because as an actor you're so part of the process. Growing up I was obsessed with Tim Burton films and A Series of Unfortunate Events and I love magical realism or fantasy worlds and would love to make stories in that genre. Also dystopia, like with Losing It, but completely on the flipside I love period stuff like Stella that doesn't feel like an antiquated view. I'm fascinated by Scottish history as well, untold Scottish stories, particularly of women, and I've got a couple of ideas bubbling about. And then I also love comedy. I really believe the best things, the things that I love to see have that dichotomy of lightness and drama. I think that's the impact of the Edinburgh Fringe, being surrounded by drama and comedy in a kind of mash, and it's key to being entertained."
Ask whether she's interested in acting or directing and she flips the question on its head.
"When you talk to people who are older in the industry they say you have to choose and I think do you know what, I don't. There are so many incredible women, I say women because that's who I look up to as a woman myself, like Emerald Fennell and Phoebe Waller-Bridge and people who are doing multiple things and being interdisciplinary which I find really cool. Just being a storyteller and a filmmaker or a theatre maker is my goal. So we'll see what life entails," she says and laughs.
"Someone gave me some brilliant advice once, which I never forget: 'when you're coming into this industry wrap yourself up in bubble wrap and just run at the wall repeatedly'. So I've just been wrapping myself in bubble wrap and running at that wall."
Oli Fyne stars in Stella, due for general release later this year.