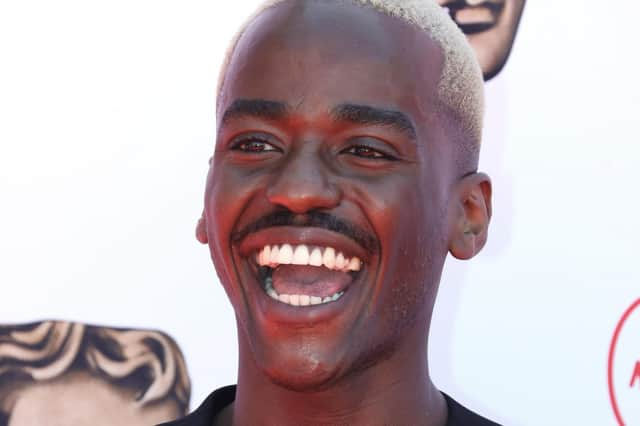 Recalling his upbringing, he has said: "Resilience has always been something I've seen and admired.
"I grew up with a single mum, an immigrant mum who couldn't speak the language, no money, three kids on her back, coming from Rwanda, and she's done a sterling job with all three of us.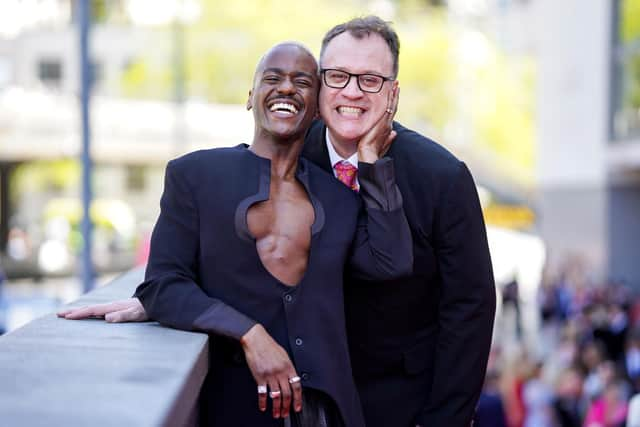 "I saw her struggle, I saw her fight all the time. Every day was another fight, and she always fought tooth and nail for all three of us.
"She just seemed to get through whatever hardship came her way. I think that's made me quite a resilient person."
The Scottish actor is now taking over the role from Jodie Whittaker to become the 14th doctor in the beloved BBC sci-fi series.
"It feels really amazing, it's a true honour," said Gatwa, best known for playing Eric in Netflix's Sex Education, "This role is an institution and it's so iconic.
"I feel very grateful to have had the baton handed over and I'm going to try to do my best."
Where is Ncuti Gatwa from? Edinburgh childhood and connection to Rwanda
Ncuti Gatwa grew up on a working class estate in Edinburgh.
He attended Boroughmuir High School in Edinburgh and Dunfermline High School in Fife, where he faced racist abuse.
The actor has recalled feeling like "the only black person in the world" going to school in Edinburgh and then Fife, revealing that racist pupils at Dunfermline High had created a social media page targeting him.
He said: "I was quite an easy target in a state Scottish high school.
"I grew up in a working-class area, and I stood out – for my voice, my appearance, I did dance and things like that. But I always had faith in my charm.
"I was like, 'If I can go around each group and befriend them all, then I'm all powerful. Divide and conquer.
"It was really a good lesson to me about the difference between hate and ignorance.
"Obviously their behaviour was inexcusable. But at the same time, I was the first black person that they probably saw in real life."
Gatwa's passion for acting won him a place at the country's most prestigious music and drama school, the Royal Conservatoire of Scotland in Glasgow, which he describes as "a safe space."
He recalled: "RCS's approach was very personal. It provides you with opportunities to develop in a way that you can't in the outside world. I felt very cared for.
"Scotland has a thriving theatre scene and I think that being away from the mayhem of London allows you to concentrate on honing your craft."
Gatwa studied acting at the Royal Conservatoire of Scotland in Glasgow, graduating with a BA in 2013.
What has Ncuti Gatwa been in? Previous roles including Eric in Sex Education
Gatwa joined Dundee Rep's graduate trainee scheme and appeared in several productions, including David Greig's Victoria in 2013.
His early stage roles include playing Sammy Davis Junior in The Rat Pack Live at Edinburgh College of Art and playing James Brown and Stevie Wonder in The Blues Brothers Live at C Venues during the Fringe.
Gatwa landed his first TV role in 2014 when he secured a minor role in an episode of the TV adaptation of Neil Forsyth's Bob Servant novels, then appeared in a 2015 BBC Scotland adaptation of Iain Banks' novel Stonemouth.
However, he was still virtually unknown when he was cast as Eric Effiong in the Netflix series Sex Education, which catapulted him to fame after launching in January 2019.
Gatwa said: "Eric has so much love to give, but it isn't always reciprocated. He's openly gay but comes from a very strict, religious family background. His parents are African.
"He resonates with so many people because of all the sections of society he represents. When you have a character who is bringing all of those things together, it is a lot of pressure, but it's so beautiful."
His performance in Sex Education earned him three consecutive Bafta TV Award nominations for best male comedy performance between 2020 and 2022.
On stage, he has appeared as Demetrius in A Midsummer Night's Dream at Shakespeare's Globe theatre, while he is part of a star-studded cast in the upcoming romantic comedy film Barbie, directed by Greta Gerwig and also starring Australian actress Margot Robbie and his Sex Education co-stars Emma Mackey and Connor Swindells.