Men in Kilts: trailer and Scotland filming locations for Outlander star Sam Heughan's new travel docuseries - including Pittenweem and Glencoe
The new travel show will follow Outlander stars Sam Heughan and Graham McTavish as they journey all over Scotland together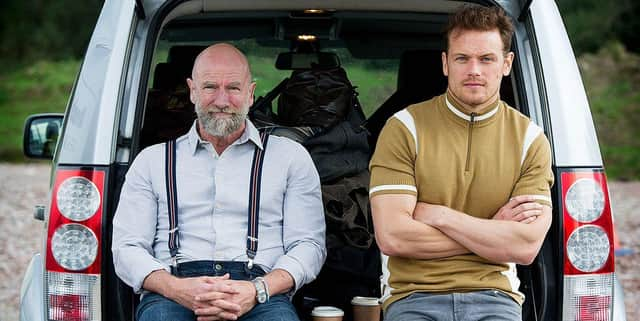 The two had previously been spotted filming the travel show after it was initially put on hold due to lockdown.
What is Men in Kilts about?
Men in Kilts: A Roadtrip with Sam and Graham takes the Outlander stars all around Scotland exploring everything the country has to offer, with the aim of educating their fans - and themselves - about the rich history of their homeland.
The eight-part series will see the two explore Scottish history and culture, visiting battle sites and other iconic landmarks across the country.
The show comes from company Starz, which is also behind time travelling romance Outlander, based on Diana Gabaldon's novels.
Heughan, who plays central character Jamie Fraser, and McTavish, who plays co-star Dougal MacKenzie, also wrote a book together called Clanlands: Whisky, Warfare, and a Scottish Adventure Like No Other.
Where was Men in Kilts filmed?
In 2020, Heughan and McTavish were spotted filming the show in Fife. The two were seen doing some fishing on a boat in the East Neuk village of Pittenweem.
Heughan also shared a clip on his Instagram account as he crossed the Queensferry Bridge.
He was also spotted in the Old Town in Edinburgh by fans.
The trailer for the programme reveals that the duo also visit Glencoe and the site of the Battle of Culloden.
A trailer for the programme was released by Starz back in June 2020 and opens with Heughan saying: "The story of two men… who know nothing."
The rest of the trailer shows Heughan and McTavish on their adventures across Scotland, taking part in activities like sword fighting, fishing and a spot of tandem cycling.
The end of the trailer shows Heughan and McTavish taking part in a clan Cameron war cry: "You sons of dogs, of dogs of the breed, O come, come here on flesh to feed!"
An official trailer is set to drop on 7 January 2021, with Heughan and McTavish releasing a clip on the official Men in Kilts Twitter account.
In the clip, the two announce that "it's time to pack your bags" because a new trailer is on its way.
When will Men in Kilts be released?
There is currently no word on when exactly the series will be released, although the clip posted on the official Men in Kilts Twitter account states that it is coming "early 2021".
The series will be available to stream in the UK on Amazon Prime Video.