Men in Kilts: A Roadtrip with Sam and Graham: Scotland's new travel docuseries starring Outlander's Sam Heughan and Graham McTavish
Now that season 5 of Outlander has come to an end, fans of the show will be delighted to see Sam Heughan in his new travel show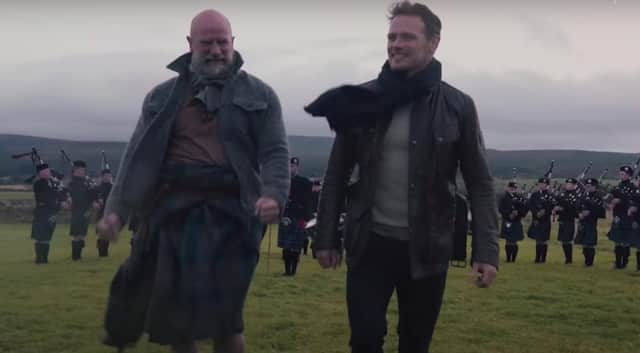 The duo who play Jamie Fraser and Dougal Mackenzie in the popular Starz drama, also currently run podcast Clan Lands, in which they explore Scottish history.
But now the pair have now gone one step further to educate their fans - and themselves - on the rich and complex heritage of their homeland, with a brand new travel TV show.
A trailer for the new travel docuseries, appropriately titled 'Men in Kilts: A Roadtrip with Sam and Graham, has been released, exciting Outlander fans around the world.
The programme will be an eight-part series following the pair as they explore and celebrate Scottish history and culture, visiting battle sites and other important landmarks across the country.
Like Outlander, the period sci-fi drama based on Diana Gabaldon's novels, the travel show is commissioned by Starz.
Fans of Outlander will be pleased to see Sam and Graham visiting Glencoe, the site of a clan feud and a great massacre, which saw dozens of MacDonald's murdered.
The actors will also visit Culloden, the site of a critical turning point in Scottish history, which also features in the Outlander series.
How long are the episodes?
Each episode in the eight-part series, produced by Sony Pictures, will be 30 mins in length, giving fans plenty of time to admire their favourite outlander stars.
Unfortunately fans will have to remain patient, as the release date for the new show has yet to be announced.
The trailer for the show simply teases that it is "coming soon".
In the trailer, Heughan introduces the show as "the story of two men who know nothing" while McTavish announces that "there are going to be some amazing stories".
The trailer shows the pair travelling on many different modes of transport such as a tandem bicycle, a rowing boat, and a campervan as well as riding motorcycles through the Scottish countryside.
The trailer also promises fans a show about "two men on an adventure of a lifetime" before ending on a clip of the duo shouting a clan Cameron war cry:
"You sons of dogs, of dogs of the breed, O come, come here on flesh to feed!"
You can watch the trailer here on youtube.
Men in Kilts was the brainchild of Sam Heughan, who is most recognised for his role as Jamie Fraser in Outlander, and Graham McTavis who plays Jamie's uncle, Dougal MacKenzie in the Starz show.
This new travel series was created and produced by Heughan and McTavish along with Heughan's friend Alex Norouzi. It was produced for Starz, by Boardwalk Pictures in association with Sony Pictures Television.
Speaking about the upcoming programme, Holly Jacobs, EVP Alternative and Syndication Programming, Sony Pictures TV said: "We are so excited to take viewers on this epic adventure with Sam and Graham.
"Their bond of friendship and genuine curiosity about the rich culture of Scotland is going to make for an unforgettable journey for all"
While Christina Davis, the president of original programming at Starz, added: "The genuine curiosity and passion that Sam and Graham have for the landscapes they visit and the stories they uncover while traveling through the heart of Scotland makes Men in Kilts: A Roadtrip with Sam and Graham a truly enjoyable journey of discovery for the audience.
"The series gives context and texture to Highland life and history, woven together, much like the tartan for which Scotland is so famous, and we look forward to taking this road trip with these two great friends."