Lea Michele racism allegations: what Samantha Ware and Naya Rivera said about the Glee star after Black Lives Matter tweets - plus her apology explained
As momentum builds around the Black Lives Matter movement following the death of Minneapolis man George Floyd in police custody, celebrities have been voicing their support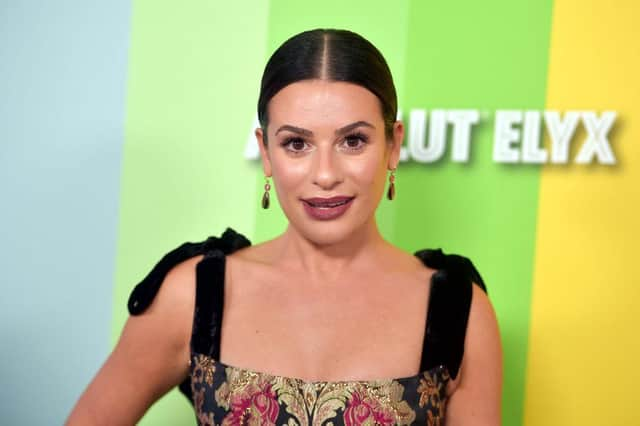 Lea Michele, best known for her role as Rachel Berry on Glee, expressed her support on for the Black Lives Matter movement on Twitter, as have many other celebrities.
However, her tweet quickly garnered backlash as accusations of racism from previous co-stars were made.
This is everything you need to know about the Lea Michele controversy.
The former Glee star took to Twitter to voice her support for the Black Lives Matter movement, following the death of George Floyd.
She tweeted: "George Floyd did not deserve this. This was not an isolated incident and it must end. #BlackLivesMatter"
However, it didn't take long for one of Michele's Glee co-stars to point out the hypocrisy of her tweet considering her actions when they worked together.
Samantha Marie Ware, who appeared in season six of Glee as character Jane Hayward, quote tweeted Michele's original tweet, replying: "LMAO REMEMBER WHEN YOU MADE MY FIRST TELEVISION GIG A LIVING HELL?!?!? CAUSE I'LL NEVER FORGET.
"I BELIEVE YOU TOLD EVERYONE THAT IF YOU HAD THE OPPORTUNITY YOU WOULD "S**T IN MY WIG!" AMONGST OTHER TRAUMATIC MICROAGGRESSIONS THAT MADE ME QUESTION A CAREER IN HOLLYWOOD…"
What have other cast members said?
Other black co-stars from the show also shared their experiences working with Michele.
Dabier Snell, who appeared in an episode of Glee in 2014, tweeted: "GIRL YOU WOULDN'T LET ME SIT AT THE TABLE WITH OTHER CAST MEMBERS CAUSE "I DIDN'T BELONG THERE" F**K YOU LEA"
Amber Riley, an original Glee cast member who played Mercedes Jones, tweeted support for the cast members coming out against Michele, not with a statement but with gifs that shows her sipping tea and laughing.
When fans urged Riley to share her thoughts on the Michele controversy, she replied with another gif of herself saying 'let's move on' and explaining she would rather focus on the protests going on in America.
Alex Newell, who starred in Glee from 2012 - 2015 as Unique Adams, also showed support for Ware, replying to her tweet with a gif telling her to "get her".
Melissa Benoist, a white actress who joined the series in season four, also appeared to lend her support to those criticising Michele by liking tweets in favour of Ware.
Heather Morris, a white actress on the show who was an original cast member, also spoke out about the situation.
Morris tweeted: "Let me be very clear, Hate is a disease in America that we are trying to cure, so I would never wish for hate to be spread on anyone else. With the said, was she unpleasant to work with? Very much so; for Lea to treat other with the disrespect that she did for as long as she did, I believe she SHOULD be called out. And yet, it's also on us because to allow it to go on for so long without speaking out is something else we're learning along with the rest of society.
"But, at the current moment its implied that she is a racist and although I cannot comment on her beliefs, I think we're assuming, and you know what happens when we all assume..."
Other industry professionals, not just Glee stars, also spoke about Michele – actor Keith Powell, former 30 Rock star, replied to Ware's tweet, writing: "I co-sign this. Lea Michele is a terrible human and has said terrible things to many types of people, including racist microagressions to/about black people."
Has Lea Michele responded?
Michele took to her Instagram account to post a screenshot of the iPhone notes app to respond to the allegations against her.
The note read: "One of the most important lessons of the last few weeks is that we need to take the time to listen and learn about other people's perspectives and any role we have played or anything we can do to help address the injustices that they face.
"When I tweeted the other day, it was meant to be a show of support for our friends and neighbours and communities of color during this difficult time, but the responses I received to what I posted have made me also focus specifically on how my own behaviour towards fellow cast members was perceived by them."
Referring specifically to the statement from previous co-star Ware, Michele wrote: "While I don't remember ever making this specific statement and I have never judged others by their background or color of their skin, that's not really the point, what matters is that I clearly acted in ways which hurt other people. Whether it was my privileged position and perspective that caused me to be perceived as insensitive or inappropriate at times or whether it was just my immaturity and me just being unnecessarily difficult, I apologise for my behaviour and for any pain which I have caused."
Michele, who is currently pregnant, went on to explain that due to her upcoming motherhood, she wants to take responsibility for her actions in order to be a "real role model for [her] child".
She ended the post by writing: "I listened to these criticisms and I am learning and while I am very sorry, I will be better in the future from this experience."
Some comments on the Instagram post applaud Michele for addressing the statements made against her – however, the majority of comments left criticise Michele for for not issuing a "real apology".
One comment said: "One of the worst apologies I've ever read. It's not even an apology."
Another wrote: "Excuse me "was PERCEIVED by them"??? Truly the biggest "sorry I got caught" if I've ever heard one."
"The fact that hundreds of people came forward with stories about you being "difficult" and not a single previous cast member came to your defence… girl," wrote another.
Ware also responded to Michele's apology, commenting specifically on her use of the word "perceived".
Ware tweeted: "Perceived? Purcieved? Purse? Open your purse?????????" With a link to a GoFundMe page raising money for the family of James Scurlock, a 22 year old black man who was shot and killed while protesting in Omaha in the US.
This isn't the first time that Michele has faced accusations of bullying from non-white co-stars.
Naya Rivera, who played Santana Lopez on Glee, reportedly had an ongoing feud with Michele.
In her 2016 book Sorry Not Sorry: Dreams, Mistakes and Growing Up, Rivera explained the difficult working relationship the two had, and how Michele got upset when Rivera started getting bigger storylines within the show.
She wrote: "I think Rachel - erm, I mean Lea - didn't like sharing the spotlight.
"If I'd complained about anyone or anything, she'd assumed I was bitching about her. Soon, she started to ignore me, and eventually it got to the point where she didn't say a word to me for all of season six."
Rivera also wrote: "Lea was a lot more sensitive though, and sometimes it seemed like she blamed me for anything and everything that went wrong."
Dropped from HelloFresh partnership
In light of the racist accusations being made, Michele has been dropped from her partnership with the company HelloFresh.
The meal kit brand tweeted: "HelloFresh does not condone racisum nor discrimination of any kind.
"We are disheartened and disappointed to learn of the recent claims concerning Lea Michele. We take this very seriously, and have ended our partnership with Lea Michele, effective immediately."
Why did Lea Michele leave Twitter?
Michele deactivated her Twitter account after her Glee co-star Naya Rivera disappeared following a boating trip with her son.
It appeared that users were trolling Michele due to the fact that she did not publicly acknowledge the disappearance of Naya.
Amber Riley appeared to defend Michele, writing on Twitter: "Show some respect. All our energy is going toward helping find Naya and praying for her safe return and for her family. No on owes anyone online a performance of grief.
"This is very real and devastating. Focus on Naya and her family. Not us. We don't matter right now."
Rivera was eventually found to have drowned, seven years after the death of Glee star Cory Monteith.