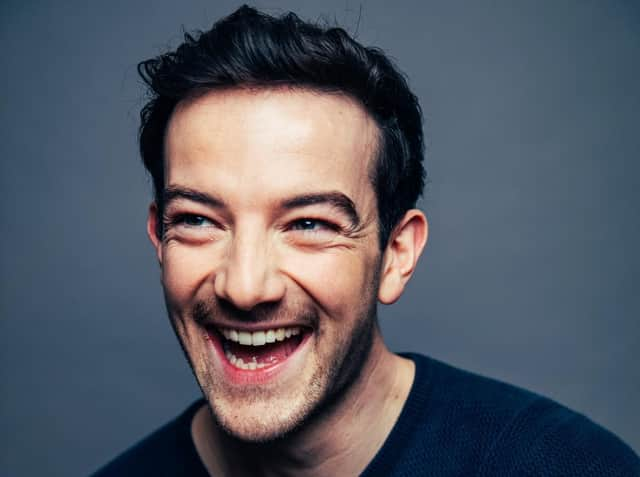 Kevin Guthrie stars in Netflix's new football drama, The English Game, and can also be seen in the forthcoming musical, The Land of Dreams and the indie film, Concrete Plans
Shankly, Stein, Ferguson, Dalglish, Law, football is littered with legendary Scots, but without Fergus Suter, we might never have heard of any of them.
"He was a stonemason from Partickhill who played for Partick FC. Suter was the first man across the globe to pick up a working wage for the game and he was a real pioneer and champion of the pitch in the late 1870s early 1880s. He took the passing game to England," says Kevin Guthrie, who stars as Suter in The English Game, Julian (Downton) Fellowes' new TV mini series for Netflix.
With a decade of credits to his name, the 32-year-old is a familiar face – from Winston's grandson in Still Game, Greg McHugh's partner in the 2013 Two Doors Down pilot, Macbeth with James McAvoy, in Terence Davies's Sunset Song, Robert Carlyle's The Legend of Barney Thomson, The Terror, Dunkirk and Fantastic Beasts, Guthrie has been working since before he graduated from the Royal Scottish Academy of Music And Drama.
Kevin Guthrie (lying at front) as Fergus Suter, regarded as the world's first professional, who went from Glasgow's Partick FC to play for Lancashire mill team Darwen in the 1870s with Scottish team-mate Jimmy Love, played by James Harkness (second from left)
His big break came as the lead role of singing squaddie Ally in Dexter Fletcher's 2013 musical Sunshine On Leith.
"After I watched it I could breathe a sigh of relief because I could believe in myself as an actor," says Guthrie.
With The English Game, he's very much the lead and takes the ball and runs with it.
Guthrie as Fergie Suter, playing for Darwen, the side that reached the 1879 FA Cup Final against the Old Etonians. Suter and Love took the passing game, forged in the crowded back greens and closes of Scotland's tenements, to England. Suter went on to play for Blackburn Rovers
It's the story of the birth of football, nurtured in the mill towns of Northern England and on the fields of Eton, and how it crossed the class divide to become the world's most popular game.
"It's a true story," says Guthrie, pleased to be back in Glasgow where we meet pre coronavirus in Hillhead Book Club in the West End. Wearing a denim jacket and jeans, he looks fit, is good company, chatty, fun, very polite – he obligingly carries the coffees – and his blue eyes light up with enthusiasm about this latest project. With dark hair cropped short, he still has the Suter moustache, along with a beard that splits to reveal white, actor teeth when he smiles.
"It's nice to meet you in person," he says, remembering we had spoken before over the phone when he was in Budapest, filming The Terror, AMC's survival horror mini-series set in the Arctic.
With Poppy Corby-Teuch in Fantastic Beasts, the Harry Potter spin-off film series, in 2018. Another is in the pipeline
The true story of Sir John Franklin's lost Arctic expedition of 1845-1848 on the unfortunately named ship, The Terror, it's a tale of misadventure, cannibalism and fear, physical as well as psychological from the channel that made Breaking Bad and Mad Men. Guthrie admitted to being terrified by it himself, although he loved Budapest and Croatia.
"After Budapest, we went to Pag Island in Croatia which doubled for King William Island (in the Arctic) for a few weeks. We were kidding on it was minus 40, but it was closer to 40, plus we were filming in woollen duffle coats," says Guthrie, who nonetheless was happy to get a blast of sun. For the same reason he loves it when his job takes him to LA. "We don't see the big ball in the sky an awful lot in Scotland so when you go over there it's like heaven."
Guthrie is just back from Bulgaria where he's been working on an Italian/American feature film, The Land of Dreams. With Sofia doubling as New York in the 1920s, it's about a young migrant singer who falls in love with a pianist in a world where dreams and reality collide.
As Ewan, with Agyness Deyn as Chris, in Terence Davies's Sunset Song, 2015
"It's set in the jazz era, and it's a musical. I play one of two Italian American brothers in the Bronx, back from the First World War." (Guthrie has Italian ancestors "way back".)
"One of the brothers has post-traumatic stress disorder, that's me, and the other, played by George Blagden (Louis XIV in Versailles) has a longing for life and love. Thankfully this time I don't have too many songs to sing," he says.
Guthrie is being modest. He can sing, as demonstrated in Sunshine On Leith.
"I suppose I can," he concedes, "but it's not how I expected my career to be, defined by musical films." He smiles at the way things have turned out. "It seems to be in most things I do, an element of music and singing.
"This film is by first time feature director Nicola Abbatangelo who won awards for his short, Beauty, starring Sylvester McCoy. There's a kind of CGI feel to it, it's very visual and magical, with a Greatest Showman vibe. It asks a lot of questions as to the state of mind of each of the brothers."
The English Game - struggles on and off the pitch
In The Terror, 2018, AMC's survival horror miniseries set in the Arctic, the true story of Sir John Franklin's lost Arctic expedition of 1845-48
Like The Terror, The English Game is another true story, and it's not just for footie fans, a paean to the pioneering of the passing game. There's class and gender struggle and relationship turmoil in the mix too.
"It's more than just a story about football," says Guthrie.
And if costume drama's your thing, there's the rustle of silk and the scratch of woolly, striped football tops – "almost jailhouse attire" says Guthrie – and more moustaches and elaborate facial hair than an urban hipster's stag do.
Raised in the tenements of Partickhill, where players learnt the game in back greens and closes, it was Suter and his team-mate Jimmy Love, played by James Harkness, who took the Scottish-style passing game to England in 1878. They were recruited and paid to play for Darwen, a Lancashire cotton mill town team, whose owner was determined to get his side to the fledgling FA Cup being dominated by the Old Etonians.
The passing game, ticky-tack and tackety boots
"Suter came from the tenements, which were crammed and space was at a premium. To get around another 20-odd players you had to weave your way through and if there wasn't space, pass your way.
"He had the vision to understand that you can either pass out wide and create space or you can go over the top. I don't think he single-handedly invented tactics and formations, but he flipped the notion of playing with all forwards and two half backs, started the idea of playing out from the back. He created and pioneered the passing game, the idea of playing a longer ball, playing it out wide, what we now know as ticky-tack, give and take with the ball. He implemented tactics, using space, not just solely dribbling and bulldozing with a line."
In that case, what about the show's name, The English Game?
"The title is very ironic," says Guthrie, "a take on The Beautiful Game, the metaphor we all know. But ultimately it is The Scottish Game and that's something I'm very proud of. It is the origin of football as we know it."
Guthrie is keen to give credit to the English teams too, both the working class mill sides like Darwen, Blackburn Rovers and the Old Etonians, especially their captain Arthur Kinnaird (son of a Scottish banker and MP) played by Edward Holcroft, for their part in establishing the professional game.
"There was a harmony between Suter and Kinnaird, the England captain, whose ability and idea of globalising the game is what allowed Suter to play on the platform he did," he says. "It was the Etonians who had turned what they called The Field Game, a form of rugby, into football. So neither man could exist without the other."
And neither would the modern game.
With Suter and Love on the team, Darwen reached the quarter finals of the new FA cup in 1879 and 'Fergie' went on to play for Blackburn Rovers' FA Cup-winning side.
Once working class players were offered a wage, the playing field was levelled with the Old Etonians, who had better diets, were in better physical shape, and had more time to train.
"What Suter does is challenge the idea of the establishment, with his feet if not with words. And Kinnaird has the elite prowess to make amends.
"There's still a statue and monument to Fergie Suter in Blackburn and at Darwen, where there's still a football team, and the India cotton mill is still standing, there's a memorial plaque. I think his presence living on is something that would have pleased him," says Guthrie.
Pitch perfect for the role
Guthrie, from Neilston in Renfrewshire, was a natural choice for the part, having spent his youth playing football as much as acting. Always football daft, he played at school and for Neilston Boys Club. Based in London, he still plays five-a-side in a team there that includes Greg McHugh, Martin Compston and James McAvoy.
However, The English Game required a different, 1870s style of play, with the heavy leather ball, workmen's boots, and a whole different league of physicality.
"There's that kind of thwack that comes off a leather ball," says Guthrie. "And it's one thing having a touch with a pair of Nikes on a 4G pitch and a Footsock coming towards you. It's another thing entirely on a field with a 5kg brown leather football and steelies – some of us had steel toe caps, some workie boots. There were no punches pulled when we filmed – two dozen blokes that really wanted to impress their character on the story, and each other. There's a lot of natural play in the shots."
Off the pitch as a youth, Guthrie was less confident, so his electrician dad and nurse mum sent him along with his two older sisters to PACE Theatre Company in Paisley, which he loved. The two worlds converged when a Celtic scout watched the teenager play the same day he was cast in the 2003 series The Key with Dawn Steele and Ken Stott.
"There was a conversation with my manager, showing an interest, and I'm an avid Celtic fan... I opted to take the film ultimately. It never progressed to the point of me having to turn them down," he says and smiles.
But if it had come to it and Celtic offered to sign him up, what would he have done?
"At the time I took the advice of my dad. Without telling me what to do, he encouraged me to take on the film. The film was an absolute, a bona fide yes, whereas the football option was much more about waiting for the phone to ring. I'm wholly glad I did what I did," he says.
Now things have come full circle with Guthrie's involvement with the Celtic FC Foundation, which works with youngsters in Glasgow's East End. "My remit is to promote their thinking towards working in the arts, cinema, film-making, production. It's an amazing cause and I get to play charity matches at Parkhead, feel part of the Celtic family and the responsibility of giving something back."
As well as blockbusters and mini-series, Guthrie likes to work in indie films with a much lower budget, such as last year's Connect. Directed by Marilyn Edmond and filmed in East Lothian, it deals with the high suicide rates in young men. He's also just shot Concrete Plans, a Scottish, English, Welsh film, shot in the Brecon Beacons, and due out this year.
When the coronavirus limitations ease, Guthrie will get back to filming Fantastic Beasts 3 and playing Abernathy, "a wonderful slimeball of a character who is growing arms and legs, quite literally, in this next film. It's a wonderful part and an absolute joy to be on set. David Yates, the director, sets up a whole world, which is fun but we also feel our responsibility to tell this political story in tandem with what's going on."
On set Guthrie has always made a point of studying the directors and actors he works with – Christopher Nolan, Terence Davies, James McAvoy, Peter Mullan, Sheila Hancock, Kate Dickie...
"Across the board there's a common language they have, as well as confidence. You need confidence and clarity in the story you're trying to tell, confidence in believing what it is you're doing, not letting the poppy effect pull us down.
"Dexter Fletcher said to me, remember to embrace how good you are, like he was telling me off for not realising my potential. I'd never seen it that way.
"You can be respectful but also say this is how I want to do it and I defy you to tell me otherwise. That's definitely there in Bobby Carlyle, James McAvoy and Peter Mullan. Those three were the blueprint for coming from where we come from, sounding like we sound, looking like we look. How do you turn that into Hollywood, turn it into drama, turn it into established, well-revered careers? They've done it and I hope to continue that trend."
Guthrie also has ambitions to direct and has been writing scripts for a feature film, and novellas and short stories.
"Some are in development for myself, some I've taken on for other people. It's nice to be in a position where you can get a project up and running. Although for the rest of my life I'll be waiting for my agent to phone… and say 'yeah, Tom Cruise is on the line, do you want to…'" he breaks off and laughs.
Writing isn't something Guthrie would have predicted he'd be doing when he was at school. "I'm dsylexic and reading and writing came to me quite late. I've spent the last ten years developing my skill set to cope with text.
"Every day really is a school day. It's taken me to my twenties to embrace literature and I find reading really addictive now. I think it was Billy Connolly that said if you don't know anything about the world, just go into a library. I have a library at home, my flat's full of books."
With The Land of Dreams in the can alongside Concrete Plans, Guthrie is sitting out coronavirus at home in London, waiting for the industry to get back to work and Fantastic Beasts 3.
It's just as well he's happiest "watching the football with a glass of Balvenie in hand, Scotland v England of course," he says. "I'm happy when I'm at home in London, and coming home to Scotland too.
"But really, I think I'm most happy and content when I'm working. I love my job. It's not a job, it's a way of life."
The English Game is out now on Netflix,
Thank you for reading this story on our website. While I have your attention, I also have an important request to make of you.
With the coronavirus lockdown having a major impact on many of our advertisers - and consequently the revenue we receive - we are more reliant than ever on you taking out a digital subscription.
Subscribe to scotsman.com and enjoy unlimited access to Scottish news and information online and on our app. With a digital subscription, you can read more than 5 articles, see fewer ads, enjoy faster load times, and get access to exclusive newsletters and content. Visit https://www.scotsman.com/subscriptions now to sign up.
Our journalism costs money and we rely on advertising, print and digital revenues to help to support them. By supporting us, we are able to support you in providing trusted, fact-checked content for this website.