Jurassic Park 30th Anniversary: Four brilliant dinosaur films to watch including The Land Before Time
Jurassic Park grossed more than $1 billion at the box office and set a new standard for blockbuster cinema when it was released 30 years ago.
Steven Spielberg's blockbuster adaptation of Michael Critchton's novel of the same name is celebrating its 30th anniversary. The tale of a theme park inhabited by once-extinct species of dinosaur who prove that nature cannot be contained captured hearts and frightened the life out of cinema-goers on its release.
Jurassic Park inspired countless copycat blockbusters, both in the disaster and dinosaur genres, and whilst none have ever truly overtaken the original as an apex movie predator experience, there are plenty of prehistoric films worth a watch.
Here are four dinosaur films to enjoy as we celebrate 30 years of Jurassic Park on screen.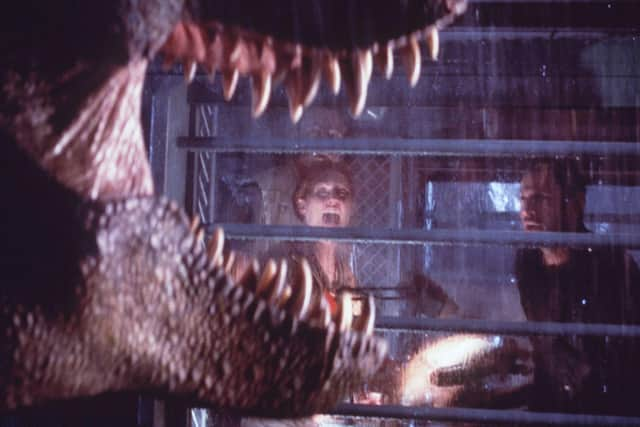 1) The Land Before Time
Jurassic Park wasn't Spielberg's first foray into the prehistoric past – in 1988 he, along with George Lucas, Kathleen Kennedy and Frank Marshall – executive produced Don Bluth's beautifully-animated and heartbreaking tale of how an entire species reacts to a famine and the family bond protagonist Littlefoot shares with those around him. Plenty for adults and kids alike to enjoy here.
2) The Good Dinosaur
It's not hard to understand why animation dominates this list, and who better to bring the age of the dinosaurs to digital screens little and large than Pixar? It has been described as an 'oasis of quiet charm' which may have suffered critically in the wake of the astounding Inside Out, but is nevertheless a enjoyable and emotional family feast.
3) The Lost World: Jurassic Park
More dinosaurs, more action, more intrigue and more Jeff Goldblum as Dr Ian Malcolm. That sums up the writers' room brainstorming session for this stellar sequel. Nominated for Best Visual Effects Oscar (losing out to Titanic), this film demands to be seen on the biggest possible screen. T-Rex, meet San Diego.
4) Jurassic Park
The quintessential blockbuster. Spielberg weaved magic with a cast including Sam Neil, Richard Attenborough, Jeff Goldblum and Laura Dern as well as some of the finest animatronic work ever committed to Film. Dr Malcolm sums up the plot perfectly : "God creates dinosaurs. God destroys dinosaurs. God creates man. Man destroys God. Man creates dinosaurs." (Dern's response, as Dr Sattler, is special too: "Dinosaurs eat man. Woman inherits the earth").
Comments
Want to join the conversation? Please or to comment on this article.