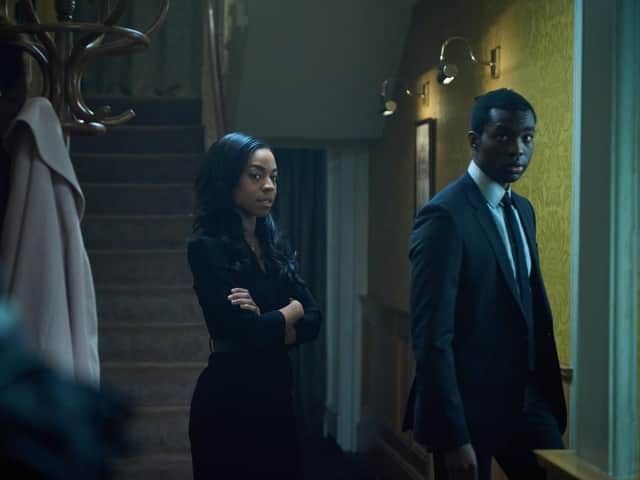 As Shannon in crime drama Gangs of London, out now
Forget lazing on the sofa, in lockdown limbo. Pippa Bennett-Warner's new series HBO's Gangs of London is grab you by the throat and punch you in the face viewing that will see you sitting up straight from the opening scene, braced for the next blow. Action packed and hard-hitting, it's tough not to get hooked and binge the whole ten episodes following a crime family's fight to stay alive and on top in contemporary London.
"It's the sort of thing people might get addicted to, you know. It gets you and you want to stay with it," says Bennett-Warner who plays gangster's daughter Shannon.
Bennett-Warner has been acting since she cast in The Lion King, aged 11
The much-anticipated British-American action television series for Sky Atlantic, written by Gareth Evans and Matt Flannery stars Bennett-Warner alongside Joe Cole, who cut his teeth and a lot else besides, as John Shelby in Peaky Blinders. This time round he's the main man after his gang boss father, Finn Wallace (Colm Meaney) is assassinated and the international crime ring he heads explodes in a vicious power struggle.
Best known on TV for Harlots and MotherFatherSon, Bennett-Warner plays an interior designer who becomes embroiled with a new recruit to the family firm, played by Sope Dirisu.
With all the grit comes some glamour (these gangsters are sharp dressers) particularly around Shannon who works at the cleaner end of the family business, all sleek lines and luxury finishes for the shiny new office and apartment blocks her family is stamping on world skylines. But with bodies buried in the cement and skeletons in the soft close closets, how much does she know?
"I hadn't done anything like this before," says Bennett-Warner, "full of action and heavy, cool and so ambitious in scale. That's one reason I wanted to do it.
As Harriet Lennox in Hula's 18th-century sex industry drama, Harlots
"Another is because it's so diverse and international, and I really felt it honoured the London I live in. It's the London we all know, represented on all fronts with all its diverse languages."
Characters speak in their mother tongues; Albanian, Kurdish, Urdu, Danish, Welsh and Nigerian Pidgin english, subtitled to keep the pace of the action flowing and give authenticity.
"I love how these international actors are able to use their own voices and not having to speak English when they wouldn't. It was very cool to see so many races and nationalities around the same table at the read-through. Compared to when I left drama school you can see how things have improved. It's a good thing that you have people of colour in front of the camera, but also behind the camera, and making important decisions and writing," says the actor who is of Jamaican, Kittitian and Scottish descent.
Maxxx for E4, in which she plays show business agent Tamzin
"Yes, my great, great grandmother was Scottish. She went to Jamaica but I don't really know much about her. My grandma, who lives in Jamaica, was telling me one day. I've got a lot of relatives there – my grandma is one of 15 or something and there are a lot of Scottish names in there. I'd like to find out more." Sounds like there's a story waiting to be uncovered.
Family is at the heart of Gangs of London, too, being paradoxically the motivation and justification for the extreme lengths to which people are prepared to go.
"It's not just burly men, which is great in a gang show," says Bennett-Warner.
"And Shannon's 'love story' really roots the piece, giving it an emotional grounding that's really needed in a show that is very action focused? You want to keep surprising people and evoke emotion in the audience too."
Of Jamaican and St Kittian descent, Bennett-Warner also has Scottish roots
But don't go thinking single mum career woman Shannon's all heart, there are hints she's not all she seems.
"She's her own woman, knows what she wants and she's going after it. There's continuing intrigue to the extent that we don't really know if she's daddy's princess locked in an ivory tower or is she completely complicit but turns a blind eye? As the show and characters develop there are many twists and surprises."
"I think men will love it and I think women will also love it. I mean I'm not somebody that enjoys violence but it's done so well, the set pieces and the fights are just fantastic, although I've only seen episode one…"
Wait a minute, so she hasn't watched it all?
"No, no. I'm scared to!" she says.
Well, it's violent, but anyone that's managed a few series of Peaky Blinders can probably watch it without choking on their taco chips and once you've acclimatized to the brutality...
Pippa Bennett-Warner has a long list of theatre, TV and increasingly film credits
"No, no, I can't bear to watch anything I'm in," she says. "So I won't watch any more than episode one. But as soon as this opened and I saw the view was upside down, with the guy about to be ... I thought this is so cool, that flipped point of view was genius."
"I just find it really uncomfortable watching myself, odd and weird. When I first started I would watch things and then I got to a point where I thought I'm not there to critique it. I have to move on once I've done it. I'll go to the screening and watch the first episode to get an idea what the show is, but after that I close the door on it and move on to something else.
"I don't read reviews either. You might focus on the bad things, and even the good things, if you focus on that you can overwork it. You can open a whole Pandora's box. If you can keep your head clear, that's better."
Bennett-Warner almost wasn't able to do Gangs of London as she was working on the third season of Harlots, Hulu's 18th-century sex workers drama, but juggling by the casting team made it possible for her to shuttle between the two.
"I was able to go back and forth between being an American former slave prostitute to a modern day Londoner with family/gangster concerns. As an actor I enjoyed having those two worlds alongside each other.
"At times when it was two days on Gangs then two days on Harlots back to back, that was fast in terms of just being tired and long hours, but luckily Harlots was a job where I knew the characters well because I was three years in. Harlots is fun, sexy. It looks great but it also has heart and a serious side."
Last year she was also working on the film Real, a raw love story about two twenty-somethings, written, produced and directed by Aki Omoshaybi, who stars opposite Bennett-Warner, and which premiered at last year's BFI London Festival.
"It's very simple and very pure, two people falling in love and struggling with their identities and pasts and slowly revealing themselves. Aki DM'd me saying he'd written a script, would I read it. Two weeks later we were shooting it. It was done in 12 days. I managed to get two weeks' break from MotherFatherSon to do Real. It was guerilla-style which I really like. We rehearsed the big scenes ten minutes before then shot and it was very immediate."
She might not have done anything like Gangs of London before, but 31-year-old Buckinghamshire girl Bennett-Warner has a TV, film, theatre, radio career spanning two decades, after starting out in The Lion King at 11. With no stage experience apart from a tiny part in panto, having heard about the auditions from a friend, she was picked out of 3,000 to play one of the young Nalas in the West End version.
"I wasn't a stagey kid at all. My parents were very green about the whole thing. I just wanted to sing with my big sister Georgie, that's what started it, and it snowballed from there."
Her dad is a retired computer consultant, and her mum a nurse who later worked in antiques, while Georgie followed a legal career.
"My friend told my mum about the auditions so I went along in my cap-sleeved T-shirt and cycling shorts, and sang I Can't Wait to be King. Ten auditions later I got the job," she says.
"My mum said recently that they almost sacked me because I was too tall, but she said to them, 'you can't sack her! She's already told all her friends."
More parts followed and she was taken on by Syliva Young's children's agency but by 16, singing had overtaken.
"I had a record deal and did that for a bit but I would have been a terrible, terrible pop star, so I'm glad that didn't happen. I did my A-Levels, finished school and auditioned for RADA."
RADA and the National Theatre
Having landed a place, she was simultaneously offered a part in the musical Caroline, or Change at the National Theatre.
"I wanted to go to drama school and had no idea of what the National meant because I was completely and utterly not with it. But people kept saying 'you don't usually get jobs at the National' so I did that then did another play with the Peter Hall Company and after auditioning again, went to RADA the next year."
She has worked consistently since, with theatre highlights such as Cordelia to Derek Jacobi's King Lear, and a long list of TV credits, from Holby City and Silent Witness to last year's MotherFatherSon, the eight-part media dynasty drama with Richard Gere and Helen McCrory on BBC2.
"Richard Gere was amazing. Funny and generous and kind and my character spent most of my time with him so it was a real… I mean, he's Richard Gere. But he was so normal and I really, really enjoyed working with him. And I love Helen McCrory, she's amazing."
Other career highs have been voicing The Maya Angelou Autobiographies for BBC Radio 4 - "such a woman, such riches, oh my god she did this, she did that, she was just incredible" – and narrating Zadie Smith's book Swing Time.
Now in lockdown in her flat in London, Bennett-Warner is happy to take some time off after what has been a couple of solid years back to back filming, waiting for it all to go on release.
Sitting in Limbo - Windrush scandal
Sitting in Limbo is a one-off feature drama film for BBC1 about Windrush and the immigration scandal, based on writer Stephen S Thompson's brother's real-life experiences, with Bennett-Warner as his daughter Eileen.
Moving to the UK from Jamaica in 1965 as a child, when he needed a passport to return to visit his mother, there was no record of him as a British citizen and he was unable to claim benefits, forced out of his job, removed from his home and detained as an illegal immigrant.
There's also Roadkill, a four-part political thriller on BBC1 starring Hugh Laurie as a Conservative MP with a past and Helen McCrory as PM from director Michael Keillor (Line of Duty) and writer David Hare (Collateral).
Also due out is Open, a film written, directed and starring Jack Eve opposite Bennett-Warner, about two people who fall in love on a golf course. Finally, there's Maxxx on E4, O-T Fagbenle's sitcom about a washed up boyband star, with Bennett-Warner as his savvy agent Tamzin. Viewers were given a taste of the first episode before it was delayed until later in the year, so we can cross that off the TV binge list for now.
On Bennett-Warner's lockdown list there's currently a lot of Mark Wahlberg. "Any Mark Wahlberg film," she says. "He single-handedly got me through the first couple of weeks of quarantine." She also recommends Unorthodox on Netflix, the story of a Hasidic Jewish woman in Brooklyn who runs away to Berlin to avoid an arranged marriage. And if you're looking for a book to pass the time, she rates An American Marriage by Tayari Jones and Crazy Rich Asians, the Kevin Kwan trilogy that became the 2018 film.
So she's keeping busy but at the same time missing her family and friends.
"It worries me a bit that nobody knows when this is going to end. When will we be able to see people again? But because I know that we are all literally in the same boat, it gives me a quiet satisfaction because it feels about teamwork. The clapping on a Thursday for the NHS is brilliant. The first time it made me weep, to see everybody, and I think we needed it.
"Also, there's no traffic, no pollution, no planes – it's a shame that it's taken a pandemic for us to be able to notice these things. Birdsong, my god! Being woken in the morning by birdsong, it's heaven. So hopefully we will all keep this going OK and look after the planet afterwards."
And who knows, the longer the lockdown goes on, Bennett-Warner might get over her fear of watching herself, and get hooked on Gangs of London like the rest of us.
All episodes of Gangs of London are available on Sky and NOW TV
Thank you for reading this story on our website. While I have your attention, I also have an important request to make of you.
With the coronavirus lockdown having a major impact on many of our advertisers - and consequently the revenue we receive - we are more reliant than ever on you taking out a digital subscription.
Subscribe to scotsman.com and enjoy unlimited access to Scottish news and information online and on our app. With a digital subscription, you can read more than 5 articles, see fewer ads, enjoy faster load times, and get access to exclusive newsletters and content. Visit https://www.scotsman.com/subscriptions now to sign up.
Our journalism costs money and we rely on advertising, print and digital revenues to help to support them. By supporting us, we are able to support you in providing trusted, fact-checked content for this website.
As interior designer Shannon in Gangs of London, 2020
Pippa Bennett-Warner at Christian Louboutin show in Paris, 2019. (Picture: Francois Durand/Getty Images For Christian Louboutin)