Happy Valley: Is the race for the prize of best TV drama of 2023 over already? Aidan Smith reviews new year TV
Happy new year, Happy Valley. I reckon the race for the prize of best TV drama of 2023 might be over already.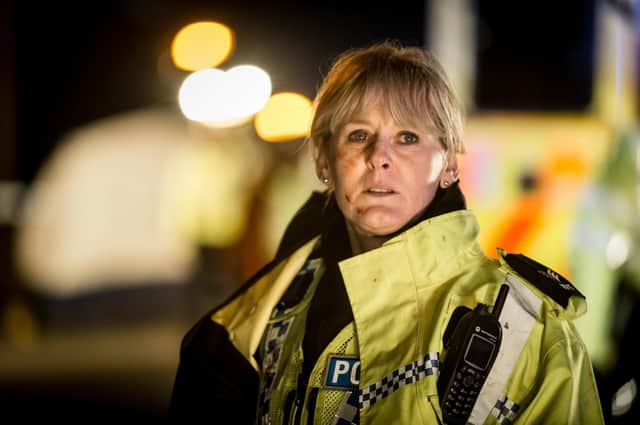 One more time, Sarah Lancashire is squinting through her heavy custard fringe at sloping Yorkshire fields and sadistic Yorkshire men. This is the final BBC1 season of Sally Wainwright's modern classic, ostensibly a crime drama but in the opening minutes last night containing more laughs than many comedies I could name.
Lancashire's Sgt Catherine Cawood and her sister Clare (Siobhan Finneran) were sharing an alfresco bottle of Pinot Grigio and discussing the former's plans for impending retirement from the force.
Would she, Clare wondered, be taking up an activity - Zumba, maybe, or Pilates? No way, said Cath, after a yoga instructor had put on a lunchtime session at the station and all the farting produced enough methane to melt a polar ice cap. "Greta Thunberg had to come and speak to us," she said. "Remember the flooding at Hebden? That was us lot cracking off up in Halifax. Yoga might bring inner peace, but what if whole coastal towns are going to be falling into the sea when everyone adopts the lotus position?"
Half a skeleton had been discovered in a reservoir and, with her vast local knowledge and customary sarcasm, Cath announced the identity of the poor wretch to superiors before they'd taken charge of the grim find. "I'm the best copper that ever lived," she told Clare, not boasting. "After 30 years at it I've become the person I want to be, don't take s**t of anybody anymore, see it like it is, know who I am.
"And," she added, "I also know that the be-all-and-end-all isn't necessarily to get myself hitched to the first useless, flaky t**t of a man who happens along."
This is Lancashire's show but she's backed by a terrific ensemble cast and everyone's tangled up together like moors bracken. Cath's daughter committed suicide. Becky was raped and Ryan was the result. The culprit, Tommy Lee Royce, is still in jail with a photo of the lad in his cell. Just turned 16, Ryan has apparently been visiting him.
And last night a twisty situation got even twistier as it emerged the community could no longer trust its schoolteachers (one of them is a brute to his wife and conducting an affair with another teacher) or the pharmacist (dealing antidepressants). The teacher's wife is played by Mollie Winnard from All Creatures Great and Small, another Yorkshire-set show. The latter films on sunny days and then when the sky turns black leaves the place to Happy Valley.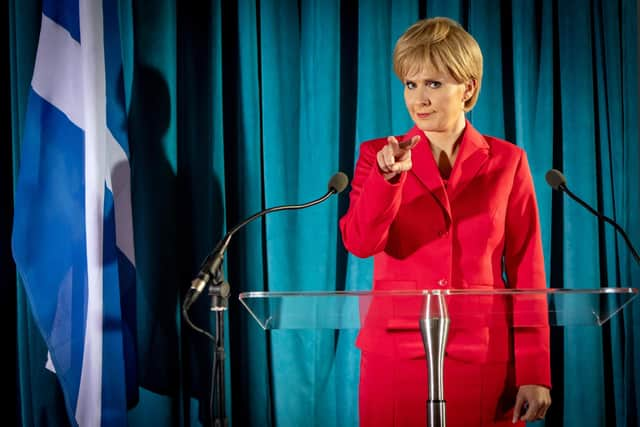 Terrific stuff, although surely now that Royce, scarred and straggly-haired, is rocking the Charles Manson look my wife can no longer fancy James Norton, the actor who plays him? "Hmm … " was the not altogether convincing response.
Ooh the Banter: 100 years of Scottish Comedy (BBC1) was a celebration of what host Jack Docherty called "our nation's finest export". From Jimmy - Logan - to Limmy, it attempted to discover the secret of what makes us funny.
Logan it was who appeared in the very first comedy sketch on TV back in 1952. So the programme didn't quite stretch to the whole of the Beeb's centenary, and only Beeb comedy was included, so there was none of the admittedly unintentional comedy from our friends at the commercial networks of Hogmanay heucheramas going horribly wrong.
Still, I enjoyed this. No retrospective featuring Lex McLean will ever be a waste of airtime. Sample gag: "Did you hear about the two nudists who got engaged? They had to break it off because they were seeing too much of each other."
Okay, written down that isn't too hilarious, but put Sexy Lexy in context for in his pomp he was daring. And sex, reckoned Docherty, remains one of those things Scots are "better at talking about than actually doing".
The Big Yin, Rab C. Nesbitt, Rikki Fulton (Supercop, Rev I. M. Jolly), Gerard Kelly in City Lights, Alan Cumming and Forbes Masson in The High Life - they all featured. Jonathan Watson and Elaine C. Smith seemed to be engaged in a private battle over who's turned up in more comedies down the years, but with both still figuring in Two Doors Down it's surely a draw.
It was good to laugh once more at Stanley Baxter running up a hill like Julie Andrews in The Sound of Music only to be greeted by two Greater Glasgow gasometers. And I liked Still Game's Gavin Mitchell recalling his school playground the day after Scotland's greatest contribution to Play for Today, Just a Boys' Game, and everyone shouting: "McCafferty, yer tea's oot!" (We all did that, didn't we?).
Greg Hemphill and Robert Florence's sketch show Queen of the New Year (BBC1) took a blunderbuss to 2022, the buckshot hitting Lewis Capaldi, the ubiquitous Martin Compston, John McGinn's backside, money-saving experts, paddleboarders, the pen-rage King, cheating chess-masters with their anal beads and Nicola Sturgeon's plan to ease pressure on the NHS: "Men over 40 still playing five-a-sides - just gie it up."
The energy crisis was fuel for a number of gags with keeping on the lights being rated cheaper than burning a "Pomegranate Noir" candle from Jo Malone and an elderly woman deciding that rather than burial or cremation she'd prefer an air-fryer. Her grandkids pointed out that there wasn't one big enough to do the job, whereupon she revealed the kit: "The middle aisle in Lidl says you're talking s***e."
Comments
 0 comments
Want to join the conversation? Please or to comment on this article.