Gregor Sharp on the return of Two Doors Down and the loss of his friend and creative partner Simon Carlyle
The death of Simon Carlyle, the co-writer and creator of pitch perfect Scottish sitcom Two Doors Down hangs over the new season. Producer and writer Gregor Sharp reflects on the loss of his friend and creative partner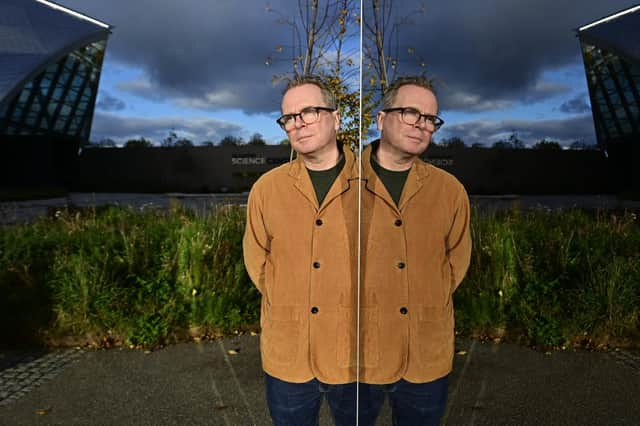 It's a wrap, as they say in Showbizland, and Simon Carlyle and Gregor Sharp, the comic geniuses behind the hit sitcom Two Doors Down, were looking forward to the party. "We rode in the car together for the final day's shoot," remembers Sharp. "Simon had sweated it all as he always did. Every frame, every day. He had his usual anxieties about the show but that was Simon. We were like a married couple and I was used to hearing them. We'd made it to the end of filming, though, and that seemed like a good moment."
It's a wrap, as they say in Showbizland, and Simon Carlyle and Gregor Sharp, the comic geniuses behind the hit sitcom Two Doors Down, were looking forward to the party. "We rode in the car together for the final day's shoot," remembers Sharp. "Simon had sweated it all as he always did. Every frame, every day. He had his usual anxieties about the show but that was Simon. We were like a married couple and I was used to hearing them. We'd made it to the end of filming, though, and that seemed like a good moment."
Then, just as the stars including Arabella Weir, Doon Mackichan, Elaine C Smith, Alex Norton and Jonathan Watson readied themselves for a scene in a carvery which was plump and sizzling with mirthful possibility, Carlyle informed his writerly other half that he would have to leave the set immediately.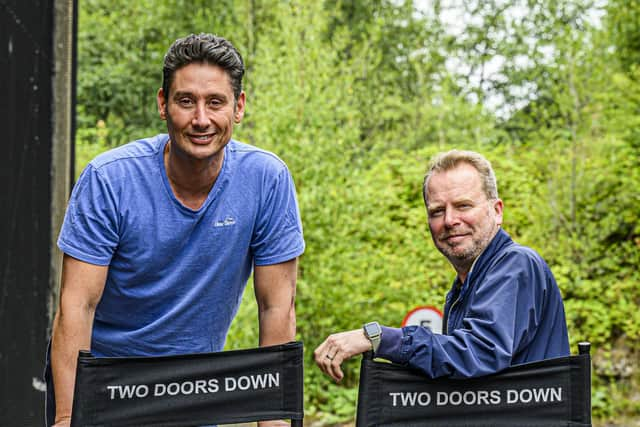 Says Sharp: "He'd had a call from a consultant. It was kind of not amazing news and he didn't come back for the party. After that we were on the text for a little bit. I don't think I appreciated the gravity of what was happening and, it seems ridiculous now, but I was probably nattering about work and his mind just wasn't there. He was very gracious about that, which was typical Simon. I wish I'd known how serious the situation was and I could have been there for him more. Then ten days after the end of filming I got a call from his mum. It was early in the morning and I knew it wasn't going to be good news."
The cause of Carlyle's death in August, aged just 48, has not emerged. What is clear, though, is that TV has lost a terrific talent. His imprint could be found on Benidorm, Alan Carr's Changing Ends and Bad Education starring Jack Whitehall. But that pawky, punchy wit properly flourished in Scotland where he mined the humour of tanning studios, Burns recitals, caravan parks, the competitive ice skating rink – Carlyle had teenage dreams of becoming the next John Curry – and, saving the best until last, an ordinary suburban street.
For Two Doors Down and the rest, Sharp was Carlyle's comedy compadre. In BBC Scotland HQ down by the Clyde I am meeting a writer who's grieving and still in some shock. "Some days I'm coming across things that make me smile and am about to do what I'd always done and message Simon – 'Could we make something of this?' – when I remember I can't anymore. I'm still struggling with that." It may not be much consolation, then, but I tell him that I rate the semi-detached stramashes of Eric and Beth and Colin and Cathy and not forgetting Christine as the funniest small-screen depiction of Scottish life. This is no idle flattery and I'm keen to ascertain the best spot for a blue plaque to be erected above the address of the show's eureka moment.
"That's kind," he says, "and the fact there have been seven series must count for something. But it's the likes of Scotch & Wry, Rab C. Nesbitt and Still Game which are properly embedded in our culture. I don't know if Two Doors Down, while hopefully it's admired, ever will be."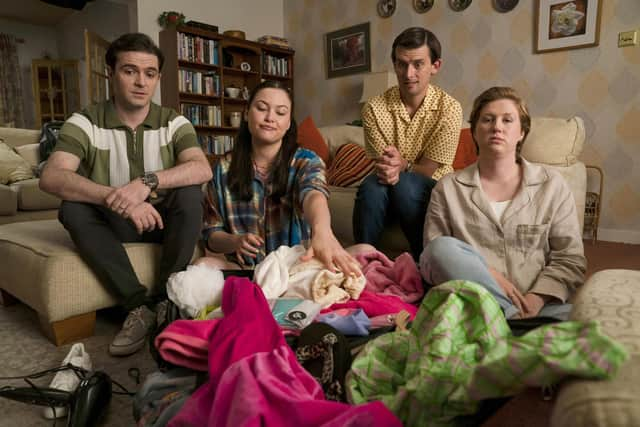 Well, it wins for Best Use of a Sofa in a sitcom. The show's concentration on a single piece of furniture – Beth and Eric's velour three-seater – would surely impress Samuel Beckett. And in just about every half-hour episode the springs will groan from the weight, presumptuousness and exploitation of different permutations of neighbours who will overstay their welcome and respond with ingratitude and inappropriateness to the offers of tea and buns from the long-suffering hosts. Deep down, though, you know they all love each other. Probably.
Maybe Cathy will be standing up and holding court. Boasting and vaping and scolding and glugging – she's moved onto the wine – and demonstrating her new favourite sex position. Yes, Cathy's back, having been missing from series six. The story went that she'd bunked off to Egypt and was Sharm El Shacked up with a holiday apartment realtor. Mackichan, who plays Cathy, wanted to explore other roles but later confessed to the writing duo she felt "odd" watching the show without her in it. A big part of its success, her absence had raised a question mark over its future. Now, with Carlyle's passing, the uncertainty has just got bigger.
That's an issue for another time. Today I want to learn about the creatives' relationship, how it developed and how the door opened for Two Doors Down. For Sharp admits: "There was stuff I told Simon which not another living soul knows about."
The first encounter was back in the last century at STV and makes him chuckle. "We were both freelances. I was working in current affairs and Simon was in lifestyle. He was young and really quite striking. There weren't many good-looking people at STV at that time. Telly studios seem like they should be glamorous places; often they're not. But some folk just have presence, don't they?
"We didn't really speak then but at the Beeb we found ourselves working together on a children's show and then we were kind of match-made. Simon had this character who ran a tanning salon which he was going to turn into a comedy. This made him even more exotic in my eyes. I was to be the director but a producer couldn't be found so I became that instead. And this was a fork-in-the-road moment, helping to develop what became Terri McIntyre – Classy Bitch.
"He was supposed to just go off and write but he needed a collaborator. We were holed up in a Portacabin outside [former Beeb HQ] Queen Margaret Drive and even though we were both really green we hit it off right away. The show consumed us. We were in our twenties – Simon was six years younger than me – and often the sessions would continue in Hubbard's, the pub under Clatty Pats [legendary nightclub Cleopatra's]. Simon was just the funniest guy. His tales from the Glasgow gay scene were hysterical. Ribald, bitchy, colourful. Words and phrases I didn't know – kooter, for instance – were sneaked into the show. We'd be like: 'What if this is good? What could we do next?' We'd carry on with our fantasising in Clatty Pats. All the optimism and naivety of youth. It was exciting, really thrilling."
Our duo had a shared affection for sitcoms from childhood but weren't comedy nerds, forever quoting from Monty Python and the approved classics. In any case, the scene was changing with The Office and I'm Alan Partridge – "seismic shows," according to Sharp, along with that "daringly naturalistic" one involving Olympian levels of simply sitting around, The Royle Family.
Sharp was learning on the job. "This was pre-Google so there wasn't easy access to scripts [of proven successes] to see how they were structured so I got myself a book on screenwriting. Simon was more of a natural but we both felt like outsiders. We'd been thrown together to see if we could make comedy. Neither of us had earned our spurs by, for instance, submitting jokes to sketch shows. In Scotland you paid your dues. That was the tradition and it was quite in-your-face."
Carlyle was sensitive about his apparent lack of credentials. "Hugely self-conscious," confirms Sharp. "He wasn't Oxbridge or Radio 4 and hadn't come from stand-up. He suffered from a chronic lack of self-esteem which was really sad. Meeting him, you would never have thought that because it wasn't how he came over. He was paranoid about being the most unintelligent person in the room and was easily intimidated by others in the industry."
Did the hang-ups recede over time and the acclaim accorded Two Doors Down? "Not greatly. This was very deep for him. Some things are or should be irrefutable: recommissioned by the network, another series. You can't argue with that but he did! Such as: 'Aye, but maybe they're just fobbing us off … ' 'No, Simon, they wouldn't do that. We've been given a sum of money. It's our budget. We have a slot. They want the show!' Still he'd go: 'This will be the last one we'll get. Then they'll find us out.' I had to reassure him constantly. But, you know, maybe that was how he stopped ever getting complacent. Maybe that was how he stayed brilliant."
Carlyle, even when narrating his own biography, had a feel for amusing detail. He'd tell interviewers how, in the early days working on The Price is Right, he didn't show off the prizes, he "modelled dishwashers". And, frustrated at not getting anywhere, he contemplated an alternative career as a passenger greeter at Glasgow Airport. Sharp, too, could do rejection poignancy. One knockback too many and he might have become a Tesco shelf-stacker. And he wasn't a slouch at the comedy either. "There isn't really a line in Two Doors Down where you could go 'That's Simon' or 'That's Gregor' because it was a proper collaboration."
Chronicling life more ordinary in the fictitious Latimer Crescent, the show began ten years ago as a Hogmanay special. "I think the very first discussion we had about it was in the lobby of this building where we met this morning." confirms Sharp. Eric and Beth, played so heroically by Norton and Weir, set the writers on their way. "The pair of them were drawn from both our parents. Mine aren't around – a regret but maybe if they could watch the show a blessing, too – and Simon's dad died a couple of years ago. Personal experience was highly useful and we both had similar memories of Hogmanay parties as kids and listening on the landing as everyone had a riot – me in [Glasgow suburb] Cardonald and Simon down in Ayr. And he had such a freaky, brilliant memory. He could recall what cardie his gran was wearing and what she was drinking. He had an immense gift for bringing characters to life just with just that kind of stuff."
Maybe the blue plaque could be hung at the Starbucks in the Silverburn shopping centre in Glasgow's Pollok. "That was where we'd meet to start on each new series. We never hung out at Soho House or the Groucho." Or perhaps the room they rented latterly in the city's Washington Street.
"We shared this old warehouse with a coffee shop, a photography studio and a yoga place. I don't know what they made of us: two blokes staring at a board, Sounds of the Sixties and Friday Night is Music Night on the radio, then suddenly these bursts of hysterical laughter." Sharp is laughing now. He's recalling their attempts to write under the sultry Spanish sun but Sitges failed to inspire.
"A typical day on Two Doors Down would begin with us talking utter rubbish to each other, really mundane stuff like what we'd had for tea the previous night. That was to try and tap into a kind of silly state so we weren't worried about deadlines and boring stuff. We were trying to become suggestible. Little things would be magnified and we'd get obsessed with the other people in the building. 'Did you see the way the coffee shop guy looked at you? … The receptionist was frosty again. … That photographer must be taking dodgy pictures.' Inventing, flights of fancy, being stupid – all that was about putting us in the mood to write."
Six months in the room was intense. "Back at home I wasn't always mentally present," admits Sharp, husband to Angela and dad to Luella. Yet he and Carlyle never argued. "We were into everything about each other, there was no hiding place. Deep stuff was mined: moments of hurt, traumatic relationships, embarrassments going back to schooldays, unhappiness at home, being thwarted, all the disappointments we carry around with us. My favourite stories of Simon's came from his skating: rival mums, costume tragedies and the fighting over who got to drive the Zamboni [ice resurfacer]. I heard them loads. He'd apologise for being a bore but he was never that."
Sharp had the job, with Two Doors Down producer Jacqueline Sinclair, of informing the actors of Carlyle's passing. "That was awful, horrible, and there were a lot of tears. No good has come of this but everyone has been there for each other. We've all gone through something extraordinary trying to cope and I think that's produced a profound connection." Right now, though, and despite the loss still being so raw, he's unsure whether the show has a future beyond the upcoming season. "It's impossible to conceive of doing it without him."
Sharp will miss his buddy's "naughty, irreverent twinkle". It was strange editing the series without Carlyle, and it will be again come transmission not to be bombarded with anxious messages. "The sad clown is a cliché, isn't it?" he says, "But those who work in comedy are often quite complicated people. If you're very confident, very sure of yourself and view the world in binary terms then I don't think you have the proper mindset. You really need to see things in a mangled way and that was Simon.
"This has been terrible for his mum and sister but I hope it's some comfort to them to know that he made lots of people laugh. Did he reach his true potential? I think he's left us at the absolute height of his powers."
The new series of Two Doors Down starts on BBC1 on Friday, 24 November at 9:30pm
Comments
Want to join the conversation? Please or to comment on this article.