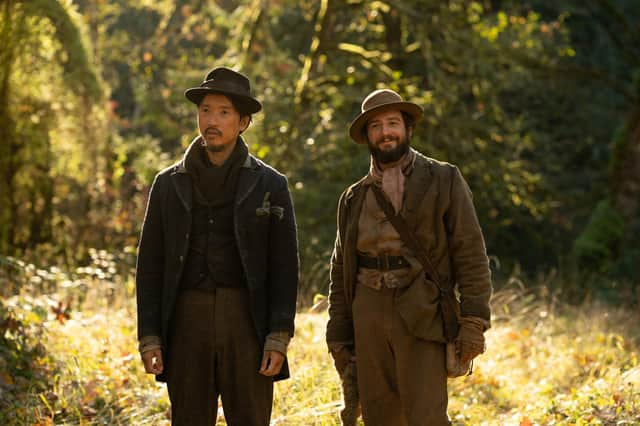 A late addition to this year's Glasgow Film Festival, Kelly Reichardt's new film First Cow (*****) finally arrives in the UK, a year on from opening in the US. Like her best films – Wendy & Lucy, Meek's Cutoff – it's a formally rigorous, beautifully acted, subtly suspenseful portrait of lives lived on the margins, once again set in her native Oregon, but this time flashing back to the 1820s, where a pair of enterprising frontiersmen – the kindly Cookie (John Magaro) and the bolder King Lu (Orien Lee) – have hit upon a risky scheme to earn enough seed money to start a business by making and selling "oily cakes."
These delicious buttermilk scones send the local fur-trappers and roughnecks (among them Ewen Bremner) into paroxysms of childlike joy, like proto-Prousts munching madeleines. But they also require Cookie and King Lu to covertly steal milk from the county's sole dairy cow, whose arrival has created quite a stir, something Reichardt stages like an ironic, low-key riff on the opening of Fellini's La Dolce Vita. Both men know they're pushing their luck and Reichardt uses the harsh realities of frontier life to gradually ratchet up the tension, turning the film into an absorbing exploration of the danger and ruthlessness underpinning the mythic American way of life.
Having never really been allowed to move on from the abuse that defined her early life, Tina Turner gets the final word on her remarkable story in Tina (****), a comprehensive career-capping documentary in which she effectively bids farewell to showbiz. Naturally, it recounts that abusive relationship with former husband Ike Turner, but the film cleverly reframes it to show how the media have insensitively called on her to relive its traumas ever since first breaking her silence on the violence she suffered. This in turn makes her incredible prowess as a performer even more riveting and the film does a good job of capturing the raw sexuality of her early days, the gutsy way she rebuilt her career, and how she began her ascent as one of the biggest rockstars on the planet in her 40s.
Drawing the festival to a close, Spring Blossom (**) is a very slight coming-of-age drama about a 16-year-old girl falling in love with a theatre actor more than twice her age. The feature debut of 21-year-old writer/director/star Suzanne Lindon (daughter of French actors Vincent Lindon and Sandrine Kiberlain), she casts herself as the adolescent lead, also called Suzanne, and uses the May-September plot device to tap into the very real feelings of a shy but switched-on girl falling in love for the first time.
Lindon mitigates any potential discomfort by making the ensuing relationship very chaste and ensuring Suzanne is in control at all times, but her efforts to externalise Suzanne's emotions by punctuating the narrative with musical interludes also feel like a self-conscious bid to make this barely 70-minute-long movie feel more cinematic.
Glasgow Film Festival at Home runs until 7 March. For tickets and information visit www.glasgofilm.org
A message from the Editor
Thank you for reading this article. We're more reliant on your support than ever as the shift in consumer habits brought about by coronavirus impacts our advertisers.