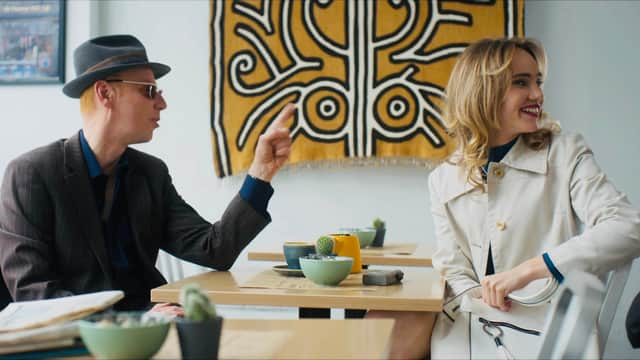 "I hate biopics" proclaims Ewen Bremner at one point Creation Stories **, actor/director Nick Moran's Irvine Welsh-scripted biopic of Creation Records supremo Alan McGee. It's a line that might have raised more of a smile if the film in question took a more subversive, 24 Hour Party People-style approach to the genre. Alas, for all its drug-fuelled, print-the-legend, rock 'n' roll swagger, it's a fairly conventional biopic of the Glaswegian music industry maverick, whose label and bands transformed the British music scene in the 1980s and 1990s.
From the recounting-his-story-to-a-journalist structure to the treacly way it searches for an emotional hook by examining his relationship with his father, the film runs headlong into the genre's clichés. And yet there's interesting stuff here too. Playing a kind of heightened version of McGee, Bremner can be fun, particularly in the putting-it-all-on-the-line-every-time early days.
The film has carte blanche too when it comes to using the music, although there are some jarring chronological gaffs and it's odd to see the notoriously recalcitrant My Bloody Valentine being used for comedic purposes as the film depicts them locking McGee out of the recording sessions that nearly bankrupted the label.
The significance of Primal Scream's groundbreaking Screamadelica album is given short shrift too (odd given Bobby Gillespie's centrality to McGee's life), but the Oasis stuff is smartly handled, with Moran making inventive use of archival material to present the now-legendary King Tut's gig where he first signed them as a kind of Road-to-Damascus moment. McGee's subsequent descent into a drug-fuelled abyss, though, is another tiresome-to-endure staple of the rock biopic and while the fire in Welsh's writing comes through in a final-act paw-swipe at New Labour's Cool Britannia co-option of the scene, it's not enough.
More fun is Danish director Anders Thomas Jensen's Riders of Justice ****, a pitch-black comedy thriller in the early Coen brothers mould that casts Mads Mikkelsen as a soldier and father hunting down a biker gang (led by Roland Møller) who may have caused his wife's death. The revenge plot is given a fresh twist by teaming him up with a band of on-the-spectrum coders obsessed with the statistical probability of terrible events and though the mix of insouciant violence and mordant comedy doesn't always come off, it's stylishly executed and Mikkelsen is mesmerising in the lead.
As is Aubrey Plaza in Lawrence Michael Levine's US indie oddity Black Bear ****, though the less you know about it ahead of time, the better. Suffice to say that with some nods to Steven Soderbergh and David Lynch, it's a smart, sometimes very funny, sometimes very disturbing movie about the blurred line between fiction and reality and Plaza – playing an actress-turned-filmmaker – gives it her all.
Glasgow Film Festival at Home runs until 7 March. For tickets and screening information visit www.glasgowfilm.org
A message from the Editor:
Thank you for reading this article. We're more reliant on your support than ever as the shift in consumer habits brought about by coronavirus impacts our advertisers.