Frankie Boyle TV review: 'Appalling, vicious, clarty and clever'
In the week censors ruled Billy Connolly's sweary words were not aggressive, were not meant to insult anyone and therefore shouldn't be X-rated, his heir apparent as Britain's funniest man picked up the effing ball and ran with it.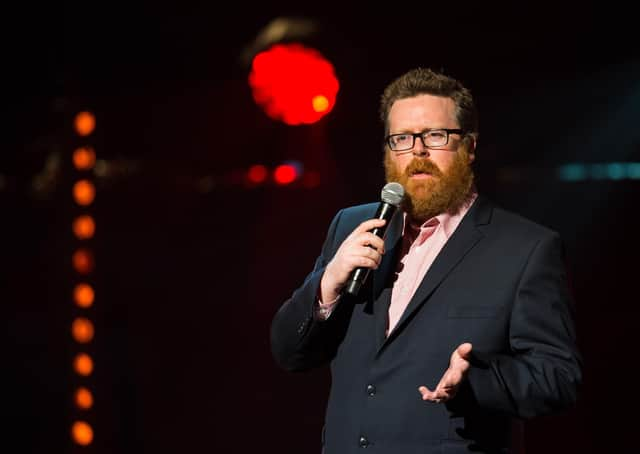 Frankie Boyle performs at the Royal Albert Hall in London.
"Hullo ya c****!" roared Frankie Boyle to a hometown Glasgow crowd and, just in case anyone took the greeting the wrong way, he explained: "Swearing is different in Scotland. Here, the word 'f******' is simply a 
warning that a noun is on its way."
Hang on, you say: funniest man? Other comedians are available and Boyle had a pop at his rivals, admitting that if ideologically he thought corporate gigs were a bit tarty, there was a very good reason for doing them: "I keep some money away from Michael McIntyre."
If Comic Relief went pay-as-you-laugh then Mrs Brown's Boys would perform a sketch and end up owing Chad £30 million. Boyle turned to Ricky Gervais and one of the latter's riffs on trans women. Gervais was a good actor and a great writer but not a stand-up. "Just because he self-identifies as one doesn't mean he is."
Jack Whitehall wasn't mentioned by name, but surely he was the comic in mind when the bold Frankie lamented the trend for funsters to rope their parents into the act.
This was not something he could contemplate, his folks in their 80s and possessed 
of mournful Donegal 
accents which TV would not find sexy. Boyle impersonated his dad: "I don't trust elevators. Or ham … " The old man was infinitely capable of making the lyrics of "Zip-a-Dee-Doo-Dah" sound like a cancer treatment.
Boyle mentioned the c-word almost as often as he mentioned the f-word. He included two p-words, politics and paedophilia, sometimes in the same gag.
He took a few moments to ponder the processes of stand-up comedy, the mechanics of jokes and the offence they can cause.
I must admit I don't watch much stand-up on the box: it always seems incredibly lazy of TV just to point a camera at a hot comedian. But I enjoyed Boyle's argument with himself over the whys and wherefores of his work.
Could outrageous gags be justified on grounds of freedom of speech? No, it was about artistic licence. You should know that none of it is real.
Nevertheless, he had a problem with stand-up: "It simplifies stuff. Am I attempting to get at the truth or just trying to tell funnier lies?" Boyle admitted that while some comics created tension then punctured it with a punchline, tension in his shows only arrived with the pay-off.
Then it was back to the jokes proper. The Brexit 
ones seemed like history 
but were hilarious: 
"Imagine being an immigrant in Britain just now and being told to integrate more by people who spend their holidays pointing at a picture of egg and chips on a menu."
Politicians really did get a stiff kicking. Theresa May towards her reign's end possessed "all the authority of the "Do Not Tumble Dry' label".
Successor Boris Johnson was "the evolutionary dead-end of the Honey Monster … a bin-bag of albino body parts … a cross between the Incredible Hulk and a Haribo fried egg".
Jacob Rees-Mogg? "So weird and elongated, like his mum was too posh to dilate. He looks like he owns the laboratory that Michael Gove escaped from." And Gove himself? "Like a ventriloquist's dummy carved from the yew tree that Operation Yew Tree was named after".
Appalling, vicious, but admire the clever construction and the clartiness of the mind.
Want to join the conversation? Please or to comment on this article.