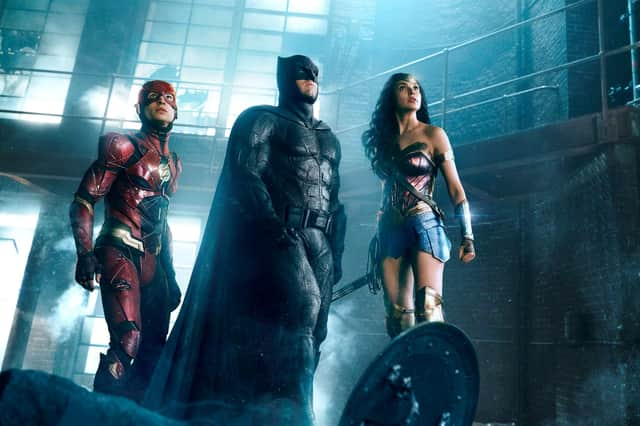 Zack Snyder's Justice League PIC: Warner Bros
Zack Snyder's Justice League (15) ****
Preparations to Be Together for an Unknown Period of Time (15) ***
It's rare that a major studio cops to its mistakes, but the release of Zack Snyder's Justice League goes someway to mitigating the crisis of faith Warner Bros exhibited in the filmmaker after entrusting him to create an extended cinematic universe for its roster of DC superheroes. First released in 2017, Justice League was supposed to do for DC – the home of Batman, Superman and Wonder Woman – what The Avengers had done for Marvel. Instead it killed any interest in continuing the darker comic-book world Snyder had set in motion with his 2014 Superman reboot Man of Steel and its freaky, nihilistic follow-up Batman v Superman: Dawn of Justice.
If you didn't see Justice League – the third in a proposed five-film saga – you're not alone. Despite being credited as its director, Snyder didn't see it either. The version that went into cinemas was largely reshot by Avengers writer/director Joss Whedon, who'd been brought in to lighten up the script and subsequently took over the film when Snyder quit during post-production after a family tragedy zapped his will to fight the studio for creative control.
Leaving with a laptop containing a four-hour assembly edit of his footage, Snyder's involvement with Batman and Co. might have ended there had a vociferous online campaign to release the so-called "#SnyderCut" not snowballed on social media. Warners – with an eye on its US-based streaming service HBO Max – capitalised by giving him a reported $70m budget to finish the movie the way he'd envisioned it.
Though there's some precedent for this – Ridley Scott's multiple versions of Blade Runner and Richard Donner's cut of Superman II spring to mind — nothing has been done on quite this scale before. With the story hugely expanded, new scenes shot, never-before-seen footage reinserted, major effects work completed and the entire movie formatted in boxy academy ratio rather than widescreen (it's better for IMAX apparently), it's essentially a brand new movie. It's also a vast improvement.
Jason Clarke and Darrell Britt-Gibson in Silk Road PIC: Catherine Kanavy / Vertigo Releasing
Whether that's enough of a hook for casual viewers is another matter, especially since its plot about a world-conquering alien intent on wiping out Earth is essentially the same as the concluding chapters of The Avengers franchise. Nevertheless, for fans there's something to be said for the space Snyder now has across its four-hour run-time to not only introduce all the players properly, but have them engage in the kind of operatically grandiose spectacle that feels apropos for such a demented group of characters.
Picking up where Dawn of Justice left off, the film is split into seven chapters, with the early parts built around Batman and Wonder Woman recruiting the titular superhero team – which includes Jason Mamoa's Aquaman, Ezra Miller's the Flash and Ray Fisher's Cyborg – while simultaneously laying out the elaborate mythology behind intergalactic super-villain Steppenwolf's quest to track down a trio of ancient energy boxes that will confer upon their user control of the universe. Fisher's bionic teen is the biggest beneficiary here, with an actual backstory and a more central role in the action. But there are bigger set-pieces too for the Flash – and Affleck's gnarlier Batman is also more at home now that the film isn't straining for laughs.
Yet as the film once-again circles around the resurrection of Henry Cavill's Superman (sacrificed at the end of Dawn of Justice), the limits imposed on Snyder's vision for the series as a whole come to the fore. The hinted-at centrality of Amy Adams's Lois Lane is deferred once more to a future film that's never going to happen and a bleak-as-hell epilogue – one of the new scenes shot – similarly sets up a story that seems immediately more interesting than the one we've just watched.
And yet, as one of the few critics who liked Batman v Superman, it's hard not to admire Snyder's chutzpah in taking this opportunity to lay it all on the line. It's a flawed film, no doubt, but as an elaborate document of the battle involved in making big movies with a singular point of view it counts as some kind of bizarre victory against the marketing department group-think that's been the curse of the blockbuster age.
Preparations to be Together for an Unknown Period of Time
Silk Road serves up very perfunctory dramatisation of the true story behind the titular "dark web" trading site that sprung up in 2011 to facilitate the easy online sale of illegal drugs. Nick Robinson takes the lead as Robert Ulrich, the college graduate whose belief in economic libertarianism inspired him to set up an Amazon-style digital marketplace where narcotics could be anonymously bought and sold using bitcoin. Sadly, while the film gives us the broad strokes of Ulrich's story, it lacks the granular detail that could have turned this into a Miami Vice-style spin on The Social Network. Jason Clarke co-stars.
In Hungarian director Lili Horvát's enigmatically titled Preparations to be Together for An Unknown Period of Time, a successful neurosurgeon (Natasa Stork) pulls the pin on her life and career in America to return to Budapest on a romantic whim after falling for a stranger (Viktor Bodó) she meets at an international medical conference. If this sounds like the starting point for some kind of Fatal Attraction-style psychological thriller, what follows is both more intriguing and more mundane as it settles into a character study of someone who knows how the brain works but not the heart.
Zack Snyder's Justice League streams on Sky Cinema and NowTV from 18 March; Silk Road is available on demand from digital platforms from 22 March; Preparations to be Together for an Unknown Period of Time is available on demand from Curzon Home Cinema from 19 March.
A message from the Editor
Thank you for reading this article. We're more reliant on your support than ever as the shift in consumer habits brought about by coronavirus impacts our advertisers.