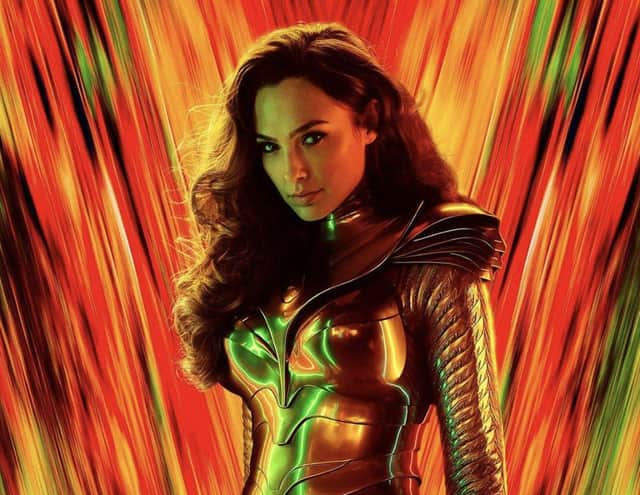 Wonder Woman 1984 (12A) ***
In Wonder Woman 1984, Patty Jenkins' sequel to her joyous, all-conquering 2017 Wonder Woman, she fast-forwards the action from the First World War setting of that movie to the go-go-go 1980s, a time when professional women are openly harassed and the world is under threat from a fraudulent businessman whose narcissistic desire for power convinces him to parlay minor television celebrity into a bid for world domination via the highest office in the land (wonder where they got their inspiration, eh?).
Before it gets round to introducing new villain Max Lord, though (he's played by Pedro Pascal, titular star of Star Wars spin-off The Mandalorian), Jenkins' film invokes the warm, goofy spirit of Christopher Reeves' first couple of outings as Superman by re-introducing us to Gal Gadot's Wonder Woman as she covertly saves pedestrians from being run over, saves brides from accidentally falling off bridges (don't ask) and foils a jewellery store heist that turns needlessly violent.
Not yet a public figure, the Amazonian warrior goddess takes special pride in these relatively mundane acts of super-heroism, revelling in the joy she inspires in the wide-eyed little girls who catch a glimpse of her. The tonal goofiness continues too with the introduction of Kristen Wiig as gawky scientist Barbara Minerva, a new colleague of Wonder Woman's alter ego, Diana Prince, whose awkward nature (and eventual transformation) recalls Michelle Pfieffer's turn as Catwoman in Batman Returns.
Wiig's the best thing about the new film, even if her character's obvious crush on Diana ("You seem like the sort of person who's always out … you live out") hints at a queer subtext the film isn't ready to deal with as Jenkins focusses the plot instead on facilitating the return of Wonder Woman's long-since deceased first love, Steve Trevor, once again played by Chris Pine.
That said, Jenkins has fun with Pine's return (even if they mock Miami Vice fashion before that show was on the air), and she also has fun introducing more aspects of the Wonder Woman mythology (cue her invisible plane). Wiig's character development is a hoot too, until it gets sidelined by super-villain Max Lord, whose greed-is-good style megalomania starts overwhelming the film, swelling the running time with corny melodrama and generic, world-threatening chaos. At two-and-a-half hours, the film imbibes the very excesses of the era it's satirising.
Having played Clark Kent's parents in Man of Steel, Diane Lane and Kevin Costner get some action heroics of their own as an ageing couple trying to get their grandson back in terse 1960s-set Neo-Western Let Him Go. Lane plays Margaret Blackledge, a Montana horse-trainer whose son dies in a tragic accident, leaving her and her retired lawman husband, George (Costner), to provide some stability for their beloved grandson Jimmy and their son's widow, Lorna (Kayli Carter). But when Lorna – who bristles at Margaret's parenting overtures – later remarries an abusive man called Donnie Weboy (Will Brittain) and promptly disappears with her now-toddler-aged son, Margaret wastes no time informing her husband she's going to bring Jimmy home, with or without his help. Knowing his wife won't rest until their grandson is safe, there's no question of him not supporting her, but he's also grimly aware of the trouble that likely awaits them as they trace Donnie's kin to the badlands of North Dakota.
Although writer/director Thomas Bezucha's previous work on romantic comedies gave little indication he was a budding Walter Hill, he approaches his material here with a pared-down classicism that's thrilling to watch, taking his time to build a detailed portrait of his protagonists' loving, mutually respectful marriage in order to raise the stakes when their fundamental decency meets the frontier ferociousness of Weboy family matriarch Blanche, who rules her clan with an iron fist, a bag of very sharp tools and a maniacal belief in the brilliance of her own pork chops. Played with menacing glee by Lesley Manville, it's a great character and a great performance, but so too is Lane's and she dominates the film as it pits her and the reliably low-key Costner against Manville on a tense date with their characters' fates.
Both films on general release
A message from the Editor
Thank you for reading this story on our website. While I have your attention, I also have an important request to make of you.
The dramatic events of 2020 are having a major impact on many of our advertisers - and consequently the revenue we receive. We are now more reliant than ever on you taking out a digital subscription to support our journalism.
Joy Yates, Editorial Director