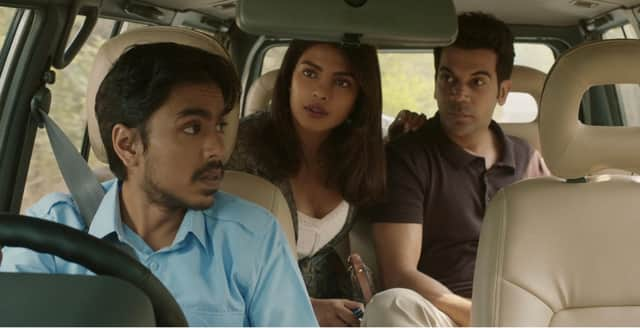 White Tiger
The White Tiger (15) ****
Quo Vadis, Aida? (15) ****
"Here in India there are only two kinds of people: those with big bellies and those with small bellies. I was trapped, and don't believe for a second there's a million-rupee game show you can win to get out of it." So says the on-the-make protagonist of The White Tiger, Ramin Bahrani's lively adaptation of Aravind Adiga's 2008 Man Booker-winning novel about a lower caste servant (played by Adarsh Gourav) trying to pull himself up by his bootstraps in a corrupt democracy on the cusp of globalisation. The dig at Danny Boyle's Oscar-winning Slumdog Millionaire here is playful but pointed; this is a film that owes more to Goodfellas than Bollywood in its determination to expose a complex, murderous system of repression that keeps the majority in a state of fear so internalised it manifests itself in the excessive politesse of a servant class taught to smile away the daily indignities heaped upon them by the moneyed elites.
Bahrani (Man Push Cart, 99 Homes) approaches Adiga's novel in a similar fashion. Though the nods to the aforementioned Goodfellas (and Scorsese's oeuvre in general) can be little overbearing, the film does use its stylistic flourishes in a smart way to echo the awakening consciousness of its protagonist, Balram (Gourav). Indeed, when Bahrani vibrantly skips through both the extreme poverty of Balram's childhood and the ever-so-slight change in fortunes he encounters after talking his way into a job as a chauffeur for the progressively-minded son of a wealthy industrialist, what he's really doing is creating the cinematic equivalent of Balram's fawning public face, effectively luring us in so when circumstances change and the story darkens we're right there with Balram as he begins to realise the degree to which his own perspective on the world has been contorted. It's a neat trick, one aided by Gourav's charismatic lead performance, which subtly conveys the gradual hardening of Balram's heart as this rare individual – this "white tiger" – comes to understand just how ruthless he'll need to be to escape his societal cage, not just move into a bigger version of it.
Providing a frontline view of the Covid-19 pandemic as it took hold in the Chinese city of Wuhan, the documentary 76 Days offers a raw portrait of the inner workings of a hospital's Intensive Care Unit over the course of the lockdown that was imposed on the 11 million residents living in what was quickly established as ground zero for the coronavirus. Not that you'll learn much about the pandemic's origins. Directed by Chinese documentary makers Hao Wu and Weixi Chen (as well as a filmmaker credited simply as Anonymous), the film eschews context for in-the-moment immediacy, which gives it the feel of a found-footage horror film with real suffering and harrowing and unthinkable details to remind us of the grim human cost of the virus. But the film isn't just an endurance test; it's an at times heartening testimony to the everyday heroism of healthcare workers and their astonishing ability to keep hold of their own humanity in the face of so much suffering.
By contrast, a collective loss of humanity is at the heart of Quo Vadis, Aida?, a direct and powerful drama about the 1995 Srebrenica massacre, one of the worst of atrocities of the Bosnian war. Directed by Jasmila Žbanić, the film dramatises the immediate run-up to the genocide of more than 8,000 Bosnian Muslim men and boys by Bosnian Serb forces by filtering it through the eyes of the titular Aida (Jasna Djuricic), a local woman working as translator for the Dutch military guarding this supposed UN safe zone. Charting her desperate efforts to save her husband and grown-up sons as the situation rapidly escalates, the film takes on the urgency of a no-nonsense thriller, but it's where Žbanić takes it that gives it real power, its elliptical conclusion reminding us how easily denial can gloss over even atrocities of this magnitude.
Weirdly enough, Danish thriller The Exception seems intent on exploring similar themes, albeit in a much more fanciful way. Revolving around a quartet of women – led by Borgen star Sidse Babett Knudsen – who work in a Holocaust research centre, the film uses this backdrop to explore the capacity for evil in ordinary people by charting the mistrust and paranoia that sets in when they each start receiving threatening emails relating to their work on a Bosnian war criminal. Though the film is quite absorbing when functioning as a kind of a modern-day riff on Henri-Georges Clouzot's 1943 masterpiece Le Corbeau, it can't sustain the air of unease and an ill-judged action-packed finale is riven with nonsensical plot turns.
Following a young couple (Rose Matafeo and Harry Potter alumnus Matthew Lewis) as an unexpected pregnancy forces them to confront the fact they haven't done any of the things they wanted to do before starting a family, New Zealand comedy Baby Done could have used a bit more of executive producer Taika Waititi's sly comic wit as it tries to wring laughs out of its characters' reluctance to embrace the supposed joys of pregnancy while desperately trying to tick items off a hastily composed bucket list. Alas, any promise in this set-up is squandered by director Curtis Vowell and writer Sophie Henderson's over-reliance on groan-worthy jokes and sitcom-style performances.
The White Tiger is streaming on Netflix from 22 January; 76 Days, The Exception and Baby Done are on available on demand on most digital platforms from 22 January; Qu Vadis, Aida? is available on demand from Curzon Home Cinema from 22 January
A message from the Editor
Thank you for reading this article. We're more reliant on your support than ever as the shift in consumer habits brought about by coronavirus impacts our advertisers.
Joy Yates, Editorial Director