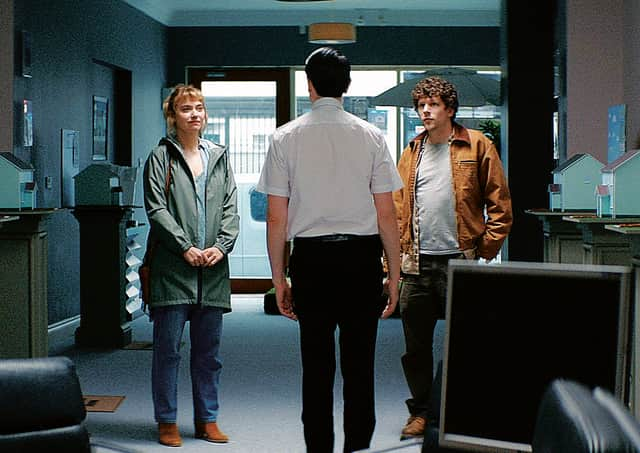 Vivarium
The Perfect Candidate (PG) ***
And Then We Danced (15) ***


A young couple struggling to get on the property ladder discover the literal hell of suburbia in Vivarium, a mysterious, sci-fi-inflected meditation on relationships and the fissures that result when life doesn't go to plan. Imogen Poots and Jesse Eisenberg play said couple, Gemma and Tom, a school teacher (her) and a landscape gardener (him) whose determination to avoid being left behind in a booming market leads them to the estate agents for Yonder, a new development full of identikit two-up two-down homes that promises a "good blend" of people and a location that's "near enough and far enough." It's not what they're looking for at all, but they decide to check it out anyway, despite getting the hard-sell from an estate agent (Jonathan Aris) who looks like a door-to-door bible salesman, acts like one of the pod people from Invasion of the Body Snatchers, and should have them bolting for the nearest exit. After looking round the development's show home with barely suppressed contempt, that's exactly what they try to do, but instead find themselves stranded, to their horror, in a maze-like development in which all roads lead back to the front door of the same detached, perfectly proportioned house.

As one might expect from a film called Vivarium, the aesthetics of Yonder have a semi-real quality: Tom may mutter sarcastic comments about the single-hue colour scheme, but as the severity of their situation dawns on them we see that the clouds have the painted-on quality of a picture book and the rows upon rows of empty houses surrounding them have more in common with the virtual neighbourhoods of The Sims videogames. The problem with this, though, is that the blunt contrast between the full-on weirdness of Yonder and the rooted-in-reality characterisation of Gemma and Tom makes it hard to believe that such a savvy couple would deign to waste their time on something they're not interested in for some implicit fear of missing out (it would have been more plausible had Yonder been modelled on the space-deficient rabbit-hutch housing schemes that actually are being marketed to millennials rather than this 1980s Barratt parody). That in turn makes it harder to buy into the concept as a whole, particularly when a package with a baby arrives on their doorstep and the days turn into weeks (then months) as the kid ages at an accelerated pace.

And yet, timing can often give movies a weird relevance. When Vivarium premiered at the London and Glasgow film festivals, it felt like a stretched-thin Black Mirror episode. Watched now, with the country on lockdown, there's something eerie about observing a couple enduring the stress test of enforced social isolation. The film, which is directed by Lorcan Finnegan, captures well the rapidity with which banter built on casual insults can evolve into full-on character assassinations the moment things start going wrong; and the way Tom and Gemma's surrogate child mimics their behaviour as civility breaks down is an unnerving reminder of the spongelike capacity of children to soak up the behaviour they witness. If the film ultimately lacks the imaginative verve and philosophical rigour that would have given its various twists and turns the jaw-dropping quality of recent social horror satires like Boots Riley's Sorry to Bother You and Jordan Peel's Get Out, Poots and Eisenberg's performances at least provide a primer on how not to behave when your world gets strange.

After making 2018's dreary, eponymously titled biopic of Frankenstein author Mary Shelly, Saudi director Haifaa Al-Mansour returns to her native country with The Perfect Candidate and recovers some of the form displayed in her ground-breaking debut Wadjda (2012), which saw her become Saudi Arabia's first female director. Where that film focused on a head-strong ten-year-old girl's determination to flaunt the traditions preventing her from riding a bike, this one revolves around a quietly steely doctor called Maryam (Mila Al Zahrani) encountering the same sexist patriarchal constraints when treating patients, applying for promotions and travelling to conferences. Frustrated, she decides to run for local political office, campaigning on a single issue to fix the pothole-strewn dirt track that's inhibiting emergency access to her clinic. If the paving-a-new-way metaphor seems a little on the nose, Al-Mansour uses the formulaic parameters of every one-person-against-the-system story to shine a light on the absurdities of a country needlessly limiting itself by forcing half its populace to comply with outdated rules and regulations. And she does it with great humour too, subtly reinforcing her points by frequently depicting the ridiculous performative measures women have to go through to do tasks the most idiotic men can afford to take for granted.

"There is no sex in Georgian dancing," barks an instructor in And Then We Danced. "This isn't the lambada." Maybe not, but simmering passions are impossible to deny in this coming-out drama about an aspiring young dancer called Merab (Levan Gelbakhiani) whose instinctive defiance of convention is exacerbated by his attraction to and rivalry with Irakli (Bachi Valshvili), a handsome new arrival at the national dance academy in Tbilisi where he studies. Swedish writer/director Levan Akin's film may pull narrative moves similar to recent queer cross-over hit Call Me By Your Name, but the specifics of the setting (particularly Georgia's intense homophobia and lack of economic prosperity) along with the visual poetry of the dancing (Gelbakhiani is a real-life dancer) gives unique expression to a familiar tale.
Vivarium is available via Apple TV, Curzon Home Cinema, Amazon, BFI Player, Google Play, Sky Store, Rakuten, BT, Playstation, Virgin and Microsoft. The Perfect Candidate is available via Curzon Home Cinema and BFI Player. And Then We Danced is available via Curzon Home Cinema, BFI Player and Vimeo