Film reviews: The Royal Hotel | How to Have Sex | Nyad | Fingernails
Loosely based on a 2017 documentary about two backpackers who find themselves working in an Australian outback pub filled with deeply misogynistic clientele, The Royal Hotel boasts strong central performances from Julia Garner and Jessica Henwick, writes Alistair Harkness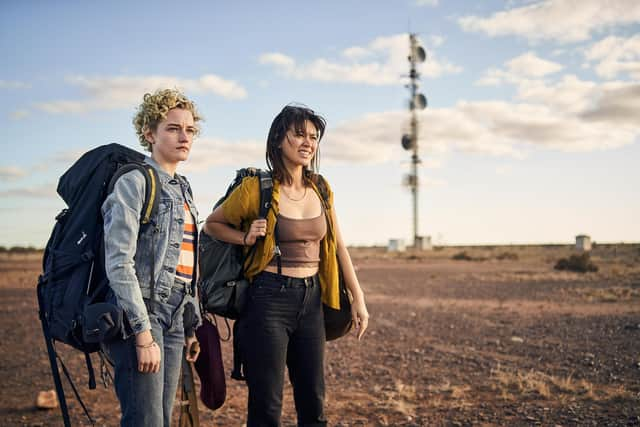 The Royal Hotel director Kitty Green's previous film, The Assistant, was one of the first American movies to address the Harvey Weinstein scandal. Released during the pandemic, it may not have achieved the exposure it deserved, but its understanding of the insidious way sexual harassment and abuse can thrive in cloistered, high-pressure environments made it a brilliant and subtly disturbingly film for the #MeToo era. Her new film is a companion piece of sorts. Set in her native Australia and re-teaming her with its lead, Julia Garner, it follows Hannah (Garner) and Liv (Jessica Henwick), a couple of Canadian backpackers who take jobs in an outback bar as part of a work-to-travel programme and quickly find themselves out of their depth in a place that's effectively a misogynistic time warp.
Which may be putting it mildly. The forced bravado Hannah and Liv display when their recruitment agency tells them they need to be okay with "male attention" gets its first real test when their alcoholic new boss (Hugo Weaving) calls Hannah the c-word upon their arrival. Though they awkwardly laugh off their shock as a cultural misunderstanding, the film uses the word as a motif, its repeated deployment among the heavy drinking miners who make up the pub's clientele revealing itself as a red flag for the hatred and hostility underlying their crude, objectifying gaze and the rampant sexism they brazenly celebrate as a way of life.
Ted Kotcheff's landmark 1971 exploitation classic Wake in Fright is the obvious cinematic precedent here, but Green's film is actually based on Hotel Coolgardie, a 2017 fly-on-the-wall documentary about two Finnish backpackers who endured a similar experience working in an outback pub filled with the sort of blokes Barry Humphries' lecherous 1970s Aussie male Sir Les Patterson was invented to caricature. The toxicity isn't exaggerated, in other words, and Green and her co-writer Oscar Redding have pulled some scenes and incidents directly from the doc.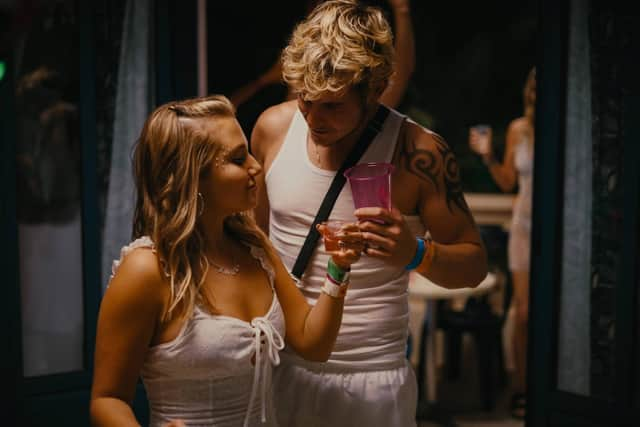 Alas, in dramatising and fictionalising it, the film runs into its own problems. Hinted-at backstories are too obliquely rendered to really give us a sense of who the main characters are and it flirts awkwardly with horror genre conventions, even shoe-horning in a cathartic finale that undermines its own rooted-in-reality approach. Still, Garner and Henwick are good, and there's a chewy supporting role for Toby Wallace as a younger, Kylie-loving customer on the precipice of becoming a fully fledged member of this boorish subculture.
Similar themes are explored in a different context in How to Have Sex, British director Molly Manning Walker's Cannes-winning debut about a three British 16-year-old girls celebrating the end of their GCSEs with a cheap, booze-filled resort holiday in Crete. Cut loose from their parents for the first time in a place where tight clothing is the only ID they need to get served, Taz (Mia McKenna-Bruce), Skye (Lara Peake) and Em (Enva Lewis) are on a mission to have good time, bragging and joking with each other about sex, and throwing themselves into the debauched 18-30 party scene with reckless abandon. When it emerges that Taz is still a virgin, though, a mood of creeping dread takes over, with Manning Walker cannily exploiting our worst fears in order to surreptitiously transform the film into a more nuanced and worthwhile exploration of consent, one befitting the public-service-announcement-vibe of its ironised title.
The chance to watch Annette Bening and Jodie Foster spark off each other as veteran marathon swimmer Diana Nyad (Bening) and her best friend/coach Bonnie Stoll (Foster) is the chief pleasure of Nyad, a biopic detailing the the former's efforts (starting at age 60) to swim the 100 miles of shark-infested waters between Cuba and Florida. If you don't know the story, no spoilers here, but both stars bring such forthright, true-grit-embodying charisma to their portrayals of their real-life counterparts they help the film overcome some of the stylistic shortfalls in Free Solo directors Jimmy Chin and Elizabeth Chai Vasarhelyi's approach. Dramatising Nyad's epic attempt to do something she'd previously failed to accomplish as a 28-year-old in peak physical condition, the filmmakers home in on this sense of unfinished business as Nyad's chief motivation. But the sexual abuse she suffered in childhood keeps coming to the surface as well via awkwardly visualised flashbacks – and the directors similarly struggle to place us in Nyad's psychological headspace when extreme exhaustion kicks in, often falling back on archival footage to fill in the gaps.
Fingernails sees Greek director Christos Nikou (Apples) make his English-language debut with a high-concept romantic dramedy set in a retro-futurist alternate present where technology can definitively tell whether couples are meant to be together or not. Jessie Buckley takes the lead as Anna, a teacher whose growing dissatisfaction with her partner's willingness to take their relationship for granted because they've "passed the test" leads her to take a job at the institute where the tests are conducted to better understand the process (her partner is played by The Bear's Jeremy Allen White). Sadly, what starts out as an intriguing deconstruction of the romantic comedy ends up recycling the clichés as Anna starts to fall for her co-worker Amir (Riz Ahmed). Perhaps if the film could have generated some heat between Buckley and Ahmed – both fine actors – it might have worked a little better. As it stands, it's a very dreary quirk-fest, one that lacks both the all-out weirdness of Yorgos Lanthimos's similarly themed The Lobster and the conceptual rigour of Eternal Sunshine of a Spotless Mind and Her.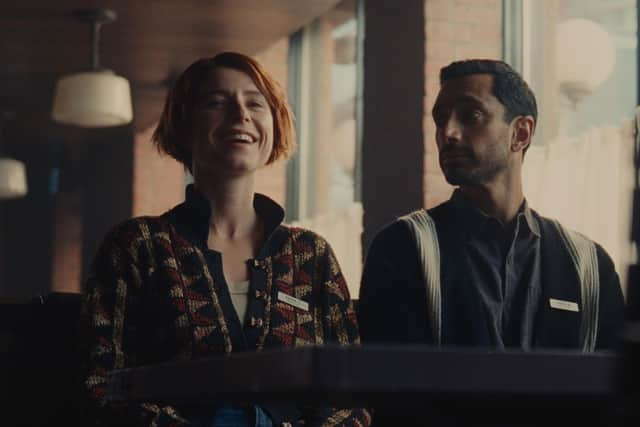 The Royal Hotel and How to Have Sex are in cinemas from 3 November; Nyad is on selected release now and streams on Netflix from 3 November; Fingernails is on selected release and available to stream on AppleTV+ from 3 November