Film reviews: The Old Oak | The Creator | The The Wonderful Story of Henry Sugar
A heartfelt and impassioned tribute to the power of community and solidarity, Ken Loach's latest (and possibly last) film is a near-perfect encapsulation of his six-decade career, writes Alistair Harkness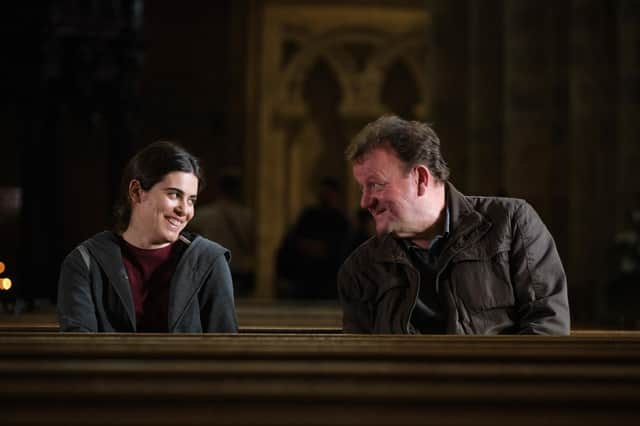 The Wonderful Story of Henry Sugar (PG) ****
If The Old Oak is to be Ken Loach's final film, the 87-year-old firebrand director is certainly going out on an artistic high. Working once again with screenwriter Paul Laverty (his key collaborator for the last three decades), not only does it conclude the loose trilogy of thematically linked films they began with the Tory excoriating I, Daniel Blake and the gig-economy polemic Sorry We Missed You, it also caps off a career devoted to giving the marginalised a voice on the big screen.
Set in a former mining village near Durham in the year of the Brexit referendum (ever-present but never mentioned), the film finds Loach and Laverty drilling down into the anti-immigrant sentiment rife in working class communities and coming up with a heartfelt and impassioned tribute to the power of community and solidarity. It's built around a burgeoning friendship between TJ (Dave Turner), the hanging-on-by-his-fingernails landlord of the titular pub, and Yara (Ebla Mari), a Syrian refugee newly arrived with her mother and much younger siblings in a community hostile to people who don't look like them.
The opening shots – black-and-white stills accompanied by a string of racist invective – set the aforementioned scene in an artfully blunt way, introducing us to both Yara's symbolically loaded passion for photography and the knee-jerk reaction of impoverished locals lashing out at the one group who have even less than them. TJ is one of the few trying to ease these Syrian evacuees into the community, but his kindness is taken the wrong way by his regulars, who resent his decision to use the pub's long-since shuttered function room as a de facto soup kitchen after denying their request to use it as a meeting place to air their increasingly racialised grievances.
More nuanced than usual, Laverty's writing and Loach's big picture thinking draw connections between this and the nation-changing Miners' Strike, while also adding context via beaten-down characters dealing with the grim fall-out of rapidly depreciating property prices. The sorts of stories, in other words, that are rarely covered on the news, but which Loach has frequently sought to illuminate, going right back to television dramas such as Cathy Come Home and Up the Junction.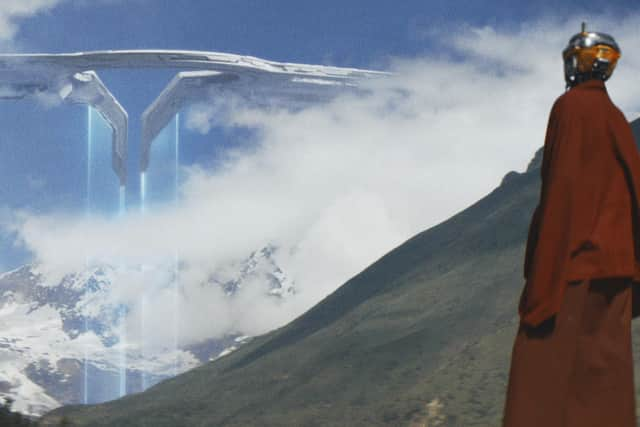 There are some typically overwrought moments too, of course, but these are offset by scenes of incredible tenderness and sensitivity, all anchored by Turner and Mari – the former taking the lead after scoring his first ever acting role in I, Daniel Blake (he brings tremendous gravitas to TJ), the latter a 25-year-old Syrian stage actor who'd never done a film before but who lights up every scene she's in. Her character's own need to photograph her surroundings also unifies the film's themes. What she chooses to look at, what she chooses to see through her camera, brings out the humanity of the wider community and there's a magnificent moment late on when the locals Yara has been photographing beam with pride as they see themselves projected on a big screen with dignity and respect during a slideshow of her work. A more perfect way to encapsulate Loach's six-decade career is hard to imagine.
Back in 2010, Gareth Edwards' debut film Monsters heralded an evolution in mainstream filmmaking that didn't quite come to pass: the guerrilla blockbuster. Effectively a shot-on-the-fly, semi-improvised indie film with spectacular special effects added in post-production, Monsters demonstrated the tools were now available to make high-concept work that didn't cost the earth to produce. In theory that should have opened up a new wave of risk-taking blockbuster cinema; in reality mainstream movies got bigger, more expensive and more homogenous, with Edwards discovering just how resistant the industry was to change as he navigated his own way through the gargantuan franchise filmmaking landscape with 2014's Godzilla reboot and his Star Wars prequel Rogue One. Seven years on from the latter film, Edwards is back with The Creator, a large scale sci-fi epic that hues much closer to what he started out trying to do with his groundbreaking debut.
Set during an ongoing battle between humans and AI, the film stars John David Washington as a former soldier recruited by the US government to hunt down a mysterious AI engineer before their latest weapon can reverse the tide of a war that the Americans are finally on the cusp of winning. When said weapon turns out to be an AI child, though, Washington finds himself on the run, pursued by robot cops, resistances fighters and Allison Janney (unrecognisable as a gnarly US army general). Although its au courant backdrop is nothing new, the texture of the world is thanks to Edwards using real locations as a jumping off point for his imagination rather than pre-planning all his visual effects work in advance and stifling the organic quality of what's on screen.
Released directly to Netflix, Wes Anderson's latest Roald Dahl adaptation The Wonderful Story of Henry Sugar plays out like the most elaborately orchestrated and exquisitely executed episode of Jackanory every devised. Dahl's short story about a wealthy but degenerate gambler (Benedict Cumberbatch) achieving an unusual spiritual awakening in his pursuit of more money becomes a speedily told 40-minute film in which the story within the story provides Anderson with ample opportunity for his signature framing devices, arch narration and meticulous production design, which in this case means diorama like-sets that open, close and move with clockwork efficiency. Ralph Fiennes, Dev Patel and Ben Kingsley co-star.
The Old Oak and The Creator are in cinemas from 29 September; The Wonderful Story of Henry Sugar streams on Netflix from 27 September.