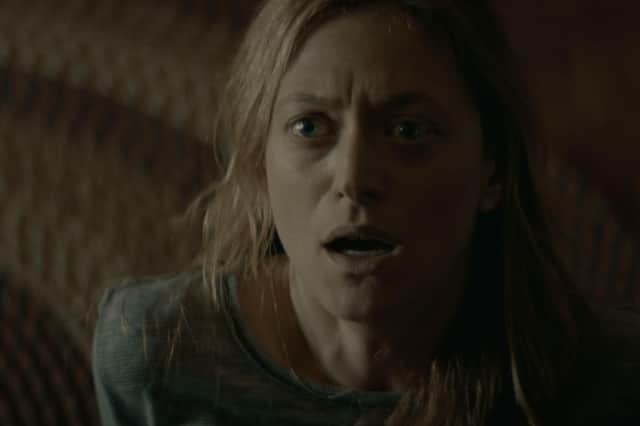 The Dark and the Wicked (18) ****
Back in 2008, US horror writer/director Bryan Bertino scored a box-office hit with his debut movie The Strangers, a home invasion thriller starring Liv Tyler that was rooted in the senselessness of the Manson murders and a wave of break-ins Bertino remembered happening in his own neighbourhood growing up. The premise itself was shamelessly derivative – the motiveless-killers plot was almost exactly the same as the French film Ils [Them] from 2006 – but the execution was so taught and economical and scary that today it holds up better than most of the extreme horror movies coming out of the US in the first decade of the 2000s. Those same qualities apply to Bertino's new film The Dark and the Wicked. Set on an isolated Texas goat farm and revolving around a pair of grown-up siblings returning home to say goodbyes to their dying father, it take elements from The Exorcist and The Shining, but comes at this story of an estranged, secular family confronting unexplainable forces in a stripped-down fashion that's unsettling because of how lacking in bombast it is.
But while he takes a slow-burn approach, Bertino sets the freaky tone early with ominous nighttime shots of desolate farmland and a subtle sound design in which you can't quite be sure if what you're hearing is part of the real world or inside the characters' heads. Soon enough we're introduced to Louise (Marin Ireland) and her taciturn brother Michael (Michael Abbot Jr), though from the way their mother (Julie Oliver-Touchstone) barely acknowledges their return, it's clear that not only are they not close to each other or their parents, but that their mother harbours a lot of resentment towards them for absenting themselves from their parents' lives. When Louise's mother tells her, "I told you all not to come," it's in a guilt-tripping tone loaded with self-pity. Or at least that's how it comes across at first. Her exhortations to go home might actually be warnings that Louise and Michael are failing to heed precisely because they are feeling guilty about neglecting their duty of care towards their ailing parents.
Lest this make the film sound like a grim family drama about grief and regret, though, it should be pointed out that Bertino ratchets up the tension swiftly and efficiently and turns familiar jump scares into disquieting moments of disbelief. Horror fans know, for instance, that a character carefully chopping vegetables on screen is never going to end well, but when a character does it here early on, their response – and the way Bertino's camera lingers on it – is so far out of the bounds of normal behaviour that it throws you off balance. Ditto the way Bertino punctuates his horror set-pieces with inter-titles marking the passage of time – a creative choice that, yes, is a big nod to The Shining, but also creates an elliptical effect that encourages us to fill in details the script deliberately withholds by studying the subtleties of the actors' performances. This is not a film that spells out its mysteries, but nor is it so abstract as to be impenetrable. It hits that horror movie sweet-spot of being scary in the moment, but with plenty to contemplate as its images linger long past the end credits.
Anyone looking for a more fun, roller-coaster-ride type horror movie could do worse than check out Wrong Turn, a surprisingly good reboot of the not-very auspicious 2003 cannibal-themed slasher of the same name (despite its forgettability, the original did, apparently, give rise to five sequels). This new film smartly doesn't require any previous knowledge and instead takes its cues from the Purge movies in its determination to create a weird mythology that interrogates America's violent origins and, oddly enough, ends up speaking to the current politically divisive moment in the US (let's just say it features horn-helmet-wearing maniacs stomping around with heavy weaponry and acting with impunity in their demented efforts to protect their way of life).
Before it gets to any of that, though, the film is part detective movie, part survival thriller. The detective part finds Matthew Modine on the trail of his daughter, Jen (Charlotte Vega – excellent), who has disappeared while on a hiking trip with friends in the Appalachian Mountains. The survival movie part kicks in via flashbacks to Jen and her friends as they fail to heed the advice of comically sinister locals to stick to the marked trails and head into the woods in search of Instagramable life experiences. Though essentially a riff on Deliverance and Southern Comfort with entitled hipster ingrates for protagonists, director Mike P Nelson gets a lot of juice out of this set-up and to his credit, when the two storylines converge, it gets really strange and, true to its title, keeps taking enjoyably bizarre turns right up until the final credits.
Pelé, Netflix's new high-end documentary about the legendary Brazilian footballer, features extensive interviews with the man himself as it trawls through the archives to examine his legacy as Brazil's top goal-scorer and the only player to date to win three World Cups. But his story isn't as compellingly told as it could be and directors Ben Nicholas and David Tryhorn's efforts to examine the political turmoil of the era doesn't quite come off. One for football aficionados only.
The Dark and the Wicked is streaming digitally on Shudder from 26 February; Wrong Turn is available on digital download from 26 February; Pelé is on Netflix now.
A message from the Editor
Thank you for reading this article. We're more reliant on your support than ever as the shift in consumer habits brought about by coronavirus impacts our advertisers.
If you haven't already, please consider supporting our trusted, fact-checked journalism by taking out a digital subscription at https://www.scotsman.com/subscriptions