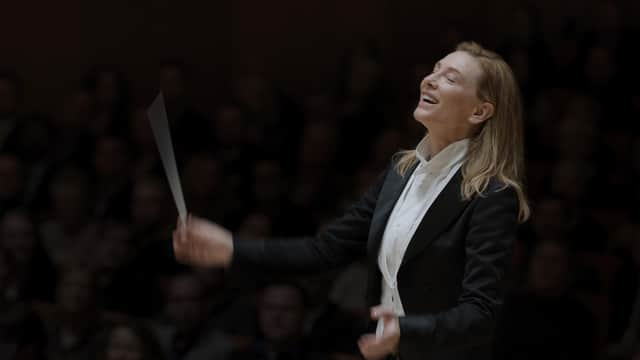 Tár opens like a found-footage horror movie. A smartphone in portrait mode secretly records the slumped, sleeping figure of a woman traveling on a private plane while a text conversation between two unseen participants flashes up on screen mocking her. The woman in question, played by Cate Blanchett, is the film's protagonist, Lydia Tár, a renowned classical music conductor to whom we'll soon be properly introduced via an extended onstage interview with New Yorker staff writer Adam Gopnik (playing himself). This subsequent scene, shot in an aesthetically pleasing way, shows Lydia at her best: confident, erudite, witty and, most importantly, in control. The phone footage does the opposite. Infiltrating her gilded life without her permission, the camera's blunt, voyeuristic immediacy is a portent of things to come. Over the next two hours and 40 minutes, we're going to see what happens when her hitherto privileged existence crashes headfirst into a world she's done her best to block out.
The first major sign that all's not well in Tár's world comes when a masterclass at Juilliard, New York's elite performing arts conservatory, devolves into a showdown with a young conducting student who makes a point of identifying as a "BIPOC pan-gender person" in an attempt to explain why Bach's misogyny invalidates his work as a composer in the 21st century. Tár pounces and destroys the argument, singling out its maker's narrow-minded narcissism in the process. In return, she's called a "f***king bitch". Misogyny, it seems, can lurk beneath the surface of even the most conscientiously constructed identity.
But if this makes the film sound like a push-back against cancel culture, what follows is a lot more nuanced. Written and directed by Todd Field (In the Bedroom, Little Children), the film uses the contours of cancel culture as a backdrop for a study of power, self-creation and self-control. Set largely in Berlin, it takes shape around Lydia as she oversees the final stages of her soon-to-be-published memoir while also preparing a live recording of Mahler's 5th Symphony. From the outside she seems to have a perfect life, one she shares with her partner, Sharon (Nina Hoss), also a musician, and their daughter Petra (Mila Bogojevic), who's having a hard time at school, something Lydia attempts to fix by threatening the kid who's bullying her and then, when she says she'll tell, silencing her with the rejoinder that "no one will believe her."
Lydia's problem, though, is that the way she's conducted her life is no longer in tune with the world around her. When her own sexual indiscretions start coming to light it's as if she's suddenly become a dissonant note. Or maybe the world has. The film isn't judgmental in this way; nor does does it send her on some big redemptive journey. Instead we get vague hints about her past, some of which bring to mind Five Easy Pieces, with Blanchett a sort of inverted version of Jack Nicholson's slumming it concert pianist – another iconoclastic force of nature on the run from themselves. That's ultimately what Tár is – a force of nature – and Blanchett is phenomenal in the role, fully in control, even when the character isn't.
A supremely entertaining addition to the sub-genre of "bad toy" horror films, M3GAN revolves around an AI-powered super-toy prototype whose protective instincts turn murderous when its inventor, Gemma (Allison Williams), tries it out on her newly orphaned niece. Like a four-foot version of the reprogrammed Terminator from T2: Judgment Day – if the Terminator looked more like Taylor Swift than Arnold Schwarzenegger – M3GAN (short for Model 3 Generative Android) picks up the slack that a busy parent or, more specifically, an ill-equipped guardian suddenly forced to look after their dead sister's kid, doesn't have time for. She'll tell your kid to flush the toilet, wash their hands, eat their dinner and use a coaster. And if they're being bullied, she'll go one step further than Tár and rip the ears right off that nasty playground tyrant. All of which is good, silly fun, thanks largely to committed performances, a savvy script (by Akeela Cooper and horror maestro James Wan), and tongue-in-cheek direction from relative newcomer Gerard Johnstone, who knows how to create a real sense of danger for the characters without skimping on the jokes or the jump scares.
There's more horror, of a sort, in Enys Men, the new film from Cornish filmmaker Mark Jenkin, who scored a Bafta and a minor arthouse hit with 2019's Bait, a singular work shot on 16mm monochrome film with a hand-cranked camera and non-synched sound. Fans will be pleased to know Enys Men continues in this uncompromising vein, albeit in colour this time. Set on isolated island off the Cornish coast, it revolves around a wildlife volunteer (Mary Woodvine) who has agreed to live there by herself observing the plant life. The ledger she records her notes in informs us the year is 1973, though in her isolation, time also appears to be flowing backwards as she's haunted by memories of an accident from her youth and a tragedy that befell the island decades before she was born. Though the film's been tagged a folk horror, it's not scary in the way that term implies (don't go expecting The Wicker Man or Midsomer). It's more of an abstract nightmare, though whether its mysteries are quite as intriguing as Jenkin's filmmaking process is debatable.
All films in cinemas from 10 January