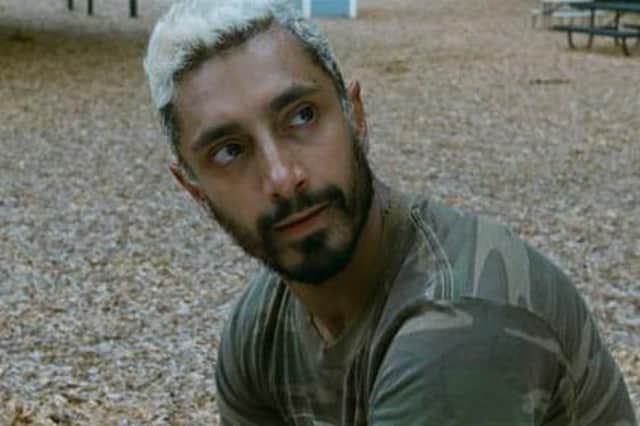 Riz Ahmed in Sound of Metal PIC: Showroom Cinema
Revolving around a drummer going deaf, Sound of Metal starts as it means to go on: with a sonic overload that drops us into the chaotic headspace of its main character Ruben (an Oscar-nominated Riz Ahmed).
Ruben is a drummer with an experimental punk rock noise duo and as we see him sitting behind his drums on stage, director Darius Marder and his sound designer Nicholas Becker cannily make the droning guitar feedback that his bandmate and partner Lou (Olivia Cooke) has been creating seem like an extreme form of tinnitus, an aural motif – one of several deployed during the film – that helps link the deteriorating state of Ruben's hearing with the psychological noise in his head.
Though the film is careful not to provide a definitive reason for the rapid onset of his condition (his career choice likely hasn't helped, but we also see him wearing protective earplugs in the opening scene), it wastes no time forcing Ruben to reckon with his soon-to-be life-altering situation. At their very next show he experiences a loss of hearing so profound he can no longer understand what people are saying to him (the film's suddenly muffled audio is all the more unnerving for taking place in a relatively quiet pre-gig setting).
And when a doctor tells him the next day that he urgently needs to protect what little hearing remains, his first action is to get back on stage – a bewildering response, until we realise he's also an addict in recovery and his business-as-usual approach to the shock is actually a compulsive act of self-harm by someone with control issues.
Thenceforth the film follows a seemingly more conventional addiction drama route as Lou – who has compulsive behaviour issues of her own – convinces a reluctant and disorientated Ruben to spend some time at a deaf community for addicts to help him get his bearings. Here he gets the inevitable tough love treatment from the facility's leader, Joe, a Vietnam vet who lost his hearing during the war and sank into an abyss of alcoholism until getting sober (he's played with soul-deep naturalism by Paul Raci, a hitherto part-time actor who grew up a CODA – a Child of Deaf Adults – and now finds himself an Oscar nominee).
But while the film embraces some of the redemption saga beats, Marder's impressionistic approach ensures they add a lot more depth to what could easily have become another rudimentary issue movie about an able-bodied individual learning to become a better person after losing something they take for granted.
For all its impressive immersive qualities, Sound of Metal isn't as formalistically daring as The Tribe, Ukrainian filmmaker Myroslav Slaboshpystkiy's dialogue and subtitle-free 2014 film about deaf teenagers getting sucked into a crime ring. Nevertheless, Marder's decision to use closed captioning and subtitles through-out is a smart one and it helps too that the film's ability to drift in and out of Ruben's subjective experience ensures that we can see what's best for him before he can. Even as he starts learning to sign and comes to understand that no-one around him considers deafness a disability, he's still got the mindset of an addict and can't stop himself from chasing a solution to his predicament that might not serve his best interests.
Ahmed is brilliant too at subtly conveying all this. There's nothing twitchy about his performance; it's not showy, which is no mean feat given he's actually playing someone whose life is all about performance. Indeed, Ruben's determination to maintain a steady rhythm on and off stage is built around his need to convincingly pass for whatever ideal of normal he's chasing; consequently the film goes to some pretty dark places. But if it's not an easy watch, it builds to a sublime final scene as Ruben comes to realise the noise in his head has nothing to do with his ability to hear.
More Jumper than Edge of Tomorrow, the wildly inconsistent Doug Liman's return to sci-fi, Chaos Walking, is his weakest movie in years – a long-delayed adaptation (it was shot in 2017) of the first instalment of Patrick Ness's YA trilogy about a surrogate Earth where the female settlers have apparently been slaughtered by an indigenous species that has also rendered the thoughts of the surviving male population audible for anyone to hear.
Whatever merits the books might have for teenage readers yet to discover Margaret Atwood, the film plays out as a hoary collection of greatest hits moments from various Star Wars and Planet of the Apes movies.
Spider-Man star Tom Holland takes the lead as Todd, the yearning-for-adventure farm boy who meets his destiny in the form of latter-day Star Wars heroine Daisy Ridley, cast here as Viola, an orphaned refugee from Earth whose ship has crash-landed on the exclusively male colony that Todd has grown up believing represents the natural order of things.
That neither actor demonstrates the requisite movie-star chops to transform derivative material into something you might care about is bad enough, but the film is also catastrophically hampered by the need to dramatise and visualise the audible thought processes of every male character – an unintentionally goofy idea that, oddly enough, plays like an inverse spin on high-concept Nancy Myers rom-com What Women Want.
Sound of Metal streams on Amazon Prime from 12 April and will be available in UK cinemas from 17 May; Chaos Walking is available on digital demand now.
A message from the Editor
Thank you for reading this article. We're more reliant on your support than ever as the shift in consumer habits brought about by coronavirus impacts our advertisers.