Film reviews: Saltburn | May December | Tish | The Mission
In Saltburn, Barry Keoghan is fighting a losing battle as an Oxford scholarship student whose induction into high society life takes a turn for the bizarre, writes Alistair Harkness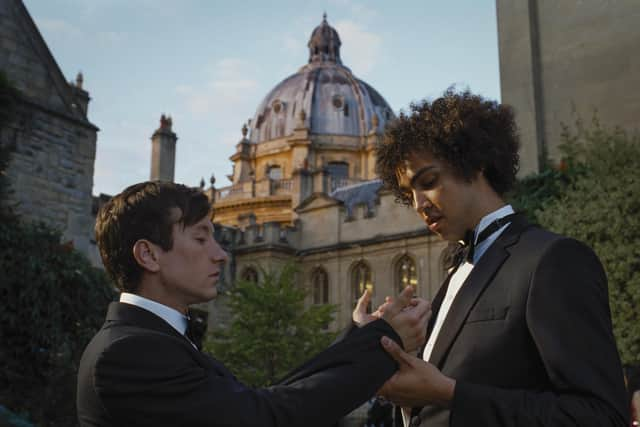 An overcooked, under-nourished sophomore effort from Promising Young Woman's Oscar-winning writer/director Emerald Fennell, Saltburn lays bare Fennell's fondness for creating meme-able moments rather than psychologically nuanced characters. It stars Barry Keoghan as Oliver Quick, an Oxford scholarship student whose subsequent induction into high society life takes a turn for the bizarre when he's invited to spend the summer with the family of his entitled classmate Felix (Jacob Elordi) at their eponymous country estate.
An unreliable narrator, quips about Brideshead Revisited and shots cribbed from Last Year at Marienbad suggest nothing is quite what it seems – unless, that is, you've seen The Talented Mr Ripley and The Favourite. Fennell clearly has, and if you have too, the twists will be painfully obvious and the attempts at barbed humour terribly strained, with much of the supporting cast (which includes Carey Mulligan, Rosamund Pike and Richard E Grant) little more than mouthpieces for Fennell's faux-outrageous zingers.
In his first real lead, Keoghan does his best to overcome the jarring tonal switches his underwritten character requires him to navigate. But he's fighting a losing battle, with Fennel's use of boxy academy ratio to signify the cloistered nature of the privileged world Oliver is entering into just one of the many clichés that make this feel so derivative. Indeed, only Elordi rises above the shallow material. As the object of Oliver's obsession, he nails the blithely narcissistic tendencies of the inherited wealth set; his chiselled features and plummy "yah" accent a fixture of elite colleges training the next generation of bumbling aristocrats destined to run the country. Whatever satirical value the film has, though, is undermined by the self-satisfied delight it takes at being little bit naughty rather than truly transgressive.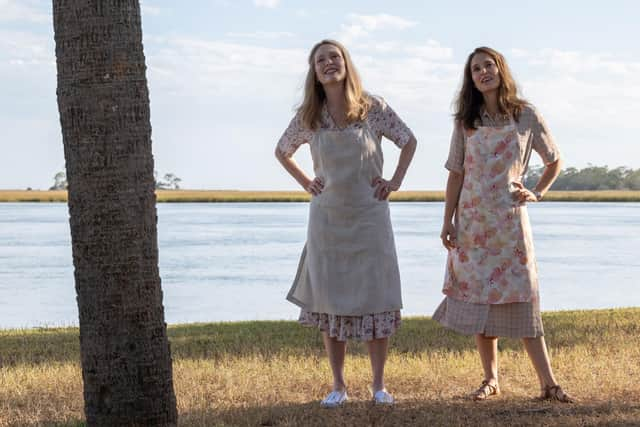 Todd Haynes' latest film May December, on the other hand, is a prime example of how to deliver a genuinely subversive psychodrama with real cinematic flair. Featuring Natalie Portman and Haynes regular Julianne Moore (both at the top of their game), its icky story revolves around Portman's Elizabeth, a credibility seeking actor preparing to shoot a tasteful indie drama about a convicted sex offender (Julianne Moore's Gracie) who's raising a family with her now grown-up victim (Charles Melton). As Elizabeth descends upon Gracie's family home for research purposes, Haynes uses the heightened register of an old-school melodrama (it's not quite as stylised as his earlier film Far From Heaven, but is much more outré than Carol) to transform this salacious set-up into an elegantly deranged character study full of raw emotions and malicious power plays.
Edinburgh-based documentary maker Paul Sng's latest film Tish plays like a companion piece to his earlier Poly Styrene: I Am a Cliché. Like that doc – about the titular singer of punk band X-Ray Spex – it investigates the complicated life of another anti-establishment working class artist by following the subject's daughter as she posthumously explores her mother's life and legacy. The subject in this instance is the photographer Tish Murtha, latterly exhibited in Tate Britain, but for the duration of her life forced to toil away in relative obscurity, chronicling life on the extreme margins of British society with portraits that challenged and exposed the cruelty of successive Westminster governments from the mid-1970s (when she first started taking photos) until her premature death in 2013.
Murtha's photos were intimate and full of life, and there's a similarly unforced intimacy that comes from following her daughter Ellie as she talks to her mother's friends and relatives (most of whom featured in her work in some way). But Sng is also careful not to present Tish as some kind of artistic savant. Growing up in the deprived Newcastle neighbourhood of Elswick, she had natural talent, but worked hard to develop her craft, often challenging the strictures of the medium to stay true to who she was and what she was trying to do. As the film makes clear, she hated the way the art world co-opted working class life when it suited them and she fought against viewing her financially impoverished subjects as projects. They were people first and foremost and she set out to capture their humanity, not by embedding herself within their communities, but by never leaving them in the first place. That's what Sng's approach really emphasises and the film is at its most powerful when Sng gives the frame over to her remarkable pictures, often underscoring them with Tish's own words. Spoken by Maxine Peak and drawn from letters, essays, even rejected funding applications, her ability to not just analyse her own work with lucidity, but pinpoint the political neglect underlying it, makes the fact that she was never able to earn even a basic living from her immense talent all the more tragic and frustrating.
The insidious and damaging colonial implications of missionary work are explored in The Mission, a documentary investigation into the actions of John Allen Chau, a young Christian zealot and social media influencer who was killed in 2018 while trying to bring Jesus to the lives of the remote (and protected) indigenous inhabitants of North Sentinel Island in the Andaman Sea. Chau was 26 when his death went viral and the film explores how his childhood love of sentimental adventure stories, combined with his evangelical faith, contributed to his delusional belief in the righteousness of his work. What's really scary, though, is the extent to which true believers are already taking the wrong lessons from Chau's demise.
Saltburn, Tish and The Mission are in cinemas from 17 November; May December is in cinemas from 17 November and available on Sky Cinema from 8 December.