Film reviews: Project Power | Babyteeth | Pinocchio | The Secret: Dare to Dream | My Rembrandt
Pill-popping Project Power puts an entertaining spin on the superhero movie, while Australian drama Babyteeth, a coming-of-age film about a terminally-ill teen, is refreshingly free of mawkishness, writes Alistair Harkness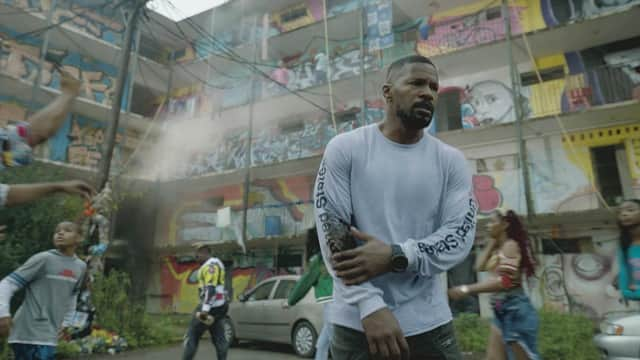 Jamie Foxx in Project Power
The Secret: Dare to Dream (N/A) **
Following last month's disappointing The Old Guard, Netflix's latest attempt to muscle in on the superhero genre, Project Power, may riff on similar comic book tropes but does so with more entertaining and focused results. Starting with a slap-your-head-simple conceit, the film, which stars Jamie Foxx and Joseph Gordon-Levitt, imagines a world in which a superpower-inducing drug has hit the streets, leading to a spike in crime that the authorities are struggling to combat.
Like all drugs, though, the effects are temporary, lasting roughly five minutes, something that directors Henry Joost and Ariel Schulman (the team behind Catfish) use to ramp up the urgency of the action set-pieces. But the added twist here is that the drug's effects are as unpredictable as they are temporary: it might make users invincible; it might make them explode, hence the illicit trials among the addicts of present day New Orleans, where a desperate teenage dealer called Robin (played by charismatic up-and-comer Dominique Fishback) has struck up a professional relationship with Frank (Gordon-Levitt), a rogue cop secretly using Power so he can level the playing field in his fight against the city's newly enhanced criminal element.
But Robin's connections have also attracted the attentions of Art (Foxx), an ex-soldier determined to find the source of her supply for very different and very personal reasons. None of which is especially groundbreaking (some backstory chat about secret experiments and DNA harvesting feels especially hackneyed after 20 years of X-Men movies). But Project Power feels fresh in its slickness and its neatness, not least when its two narrative strands collide and the film expands into a sort of Rise of the Planet of the Apes-style origins story about the potential emergence of a race of super-beings.
Movies about terminally ill teens tend to be either melodramatic and mawkish (see The Fault in Our Stars) or egregiously quirky and mawkish (see Me and Earl and the Dying Girl). New Australian drama Babyteeth falls somewhere in between. Deploying an elliptical structure that eliminates any talk of disease, the film drops us into the chaotic world of an affluent 16-year-old schoolgirl called Milla (Eliza Scanlen) and relies on visual cues and irrational behaviour to signify the impact her never-named cancer has on her self-esteem, as well as on her loving-but-frazzled parents (Ben Mendelsohn and Essie Davis). But it's the way the reality of her soon-to-be cruelly curtailed adolescence bleeds through her burgeoning relationship with a live-wire, drug-guzzling, 23-year-old wastrel called Moses (Toby Wallace) that becomes both the film's most intriguing element and its most stylistically indulgent. Kooky chapter headings give it a kind of angsty diaristic feel, yet the film, for all director Shannon Murphy's Jane Campion/Cate Shortland-esque lyrical flourishes, never quite plugs us into Milla's turmoil. Scanlen (last seen as the similarly doomed Beth in Greta Gerwig's adaptation of Little Women) does good work, but the film remains curiously subdued when it should be alive to the intensity of everything Milla is going through.
Having directed and, rather fancifully, taken the title role in his own 2002 live-action adaptation of Pinocchio, Roberto Benigni returns once again to Carlo Collodi's enduring fairytale, this time playing Pinocchio's woodcarver father /creator Gepetto for Gomorrah director Matteo Garrone. Like Garrone's earlier film Tale of Tales, this Italian-language version takes a more phantasmagorical approach to oddball material, one that might put off fans of the beloved Disney movie that's kept the story in the public eye for 80 years. But Garrone's take on this tale of a wooden child's quest to become a real live boy is macabre in a way that might appeal to older kids who like their fantasies a little on the darker side, especially as Pinocchio's nose-elongating curse and wilful disobedience send him on a series of fantastical adventures. Through it all, Benigni imbues Gepetto with the resigned frustration of someone unprepared for the realities of parenthood and child actor Federico Ielapi – caked in creepy prosthetics – is preternaturally strange as Pinocchio.
Based on a best-selling self-help book, The Secret: Dare to Dream uses some fairly hokey sounding positive thinking mantras as the basis for a wannabe Nicholas Sparks melodrama. Thanks largely to the always-appealing Josh Lucas and Katie Holmes – respectively cast as a mysterious stranger and a widowed mother of two struggling to make ends meet – the film has a certain cornball effectiveness; but all the insidious messaging ruins even its limited appeal as a goofy romantic fantasy.In My Rembrandt, documentary filmmaker Oeke Hoogendijk places us in the exclusive company of those wealthy enough to own paintings by the 17th century Dutch master in what seems at first to be an exploration of the relationship these owners have with the art they covet. Though this gives us an entertaining, nose-pressed-against-the-glass look at how the one percent live (included among her subjects is the Duke of Buccleuch, who has a Rembrandt hanging in one of the wings of Drumlanrig Castle in Dumfries and Galloway), the film comes alive with an unfolding saga of intrigue and possible betrayal involving two Rembrandts newly discovered by a Dutch art dealer with a direct family connection to one of Rembrandt's most famous portraits. If the subsequent clash of styles here can be a little jarring, it also says something about the hushed reverence and fevered excitement that both Rembrandt's art and the commercial value ascribed to it can still inspire.
Project Power is on Netflix; Babyteeth and Pinocchio are in cinemas; The Secret: Dare to Dream is available on demand from most digital platforms, including Amazon and iTunes; My Rembrandt is in cinemas and on demand from www.dogwoof.com
A message from the Editor:
Thank you for reading this story on our website. While I have your attention, I also have an important request to make of you.
The dramatic events of 2020 are having a major impact on many of our advertisers - and consequently the revenue we receive. We are now more reliant than ever on you taking out a digital subscription to support our journalism.