Film reviews: Pieces of a Woman | One Night in Miami
In Pieces of a Woman, Vanessa Kirby and Shia LaBeouf play a couple who lose their baby during childbirth, while One Night in Miami is inspired by a real-life meeting between Cassius Clay, Malcom X, Sam Cooke and Jim Brown in February 1964. Reviews by Alistair Harkness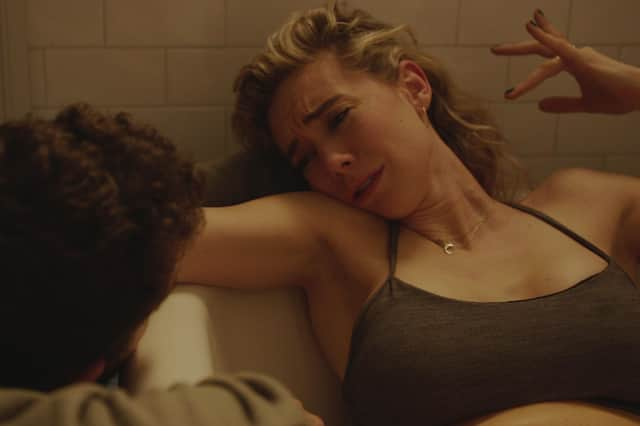 Shia LeBeouf as Sean and Vanessa Kirby as Martha in Pieces of a Woman PIC: Netflix
Pieces of a Woman (15) ***
One Night in Miami (15) ****
The opening scenes of Pieces of a Woman play like a naturalistic horror movie, economically setting us up for a traumatic event with quickly sketched scenes of an extended family preparing for the imminent arrival of a newborn. The fissures that will soon crack this family apart are already apparent in the chalk-and-cheese relationship between expectant mother Martha (Vanessa Kirby), an executive at some kind of high-tech firm in downtown Boston, and father-to-be Sean (Shia LaBeouf), a roughneck construction worker with addiction issues and a chip on his shoulder. But these fissures are exacerbated too by Martha's well-to-do mother, Elizabeth, whom we first meet buying the couple a family car – an act of generosity that Sean can't help but view as a passive aggressive attempt to emasculate him. That Elizabeth is played by Ellen Burstyn only intensifies the already ominous atmosphere: her casting feels like a sly nod to her iconic role in The Exorcist, even if what's about to shatter this family has nothing to do with God or the Devil, but the more commonplace tragedy of childbirth gone wrong. (Incidentally, this kind of dread-by-association meta-casting extends even into the small roles: Martha's car-salesman bother-in-law is played by Bennie Safdie, co-director of last year's ultra nerve-wracking Uncut Gems).
Molly Parker as Eva and Vanessa Kirby as Martha in Pieces of a Woman PIC: Netflix
The movie is only five minutes in when Hungarian director Kornél Mundruczó (White God) starts ratcheting up the air of despair by taking us from the tentative bliss of what should be a routine home birth to the full-scale agony of a baby in distress, via a sustained 25-minute single shot of such virtuosic verisimilitude it's almost too much to bear. That's the point, though. LaBeouf and, especially, Kirby do incredible work to draw us into a situation no one in their right mind would want to experience and they're complimented here by Molly Parker as the couple's midwife, whose status as a last-minute replacement becomes a focal point of the unfolding tragedy. Mundruczó and screenwriter Kata Wéber also structure the scene in such a way as to leave plenty of ambiguity with regards to what's going wrong, something that helps capture the disorientating chaos of childbirth when complications do arise.
And yet the film, like the characters, never fully recovers from the impact of this moment. After the title card finally pops up on screen after 30 intense minutes, the ensuing drama unfolds elliptically as we rejoin Sean and Martha – though mostly Martha – on random days over the subsequent eight months. As a formalistic conceit, watching the gestation of a life torn apart by childbirth over a nine-month period is certainly preferable to the legal drama the filmmakers could have pursued (and which we get snatches of) had this been a more conventional film. And yet they also undercut their approach with on-the-nose symbolism and melodramatic plot turns that feel like they've been imported from a John Grisham adaptation. There's even a weirdly contrived and anachronistic twist that depends on a photograph being developed in an actual dark room, which for a present-day set movie makes no sense and threatens to rip you out of the film at what should be its dramatic high point. Despite these flaws, there remains plenty to admire, not least Kirby's titular performance, which is steely yet brittle and never once tries to milk our sympathies.
Racial politics are at the heart of One Night in Miami, actor Regina King's superbly entertaining directorial debut about an extraordinary meeting of minds on the night Cassius Clay (soon to be Muhammad Ali) beat Sonny Liston to become the boxing heavyweight champion of the world. The minds in question belong to Clay (Eli Goree), Malcom X (Kingsley Ben-Adir), Sam Cooke (Leslie Odom Jr) and Jim Brown (Aldis Hodge), who really did all meet up in February of 1964, a fact King uses as a jumping off point for a kind of cultural and political summit that imagines these four titans of Black American life shooting the breeze while also debating their respective beliefs and conflicting ideas on empowerment.
At the centre of the drama is Clay's imminent conversion to Islam at the urging of Malcolm X, who was himself splitting from the Nation of Islam and starting his own organisation (and thus viewed Clay as something of a prize asset). Clay in turn isn't 100 percent sold on giving up the vices readily available to him with his newfound fame and status. Cooke and Brown, meanwhile, are ruminating on their own futures, the former all too aware that his status as a top-selling R&B star is dependent on projecting a certain political neutrality to his largely white audience, and the latter contemplating a transition into the movies after realising that his days as an American football star have taken him about as far as it's possible to go.
Adapting the film from his own 2013 play of the same name, screenwriter Kemp Powers – who co-wrote and co-directed Pixar's recent Soul – injects the dialogue and the speeches with an enjoyable theatricality, though as a director King also takes care to avoid the stagey pitfalls inherent in the material, broadening the play out with real cinematic flair. Likewise her cast make the most of the premise to dig deep and give a more nuanced sense of who these men were when not performing for a public whose attention required their eternal vigilance.
Pieces of a Woman streams on Netflix from 7 January; One Night in Miami is on limited cinematic release now and will stream on Amazon Prime from 15 January.
A message from the Editor
Thank you for reading this article. We're more reliant on your support than ever as the shift in consumer habits brought about by coronavirus impacts our advertisers.
Joy Yates, Editorial Director