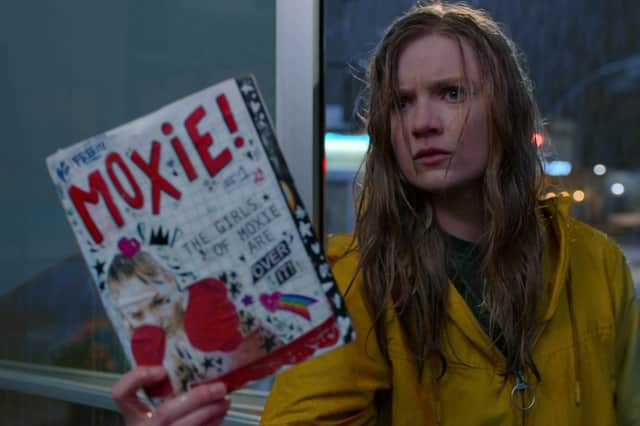 Poly Styrene: I Am a Cliché (15) ***
Parks and Recreation star, Saturday Night Live alumni and Russian Doll co-creator Amy Poehler takes on the teen movie with typical smart-with-heart brio in Moxie, an adaptation of Jennifer Mathieu's best-selling YA novel from 2015 about a quiet teen who takes inspiration from her mother's 1990s Riot Grrrl past to challenge the toxic masculinity that's been allowed to run rampant in her high school. Hadley Robinson takes the lead as Vivian, the sort of kid who – along with her best friend Claudia (Lauren Tsai) – has a tendency to keep her head down so as to remain off the radar of the school's ruling cliques. But when new girl Lucy (Alycia Pascual-Pena) challenges her shrug-it-off passivity after Vivian witnesses her being harassed by the school's entitled football star Mitchell (Patrick Schwarzenegger, perfectly cast), she takes it upon herself to counter the everyday misogyny of school life by publishing an anonymous cut-and-paste zine modelled after the underground feminist punk movement of the early 1990s that was spearheaded by the band Bikini Kill and their Riot Grrrl manifesto.
Naturally Bikini Kill's latterly ubiquitous anthem Rebel Girl is the lightening bolt that jolts her into action and there's a great scene of her watching Kathleen Hanna perform it on YouTube which inspires her to ransack her mother's box of old zines, cassette tapes and photos as she puts together her own photocopied manifesto called Moxie! and starts leaving it around the school. An analogue novelty in a digital world, it takes off and soon Vivian finds herself as part of loose coalition of similar girls and allies ready to use their own newly discovered voices to overturn the status quo.
Poehler (who also plays Vivian's mother) has a great knack of being incredibly sincere and incredibly funny and both qualities apply here. But while she slyly presents the film initially as a kind of less guy-centric spin on late 1990s teen favourite 10 Things I Hate About You (there's a really sweet romantic subplot, but it's not the focal point of the movie), there's also a touch of early 1980s cult outlier Ladies and Gentlemen the Fabulous Stains in Vivian and Co's mad-as-hell-and-not-going-to-take-it-anymore attitude.
Moxie inspiration Kathleen Hanna pops up again in new documentary Poly Styrene: I Am a Cliché, this time waxing lyrical about the late X-Ray Spex frontwoman whose enduring Oh Bondage, Up Yours! punk anthem laid the groundwork for a lot of what Riot Grrrl later became. The film examines some of that influence and offers great archival footage of her incendiary performances, which stand in marked contrast to her shy, sometimes bewildered reaction to the condescension she frequently faced from the media, the record industry and the male-dominated scene as she took an often-ironic stance on the issues that mattered to her as a young, mixed-race, working-class woman who pushed against the strictures of punk as much as she helped define it.
However, the documentary, which has been co-directed by Edinburgh-based filmmaker Paul Sng and Poly Styrene's daughter Celeste Bell, is really an investigation by the latter into who her mother was as she attempts to reconcile her own memories of her difficult upbringing with her status today as the custodian of a pioneering feminist punk icon's legacy. This can give the film a bit of a personal therapy vibe as Bell flicks through books detailing the creatively rich life of the woman she knew as Marianne Elliot-Said while recounting stories of inadequate parenting, life in Hare Krishna sects and custody battles involving her grandparents. But it also offers a valuable reminder of the complex realities underpinning the lives of unconventional artists, especially when those lives are compromised by misdiagnosed mental health issues that require a more nuanced approach to unpack than is typical in the standard rock doc or biopic. In this respect the film is anything but a cliché.
As a new mother dealing with the twin traumas of a difficult pregnancy and the later aftereffects of a serious car crash, Sienna Miller does a good job of holding together the sometimes intriguing, sometimes hokey Wander Darkly as it tries to pull off a tricky narrative balancing act. Upending expectations at almost every turn, writer/director Tara Miele's early decision to shift from a rooted-in-reality film about an unhappy couple unravelling amid the stress of parenthood to a Carnival of Souls/Jacob's Ladder-style psychological drama is certainly a bold one, especially as it plunges us into Miller's unreliable headspace while her character, Adrienne, tries to figure out why her fractured, post-crash reality keeps altering in strange ways.
But as Adrienne, fearing she's dead, is guided through this netherworld by her estranged partner, Matteo (Diego Luna), proceedings gradually take a less creatively satisfying turn. Jumping back-and-forth through the timeline of their lives, the film becomes a slightly convoluted exploration of the value of learning to let the bad stuff go and appreciate the precious moments we have with one another, which is a good theme to explore, but the characters are a little thinly conceived to really make it hit home. Nevertheless, Miller does a lot with what she has and ensures the film never tips its hand about what's really going on until Miele is ready to do so.
Moxie is streaming on Netflix from 3 March; Poly Styrene: I Am a Cliche is in virtual cinemas from 4 March via modernfilms.com, Wander Darkly is available on digital demand from 5 March
A message from the Editor:
Thank you for reading this article. We're more reliant on your support than ever as the shift in consumer habits brought about by coronavirus impacts our advertisers.