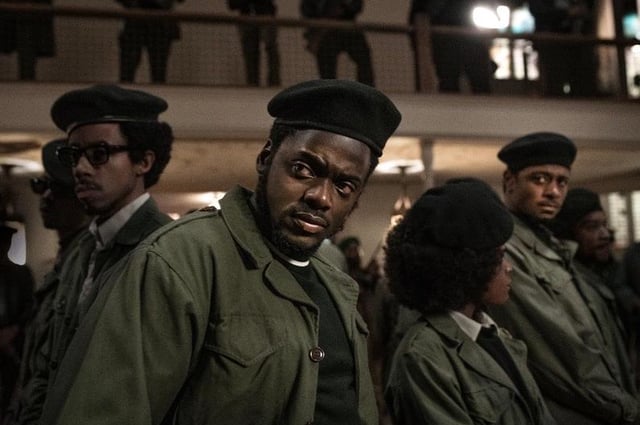 Judas and the Black Messiah
Judas and the Black Messiah (15) ****
The Little Things (15) ***
Raya and the Last Dragon (PG) ****
Judas and the Black Messiah sees Get Out stars Daniel Kaluuya and LaKeith Stanfield deliver raw, ragged and brilliantly nuanced performances as, respectively, murdered Black Panther leader Fred Hampton and William O'Neal, the FBI informant who betrayed him. Using O'Neal's only television interview about this chapter in his life as a framing device, director and co-writer Shaka King drops us into Chicago's civil rights struggle amidst the tumult of 1968 and proceeds to show how the FBI sought to neutralise the charismatic Hampton as J Edgar Hoover (an ironically cast Martin Sheen) declared the Panthers "the greatest threat to the internal security of the country".
Though the interview interludes bring us up to speed on a few key events, this is a refreshingly intelligent dramatisation of a complex political situation, one that trusts us to keep up without needing the characters to spell everything out (unlike in Aaron Sorkin's bloated and sanctimonious The Trial of the Chicago 7, which exploited Hampton's murder for its own dubious narrative ends). That King's film takes a clear position on the fallacious and downright illegal activities of the FBI helps, not least because it doesn't preclude the film from trying to understand O'Neal without demonising him. Indeed, Stanfield is very good at conveying both O'Neal's selfishness as he begins to enjoy the perks of his FBI-funded position and the guilt that starts eating him up as he's selling Hampton and the Panthers out.
If there's a quibble, though, it's that both Stanfield and Kaluuya are at least a decade older than the characters they're playing, which robs the film of some of the tragic power of seeing such young lives shaped and destroyed by forces much bigger than they are. But as a hard-hitting and gripping political drama that speaks to the current moment, its urgency and importance is plain to see.
From its 1990 setting and it opening homage to The Silence of the Lambs, the new Denzel Washington movie The Little Things feels very much like a tribute the heyday of the serial killer thriller. Washington plays Joe Deacon, a former hotshot detective working his way to retirement as a sheriff's deputy a few hours north of his former LA stomping ground. When he's dispatched to his old precinct to collect some evidence for an upcoming trial, though, he's drawn into the hunt for a killer whose slipperiness is making Rami Malek's zealous detective look bad. What follows is a solidly crafted, no frills procedural, with writer/director John Lee Hancock getting plenty of mileage out of both Washington and Malik's maverick mentor/young gun dynamic and a coolly unhinged Jared Leto as a true-crime obsessive who becomes their prime suspect.
As the title of Locked Down indicates, this British-set collaboration between screenwriter Steven Knight (Locke) and director Doug Liman (Mr & Mrs Smith) is set against the backdrop of our current Covid restrictions. Anne Hathaway and Chiwetel Ejiofor play a separating couple forced by circumstance to stay together. What follows, though, is not another Malcolm & Marie-style relationship drama, but a caper movie in which fate provides the protagonists an opportunity to break the monotony of their existence by stealing a £3-million diamond from Harrods. Though the film is far from good, Hathaway's cabin-fever-induced irrationality is weirdly involving.
Unlike Disney's dreary live-action update of Mulan, the studio's latest animation epic Raya and the Last Dragon makes a virtue of its female-fronted cast of characters by using them in service of a wonderfully witty, beautifully designed, narratively immersive martial arts movie. The Last Jedi's Kelly Marie Tran does nice work voicing the unsure-of-herself heroine as she embarks on a quest to overturn a curse that's destroyed her homeland and turned her father to stone, but in a glorious throwback to Robin Williams' off-the-cuff performance in Aladdin, it's Awkwafina's turn as Raya's shape-shifting dragon counterpart that steals the show.
Playing a drug addict has become a rite of passage for young movie stars intent on demonstrating their range. After recent efforts from Timothée Chalamet, Lucas Hedges and Aaron Taylor-Johnson, Spider-Man star Tom Holland gets all shivery and pukey in Cherry, an over-stylised melodrama that conflates the opioid crisis in America with the post-9/11 War on Terror by casting Holland as an aimless student who joins the army and returns home from Iraq to become a junkie bank-robber. Directed by Joe and Anthony Russo (Avengers: Endgame), it's an oddly boring endeavour, interesting in intention but not execution thanks to a dully conceived protagonist whose life doesn't really warrant a movie of such epic sweep.
Based on the Andy McNab best-seller, SAS: Red Notice is a laughably bad vehicle for Outlander star Sam Heughan to prove his mettle as a movie star. He plays Tom Buckingham, a ruthless "posh boy" SAS officer who doesn't really know how to love, but who is nonetheless planning to propose to his doctor girlfriend (Hannah John-Kamen) on a romantic Parisian getaway. Needless to say, when the very mercenaries he's just failed to eliminate hijack the Eurostar they're travelling on, he finds himself on a cut-price Die Hard/Under Siege 2-style mission to derail their plans and save his potential fiancee. With action scenes as inept as the plot is illogical, the film does Heughan no favours.
Judas and the Black Messiah, The Little Things and Locked Down are streaming on demand from 11 March; Raya and the Last Dragon is available on demand from Disney+ now; Cherry is available on Apple TV+ from 12 March; SAS: Red Notice is on Sky Cinema from 12 March.
Starring alongside Heughan is Australian actress Ruby Rose (Photo: Altitude Film Entertainment)
A message from the Editor
Thank you for reading this article. We're more reliant on your support than ever as the shift in consumer habits brought about by coronavirus impacts our advertisers.