Film reviews: Evil Dead Rise | Sick of Myself | The Integrity of Joseph Chambers | How to Blow Up a Pipeline
The latest film in the Evil Dead franchise delivers plenty of gore, but director Lee Cronin seems a little too in thrall to his influences to put his own stamp on proceedings, writes Alistair Harkness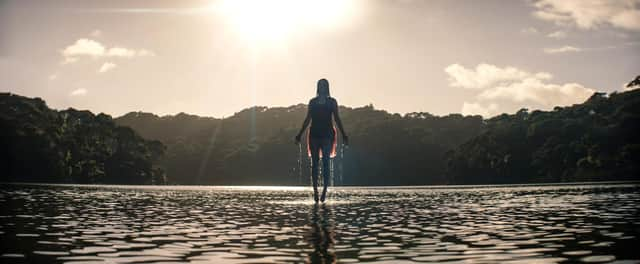 The Integrity of Joseph Chambers (15) ****
How to Blow Up a Pipeline (15) ****
It's been ten years since the last attempt to reboot Sam Raimi and star Bruce Campbell's seminal Evil Dead trilogy for modern audiences. Ditching the slapstick horror that made the original films such an enduring (and endearing) addition to the horror canon, that 2013 remake, directed by Fede Alvarez (with Raimi's full support), played like a humourless hangover from the torture porn years – a relentlessly bloody cinematic assault that tried to make sense of the series' gonzo storyline by grounding its "Book of the Dead"-inspired mythology in a story about drug addiction. It was an understandable impulse, but the homemade punky spirit was missing. So was the fun.
Written and directed by Irish filmmaker Lee Cronin, Evil Dead Rise – a sort of sequel that also works as a standalone film – attempts to reconcile both approaches. On one (severed) hand it's a subversive valentine to the original, on the other it's a straight-up supernatural horror film about a dysfunctional family battling a demonic spirit that's been unleashed in their dilapidated LA apartment building. That location switch – a conscious move away from the traditional woodland cabin locale that Cronin uses to bookend the movie – immediately sets the film apart from the earlier iterations. So too does the family-in-peril plot, with tattoo artist matriarch Ellie (Alyssa Sutherland) bearing the brunt of the body contorting, demonic possession action while her wayward sister, Beth (Lily Sullivan), is forced to step up and become protector to Ellie's kids, who, in a neat touch, are the ones who unleash hell after discovering the so-called "Necronomicon" in a bank vault hidden beneath their soon-to-be-condemned building following an earthquake.
Cronin, who gained attention with 2019's low-key Irish chiller The Hole in the Ground, proves a technically gifted filmmaker when it comes to creating visceral set-pieces – Evil Dead Rise is slick and sick in equal measure and, in the spirit of Raimi's films, delivers plenty of eye-gouging, skin-flaying yuks. But the director also still seems a little too in thrall to his influences to really put his own stamp on proceedings, using his first Hollywood budget to turn his location into a Skid Row version of the building from Rosemary's Baby, throwing in homages to Brian De Palma left, right and centre, and paying excessive tribute to the The Shining, first by recreating one of its most famous shots wholesale, then doing his own version of its blood-filled elevator scene. But if the film plays likes a mishmash of entrails and influences, Cronin powers through it with incredible energy, even shifting things up a gear in the final ten minutes with some groovy chainsaw carnage worthy of Bruce Campbell himself.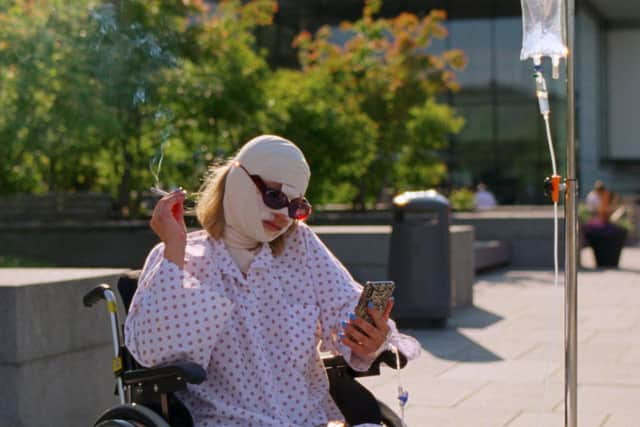 Norwegian black comedy Sick of Myself takes on the peculiar narcissism of the social media age with a wry body-horror-inflected satire of its more destructive tendencies, particularly the victimhood fetish that's become its unassailable currency. It revolves around Signe (Kristine Kujath Thorp), a delusional twenty-something barista whose self-absorbed boyfriend's burgeoning success as an artist is making her increasingly jealous of his ability to hog the limelight, not least because she's convinced herself she's the more charismatic and talented of the pair.
Compounded by the inferiority complex she clearly has as the least professionally accomplished of their bougie circle of friends, her delusions of grandeur soon find focus after helping the victim of a savage dog attack. Seeing the way people respond to her when they think she's the one who's been hurt (she ends up covered in the woman's blood), Signe resolves to make herself visibly sick so she can exploit her symptoms for social capital, a process that starts with faking food allergies, but quickly escalates to ingesting black market Russian pharmaceuticals that swell her face, scar her skin and, sometimes, cause her to bleed uncontrollably from her head. Like the aforementioned dog attack, writer/director Kristoffer Borgli goes straight for the jugular here, serving up a savage indictment of fame's false allure by manifesting its psychologically debilitating effects as a necrotic condition: the more Signe chases recognition, the more her body fails her.
American indie filmmaker Robert Machoian follows up 2021's dread-inducing The Killing of Two Lovers with another expertly rendered portrait of masculinity in crisis in The Integrity of Joseph Chambers. Revolving around an insurance salesman (Clayne Crawford) intent on learning how to hunt to prove to his wife and kids he'll be able to provide for them should society collapse, the film riffs on wilderness survival classics like Deliverance and Southern Comfort by stripping the macho persona those films explore down to its pathetic core in ways that are at first humorous, then utterly horrifying. Peter Albrechtsen's discombobulating sound design and composer William Ryan Fritch's ominous score further add to the sense of unease.
An urgent contemporary thriller about a disparate group of US climate change activists taking direct action against the fossil fuel companies that are ruining the planet, How to Blow Up a Pipeline is slickly made and fast paced film that smartly avoids getting too bogged down in the ethics of what its protagonists are doing. Instead director/co-writer Daniel Goldhaberon explores why each of his characters – sharply drawn and acted by a young cast of up-and-comers – feel so alienated from a society that repeatedly puts profit above the wellbeing of its citizens. The episodic structure also adds some intriguing twists that further help it avoid any didactic pitfalls.
Evil Dead Rise, Sick of Myself and How to Blow Up a Pipeline are in cinemas from 21 April. The Integrity of Joseph Chambers is available on digital download now.