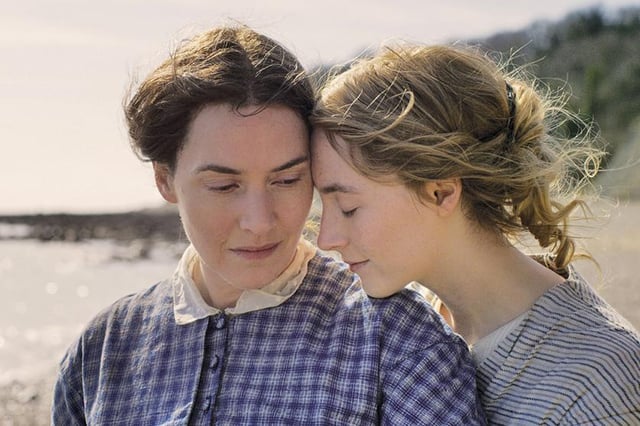 Kate Winslet and Saoirse Ronan in Ammonite
He Dreams of Giants (15) ***
Tom and Jerry: The Movie (PG) **
Writer/director Frances Lee follows up the incredible success of God's Own Country with Ammonite, a similarly bleak romantic drama, this time built around the fictionalised story of the pioneering 19th-century palaeontologist Mary Anning and her complex relationship with another woman amid the weather-beaten, fossil-rich environs of Lyme Regis, near Dorset. The woman in question is Charlotte Murchison (Saoirse Ronan), herself an amateur geologist, but here reimagined as the pretty, young, clever, but depressed, wife of gentleman scientist Roderick Murchison (James McArdle), who dumps Charlotte in Anning's care in the hope that the sea air and Anning's passion for fossil hunting will snap her out of her "melancholia."
Needless to say, it's another type of passion that will gradually reveal these women's true selves, which initially makes Ammonite seem like an overly coy lesbian love story at a time when arthouse hits such as Carol, The Handmaiden, The Favourite and Portrait of a Lady on Fire have pushed the boundaries of this type of narrative. It doesn't help that some of the symbolism Lee deploys feels a bit hackneyed (as in the moment we see a miserable Charlotte lying in bed idly observing a butterfly trapped under a glass), or that he locates the source of Charlotte's illness in a hinted-at miscarriage, which feels a little on the nose when we learn about Mary's own tragic family history.
Lee, however, digs beneath the surface familiarity of his plot to eventually reveal a more layered story, one that subtly examines the intricate ways in which sexual freedom is bound up with issues of class and gender. It's also very much a story about grief, particularly how someone's personal experience of the fragility of human life can petrify them into a kind of emotional stasis, something Winslet's exceptional performance teases out beautifully.
Jonathan Pryce and Terry Gilliam in He Dreams of Giants
He Dreams of Giants is a documentary sequel to Lost in La Mancha, Keith Fulton and Louis Pepe's 2002 film about Terry Gilliam's aborted attempt to make The Man Who Killed Don Quixote back in the early 2000s. Rejoining Gilliam 15 years later as he finally began shooting what became one of the most unlucky productions in history, the unexpected drama that made their previous film so compelling is rather stymied here by the fact that once Gilliam's cameras start rolling, things go relatively smoothly.
There are the usual production stresses of course – frayed tempers, not enough money, not enough time – but most of the drama on this iteration took place after the film was finished when a former producer attached to an earlier version of Quixote launched a legal challenge that kept it out of cinemas for a further 18 months (it's not a very cinematic problem, so the documentary doesn't follow it). The most dramatic thing that happens during the actual production is a medical emergency that requires Gilliam to have a catheter inserted, a fact that the filmmakers treat with a solemnity suggestive of a near-death experience, but which Gilliam cheerfully laughed off when I interviewed him last year (for Quixote's release) as a great asset for a director because "you're always caught short."
If this lack of crisis makes the film a more conventional behind-the-scenes documentary, though, there's nothing wrong with that: it's always a joy to see Gilliam at work, especially the giddy (and giggly) enthusiasm he displays when ideas start coming together. It's also fascinating to hear him talk about the crazy, all-consuming desire to make something when you just can't let go of an idea. Indeed, one of the themes to which the documentary keeps returning is whether or not a piece of art can ever live up to the expectations of its creator, which seems appropriate for a film about someone making a film about someone who lives in a fantasy world.
Turkey is one of the few countries where it's now illegal to euthanise or incarcerate stray dogs, which means the streets of Istanbul and the surrounding areas are teaming with homeless hounds living day to day on scraps from strangers. In Elizabeth Lo's beautiful documentary, Stray, this becomes both the source of an empathetic examination of several of these dogs as they roam the streets, docks and beaches, and a metaphor for the way society as a whole treats those who've fallen between the cracks. With the camera kept low to the ground, what emerges is a remarkable, impressionistic portrait of a species and a country that overturns some of the dog-eat-dog clichés and reinforces others, all while demonstrating the remarkable resilience of (all) life on the streets.
Relegated to supporting characters in their own film Tom and Jerry: The Movie slots Hanna-Barbera's warring cat and mouse cartoon double act into a live-action millennial coming-of-age story about a young woman (played by Chloë Grace Moretz) bluffing her way into a temp job as an events planner at an upscale New York hotel as it prepares to host the wedding of a some kind of Instagram celebrity couple. The hilariously violent smackdowns that made the original cartoons a staple for generations of kids are neutered by the film's decision to deploy their antics in the service of such a dull story. To make matters worse, the film has them learn to like each other and eventually put aside their differences. Where's the fun in that?
Ammonite, Stray and Tom and Jerry: The Movie are streaming on digital platforms from 26 March; He Dreams of Giants is available to stream on digital platforms from 29 March
A message from the Editor
Thank you for reading this article. We're more reliant on your support than ever as the shift in consumer habits brought about by coronavirus impacts our advertisers.