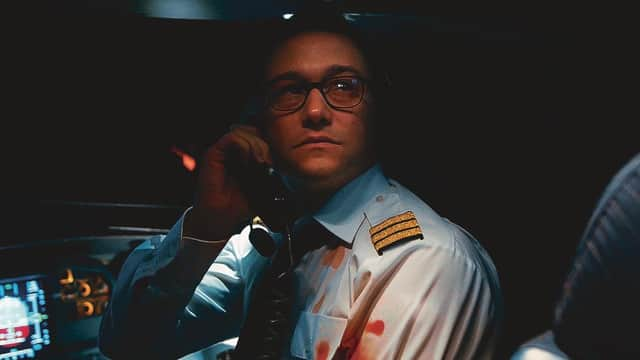 Inmate#1: The Rise of Danny Trejo (15) ***
To Kid or Not to Kid (N/A) ***
Given how rapidly and profoundly life has been transformed in the last few months, it's hard not to feel a little sorry for 7500, an intelligent B-movie thriller starring Joseph Gordon-Levitt as an airline pilot trying to land his plane after it is hijacked by Islamic extremists. At a time when air travel as we know it has been transformed by a very different threat, its very setting feels almost alien and the film's efforts to sensitively explore the malignancy of extremism, while still relevant, can't help but feel like a throwback to cinema's reckoning with the war on terror.
But if the surface details make it seem like a film from another era, they don't detract from the movie's effectiveness as a genre exercise. From its creepy opening – in which dispassionate surveillance camera footage makes everyone going through airport security look actively suspicious – to co-writer and director Patrick Vollrath's creative decision to never leave the cockpit of the plane, the film cranks up the tension in discomfiting ways. Indeed, it's the latter aspect that gives the film its edge, allowing Vollrath to deliver a claustrophobic single-location thriller (à la Locke and Buried) driven by a quietly powerful lead performance.
As Tobias, an American pilot based in Europe for family reasons that are economically sketched out in the film's opening scenes, Gordon-Levitt goes for naturalism with subtle choices rather than big actorly gestures, melodramatic flourishes or, as the situation intensifies, Bruce Willis style-heroics. It's a performance as contained as the setting, which Vollrath – making his feature debut after picking up an Oscar nomination for his 2015 short Everything Will Be Okay – exploits in intriguing ways, using it to limit Tobias's movements and options as the hijackers rush the cabin shortly after take-off from Berlin – a sickening moment of confusion that leaves the captain dead and Tobias bloody and injured as he struggles to incapacitate the one hijacker who manages to breach the cabin before he's able to lock the other two assailants out. What follows takes place in real time as Tobias raises the titular coded alarm with air traffic control and then tries to fly the plane to nearby Hanover without losing control of the cockpit or the lives of his passengers.
The film is at its best during this early escalation of the crisis, especially as the stakes for Tobias become even more personal and Vollrath contrasts the (relative) calm of the newly secured cockpit with the flashes of violence and chaos we can see erupting on the silent video screen that monitors a tiny space just outside the cabin door. Perhaps inevitably the tension dissipates slightly as the film moves into its final third and Tobias attempts to reason with the youngest hijacker (sympathetically played by Omid Memar), whose radicalisation, he senses, isn't as quite as absolute as that of the others. But this is a film in which the protagonist's low-key heroism is predicated on his own battle to hold on to his humanity under intolerable circumstances and it's ultimately more powerful for not indulging in the sort of cathartic cinematic violence that removes the need to ask difficult questions.
Low-key heroism is also at the heart of Resistance, a based-on-fact drama detailing the role a pre-fame Marcel Marceau played in helping Jewish children escape to Switzerland from Nazi-occupied France during the Second World War. Jesse Eisenberg plays Marceau as a struggling artist whose future calling as – in the parlance of the film – "the world's most important mime" is crystallised by his reluctant-at-first devotion to this higher, more urgent cause. Though Eisenberg brings a certain level of panache to his performance, the film itself is structured and executed in very conventional fashion.
Inmate #1: The Rise of Danny Trejo sees the Chicano co-star of countless films and TV shows (among them Heat, Con Air, From Dusk till Dawn and Breaking Bad) recount his extraordinary life story. A hardened criminal who got addicted to heroin at the age of 12, Trejo spent his teens and early 20s in some of the most brutal penitentiaries in the US before turning his life around by getting sober and working as a youth drug councillor, which in turn led to a random encounter on the set of the Oscar-nominated Runaway Train with its writer Eddie Bunker, a fellow ex-con who got him work as a consultant and an extra on the film and then helped him launch his screen career. Though Trejo comes across as someone eternally thankful for getting a second chance being able to do some good in the world, as the film tracks his movie career from being cheerfully typecast as Prisoner #1 to eventually headlining Robert Rodriguez's Machete B-movie action franchise, it also underscores the importance of representation in movies for audiences of colour everywhere.
In To Kid or Not to Kid, New York-based Brit filmmaker Maxine Trump turns the camera on herself to explore the societal taboos surrounding women who choose not to have children. In her 40s, happily married and actively enjoying her lifestyle travelling the world making films, Trump begins the film still unsure if she wants to have children or not, but as she starts to unpack the reasons for her ongoing reluctance, she explores the strange societal stigma attached to women who identify as child-free (as opposed to being pitied by others as childless) and highlights once again the lack of autonomy women have over their own bodies whenever reproductive rights are under scrutiny. A thoughtful and insightful film.
7500 and To Kid or Not to Kid are available to stream on Amazon Prime; Resistance and Inmate #1: The Rise of Danny Trejo are available for download on most digital platforms
A message from the Editor:
Thank you for reading this story on our website. While I have your attention, I also have an important request to make of you.
With the coronavirus lockdown having a major impact on many of our advertisers - and consequently the revenue we receive - we are more reliant than ever on you taking out a digital subscription.
Subscribe to scotsman.com and enjoy unlimited access to Scottish news and information online and on our app. With a digital subscription, you can read more than 5 articles, see fewer ads, enjoy faster load times, and get access to exclusive newsletters and content. Visit https://www.scotsman.com/subscriptions now to sign up.
Joy Yates, Editorial Director